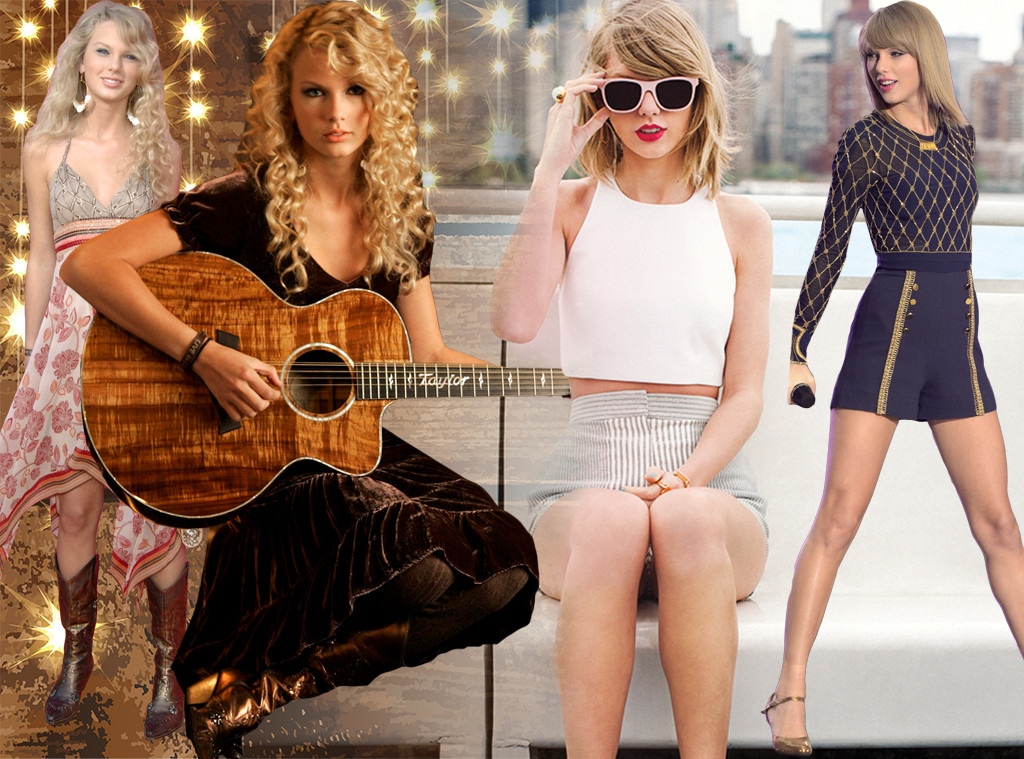 AP; Getty Images; taylorswift.com / E! Illustration
Let us paint a little picture: It's 2005 and you're on vacation in Nashville. You've seen everything—The Country Music Hall of Fame, the Parthenon, whatever that park is called that surrounds the Parthenon. You've also eaten everything—you hit up a hot chicken stand, you stopped by the Loveless Cafe, you've consumed more biscuits than any human ever should. 
You're exhausted from a long day of Nashville-ing, but you convince yourself not to go back to the hotel and watch last week's episode of How I Met Your Mother and instead to hit the town. You wander into a tiny bluegrass bar and see a little wisp of a thing perched atop a stool at one end, armed with an acoustic guitar and hair as big as her dreams. She belts out a sad tune, singing about dancing all night long to Tim McGraw, and also something about moonlight on a lake, but you didn't really catch that part.
That, friends, was Taylor Swift. 
It's easy to forget now, when we're fully instated in a world of Taylor as a glitter-wearing, stadium-touring pop star, that she got her start as a bona fide country star. After a childhood (or, rather, partial childhood) growing up on an idyllic Christmas tree farm in Pennsylvania, she moved to Nashville to finally put her money where her very talented mouth was. She spent a couple years performing locally (and even giving her big debut at that bastion of country music success, the Grand Ole Opry), it was time to debut her twang to the world at large.
Enter Taylor Swift the album. It was nothing but smack dab in the middle of the genre. Aside from the obvious country sound of those now-iconic songs, the lyrics were the real tell. Pickup trucks and heartache and Tim McGraw are a dead country giveaway. If anyone was still unsure as to what category of music Swift belonged to, they needed to look no further than the constant cowboy boots and that big Southern hair.
Next up for Taylor was 2008's Fearless, an album that, in its origin story (shoutout to all you Marvel fans) was pure country. Hey Stephen, White Horse, Forever & Always—they twang-ed, they guitar-ed, they rhymed every stanza. But that was for the O.G. country fans, the fans who ran straight to Target to buy their own copy of the CD. (Yes, this was when CDs were still a thing.)
For the rest of the world, they got something a little different. Fearless' lead single was "Love Story," otherwise known as The One Where Romeo Took Them Somewhere They Could Be Alone. The original version had a country vibe, but the jam got a bit of a makeover for its radio release, complete with electric guitars and other mainstream elements. It found major crossover success on the radio, debuting at #4 on the Billboard 100 and, along with the album's second single, "You Belong With Me," led Swift to win four Grammys. 
Those gold statues included one for Album of the Year, which tipped off Swift and her fans that there might be a little magic in Top 40 land for her...as long as she was willing to ditch those cowboy boots. 
Then came Red, and the switch-hitting, if you will, continued. Swift, who had up until this point scraped together all of her albums with nothing more than a pencil, a notebook and her guitar, hired a team of producers and collaborators, Gary Lightbody of Snow Patrol and Ed Sheeran among them, who collectively gave her a new sound. 
The obvious marquee tune on Red was the wonderfully pointed and acidic We Are Never Ever Getting Back Together. Aside from providing a breakup anthem to anyone who had ever experienced heartache and ensuring that Jake Gyllenhaal would never order a Maple Latte again, it kicked off her partnership with some of pop music's biggest creators. Swift teamed up with the Swedish pop generator extraordinaire Max Martin to write the song—he of "I Kissed a Girl," "My Life Would Suck Without You" and Ariana Grande's "Problem" fame. 
The result was her biggest album to date, followed by a larger-than-life stadium tour. It's almost as if she was telling country music they were never, ever getting back together.
Flash-forward to 2014 and the release of 1989, otherwise known as the album that changed everything. Taylor moved to New York City, she made friends with Victoria's Secret models, she started wearing crop tops with extreme regularity, but most importantly she completely severed ties with her Nashville influences...musically speaking, of course. There was no sign of the girl who once covered herself in flannel and big hair, and there was no sign of that once-beloved acoustic guitar.
Not surprisingly, Max Martin was brought back to reprise his work, and he acted as executive producer for the entire album. He is also credited with writing Blank Space, Bad Blood and, not insignificantly, Shake It Off. As soon as the first bars of "I stay out too late, got nothing on my brain" played over the world's ear buds, she was immediately heralded as having finally shed her country side.
The New York Times called it "a farewell to twang." Billboard dubbed it a "pop curveball." Spin described Swift as "washing herself in the depths of '80s pop." And after everyone got done marveling over what a departure it was for the singer, they went out and bought the album. And bought it again. And again. So much so that it debuted at the very top of the Billboard 200 and stayed there for weeks on end. 
It's now been a very long two years since we've had anything resembling new music from Taylor, and the masses are practically frothing at the mouth in anticipation. We may be at a loss to predict the inevitable metaphors stuffed into the lyrics like a Christmas present, but we're pretty sure of one thing: It's gonna be pop music.