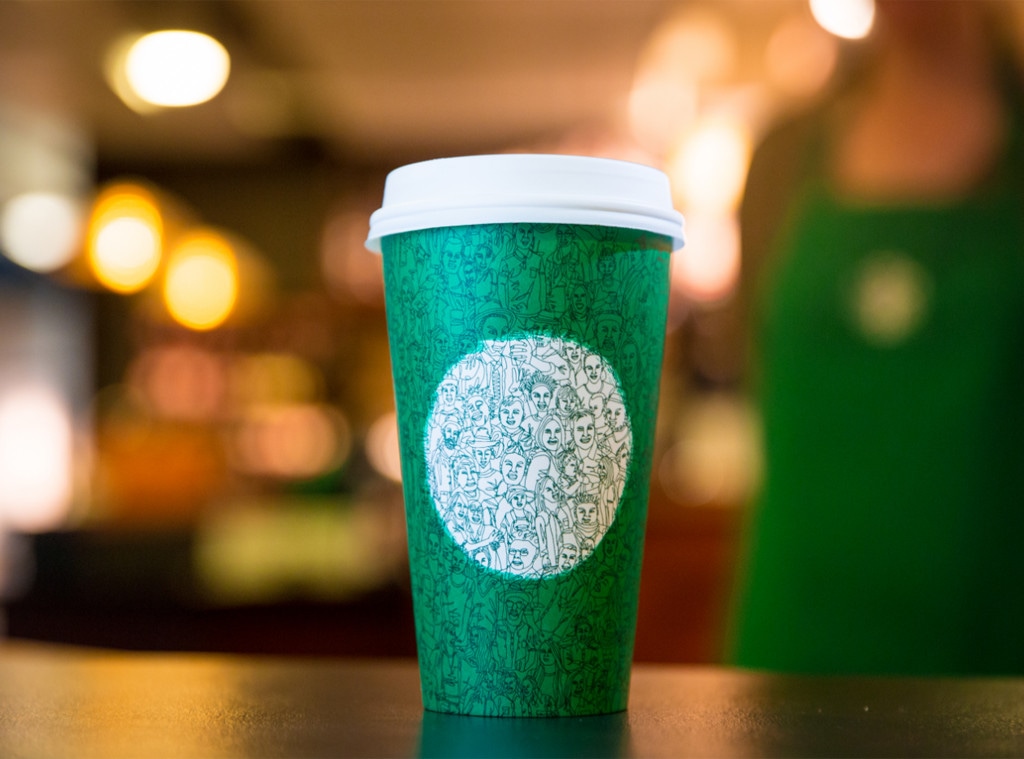 Starbucks
Forget everything you thought you knew about the holidays at Starbucks. The coffee chain did the unthinkable and rolled out a new festive cup THAT ISN'T RED. Although red cups were supposedly leaked, Starbucks introduced green versions today. They feature an intricate illustration by artist Shogo Ota, described as a "mosaic" of people, which was drawn in a single stroke. The design shows over 100 figures intertwined, including a barista, coffee farmer and friends, to name a few. The cup is exclusive to the states and, will be around for a short while. Howard Schultz, chairman and CEO notes, "The green cup and the design represent the connections Starbucks has as a community with its partners (employees) and customers. During a divisive time in our country, Starbucks wanted to create a symbol of unity as a reminder of our shared values, and the need to be good to each other."
Love it. Of course, because not everyone likes nice things, people are getting offended already. They haven't even been out a full day, and Twitter is already filled with comments like, "I'm really not a fan of Starbucks already having holiday cups partially because they're green and partially because it's still 85 degrees." Okay, fair enough. We'll let that one slide. Others, however, are already feeling the same way they did last year, saying that these green guys aren't up to Christmas standards. 
Starbucks doing green cups instead of red cups is disrespectful to Christmas

— Bizzy Emerson (@bizzyems) November 1, 2016
Starbucks....GREEN CUPS!? War on Christmas. Last days.

— Mitch Miller (@mitchmillerme) November 1, 2016
There are more important things happening in the world, but I'd just like to say that I hate the green Starbucks holiday cups. That is all.

— Ashley Forster (@AshleyMForster) November 1, 2016
Starbucks cups are now a cheerful Christmas green. Can't wait for people to be offended by it ??

— Candace (@rockcandy87) November 1, 2016
You just can't please them all, you know? To be fair, these might just be the chains general winter drink cups, as the red cups we saw yesterday aren't technically supposed to be out until November 10. That being said, if you don't like the green cups, and/or the message they stand for (which Starbucks says is "stitching people together as a united community"), the red ones look to be on their way in a few short days. If that still doesn't please you, take a moment to remember that we're literally just talking about paper cups here.