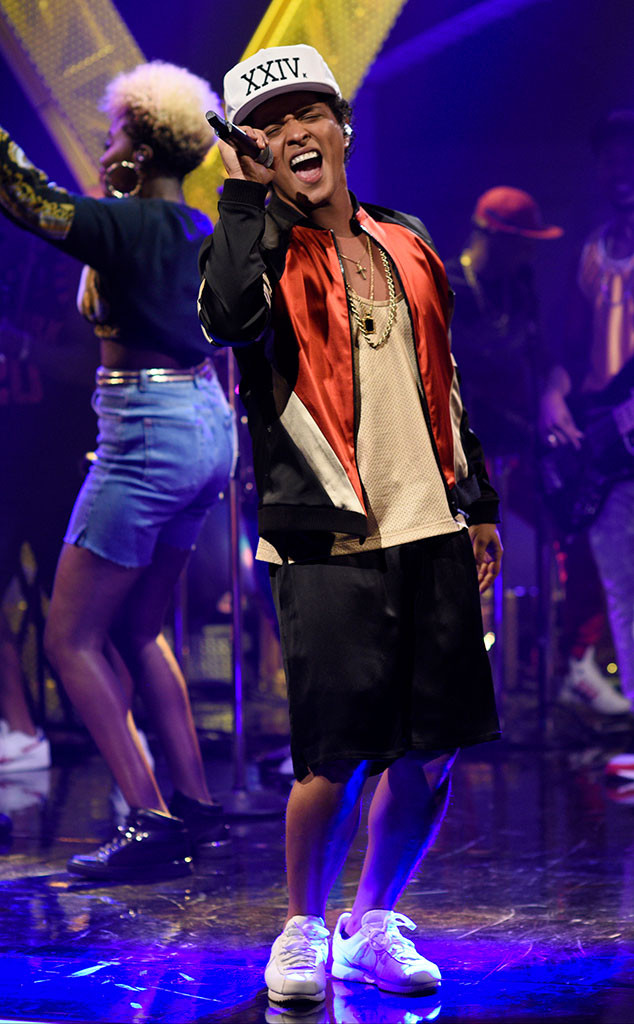 Will Heath/NBC/NBCU Photo Bank via Getty Images
Bruno Mars, it's great to have you back.
As the Grammy winner appeared on stage Saturday night for CBS Radio's We Can Survive concert, fans weren't just excited to hear the hit maker's latest single. They were also thrilled to see the artist back on stage in his first major concert since his Super Bowl halftime performance.
In front of more than 17,000 screaming fans, the 31-year-old and his eight-person band got the crowd on its feet as he played through his biggest hits including "Marry You" and "Treasure."
"Are you ready to party tonight?" he asked the crowd while wearing a simple pair of shorts, track jacket and baseball cap. "It's been a while. It feels good."
It was all the way back in 2012 when fans were able to hear a new album from the singer. But after releasing the first single from his forthcoming album earlier this month, Bruno has quickly reminded fans, critics and industry members alike why he's one of the best.
The first track titled "24K Magic" appeared in the Top 5 on the Billboard Hot 100 marking his highest debut to date. He also defied expectations when he took the track to Saturday Night Live earlier this month.
Instead of following past artists by performing entirely on stage, Bruno decided to start the performance backstage where cameras followed the singer and his backup dancers through the studio. They eventually arrived on the stage, but not until the song was nearly halfway over.
"As soon as you put this album on, you're going to be taken for a ride," Bruno recently shared with Carson Daly on 97.1 AMP Radio. "This album is the best album I've ever done. Out of all three of them this is the one!"
It's quite the proclamation from an artist who has already found huge success with his past albums that helped him receive 20 Grammy nominations. But after working on this latest album with his team for several months, the artist knows the finished product is something special.
"It's very important that the world hears this album in its entirety," he explained when teasing the nine songs that don't include any special guests. "On this album, I really focused on giving you one continuous wave."
While a tour has yet to be announced, it's already on the singer's radar. And because we're talking about the one and only Bruno Mars, this tour isn't going to be your average show.
"Just get ready. It's gonna be something you've never seen before. And we're gonna have fun," he teased to Carson and his listeners. "You ain't seen nothing yet."
As the suspense continues for his album release on November 18, Bruno is already set to open the 2016 American Music Awards. And no matter what comes next, the singer is simply grateful for what he's been able to accomplish.
"This album I couldn't be more proud of," he shared on 104.3 MYFM's Valentine in the Morning. "It's everything I wanted. To me, this album is why I fell in love with music."