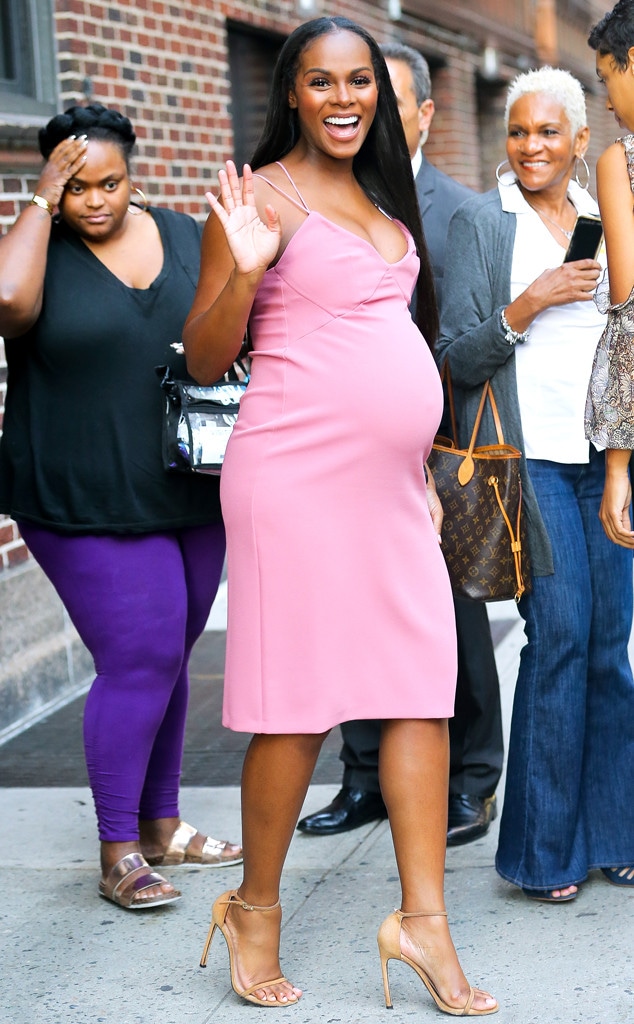 Felipe Ramales/Splash News
A big congratulations is in order for Tika Sumpter!
E! News can confirm the Southside With You actress just welcomed her first child into the world on October 8, a beautiful, bouncing baby girl named Ella-Loren.
Though she hasn't shared any photos or details about her daughter's birth, she did take to Twitter to commend all parents after what's surely been an eye-opening experience as a first-time mama.
"Dear Mom's, dad's and caretakers," she wrote. "I'm slow clapping for each and every one of you. It ain't no joke."
Meanwhile, Sumpter first announced her pregnancy in August while promoting Southside with John Legend, who was the executive producer on the film.  In an Instagram snap taken from her press conference she wrote, "Preggers and promoting w Legend. Happy and proud. #Southsidewithyou #Aug26th."
A source close to the actress revealed to People magazine she was expecting a baby girl, noting that she was already seven months along and would be due sometime this fall.
So why did the mama-to-be keep the pregnancy a secret for so long?
"She's my first child, and I wanted to experience every moment of this pregnancy for myself and enjoy it without everybody else being in it with me," Sumpter told People earlier in October.
"I didn't want to hear, 'Who's the dad? Are you with the dad?' Social media can be harsh, and I'm a mama bear, protective of my family," she continued. "So that's why I waited to tell people, including some friends."
However, she noted, "My friends weren't mad at me," she adds. "They said, 'You did it the way you wanted to do it. You're an inspiration.'"