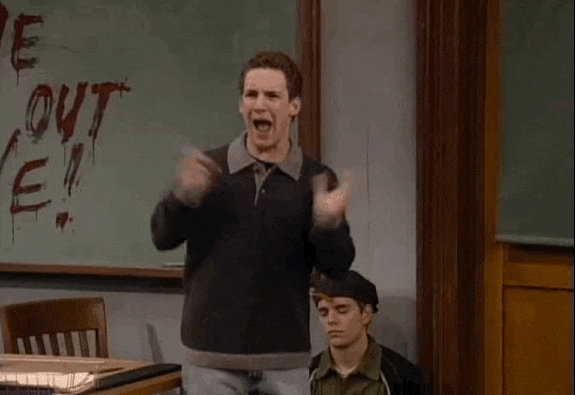 Courtesy NBC
When it comes to Halloween nostalgia, the Internet seems to know exactly what it likes: '90s movies.
Titles like Hocus Pocus, Scream and even the oft-underappreciated Halloweentown are among the favorites. People really can't get enough of their Halloween nostalgia—they want to watch the Sanderson sisters perform "I'll Put a Spell on You," they want to watch Sandra Bullock and Nicole Kidman bring men back from the dead, they want to watch a friendly ghost turn into a very, very hot teen actor. (Let's all take a moment of silence for '90s era Devon Sawa).
But obsessing over these big screen seasonal masterpieces leaves out a very important piece of Halloween pop culture: Old TV episodes. 
Back before the days of Netflix and Apple TVs and even DVR, all we had to get into the Halloween spirit was our trusty themed episodes of our favorite sitcoms. Everyone from Full House to Boy Meets World to Friends found a way to work some trick-or-treating into their story lines, and there's really no better way to channel that nostalgic feeling than by reliving them again. 
Were they all Emmy-winning material? No. Does it beat the hell out of the nightmares you'll have if you try to stream Halloween: H20 tonight? Certainly. 
Boy Meets World
This much-beloved series took on Halloween-time in two different episodes, and they were both about as meta as you can get. First up we have "And Then There Was Shawn," which aired during season five and paid homage to another classic, Scream. In an interesting twist it wasn't even meant to be a Halloween episode (it aired around Valentine's Day), but it's too good not to be re-watched as such. The gang is trapped inside of John Adams High and there's a killer on the loose who happens to be dressed up in...you guessed it...the ghostface mask. It aired when both Scream and I Know What You Did Last Summer were big hits, and it of course featured a surprise appearance from Jennifer Love Hewitt to play the resident "hottie-hot-hot" who...you guessed it...gets hunted by the killer.
The show also tackled the best season while half of the John Adams gang was attending that fake college, and this time they borrowed from yet another '90s gem: Full House. And we do mean that literally, because Candace Cameron Bure (who at that time was still without her married name) guest-starred. "The Witches of Pennbrook" aired on Halloween night and saw Jack falling in love with an odd weird girl named Millie (Candace Cameron) who turns out to be a practicing witch. Eric tries to warn Jack of her dark magic ways (he catches her doing the '90s-favorite activity, incantation, and speaking in tongues), but not before she summons her entire coven for an All Hallows Eve spell. 
Home Improvement
How to choose a favorite Halloween episode featuring the Taylor family? Tim was everything we wished our dad was come October: A crazed, scare-obsessed maniac who would stop at nothing to bring Halloween cheer and epic frights to all who cross his path, no matter if they were friendly neighbors or innocent young children. The show's theme episodes often centered around the building of an epic haunted house in the basement (and yes, there were plenty of sight-gags when Tim hit his head on that pipe), or the throwing of an awkward boy-girl dress-up party (remember when Brad's girlfriend refused to dress up as Raggedy Ann? That was cold.) 
That said, for the most nostalgia for your buck we'd suggest watching the very first iteration, "The Haunting of Taylor House," featuring a cameo from a pre-Boy Meets World Ryder Strong as a bully who thinks he's way too cool for Halloween. 
Friends
For a show that relied heavily (very heavily) on its annual Thanksgiving episode, the friends rarely celebrated or even acknowledged Halloween. There was one season in which they went to dinner on Halloween to celebrate Phoebe's birthday, but that's as far as the autumnal celebrating went. That said, the single fully-themed episode did deliver. Monica and Chandler threw a Halloween party for Ross, Rachel, Phoebe, Joey and all the random extras they always claim to be acquainted with whenever there's a gathering. (Can we talk about the strangers at Phoebe's bridal shower?). 
While the plot centered mostly around Ross and Chandler's desire to arm wrestle and the fact that Phoebe had the hots for her twin sister's boyfriend (a wonderfully sweaty Sean Penn), the real gems lied in getting to see everybody dressed up. Phoebe was Supergirl, Monica was Catwoman, Joey was Chandler (complete with nasal-y voice), Rachel was a pregnant woman who just bought a new dress and wants to be able to wear it while she could still fit in it (a costume we'll probably be borrowing this year), and Ross was...Spudnik. A half-potato, half-satellite homemade contraption that really just looked like a piece of poo. And that was worth the seven-seasons-long wait.
The Simpsons
Can we get an amen for the Treehouse of Horrors? No one does Halloween better than The Simpsons, mostly because the show has been on for 28 seasons. Treehouse of Horrors episodes have been running for almost as long (they've even been nominated for Emmys in the past), but our personal favorite is a throwback to the very beginning. In season six (that would be all the way back in 1994), the Very Special Episode consisted of three different spooky tales, including one based on The Shining. Or, rather, it was based on The Shinning, since Groundskeeper Willie can't say that word without his strong Scottish accent. In the story, the whole family is hired to be caretakers of Mr. Burns' creepy mansion, and after Burns cuts the cable wire to the house the entire family goes mad. "No TV and no beer makes Homer go crazy."
Will & Grace
"A pumpkin picking bike trip on a brisk fall day? It's madness!" If you're one of those people who wants to want to get into the autumnal spirit, if you've ever gotten really excited about a new pumpkin bread recipe you saw on Pinterest but then loathed to actually make it, if you constantly admire your neighbors' seasonal house decorations but would never dream of going through the trouble of putting them up yourself, this episode is for you. Will and Grace attempt the aforementioned pumpkin-picking bike trip on the aforementioned brisk fall day (Halloween day, to be exact), and things go horribly awry.
Full House
Call it a lost opportunity, but the Tanners never really acknowledged Halloween very much. Take "It's Not My Job" in season two, in which the lead-in is all about picking out their costumes, and then the episode completely forget that it's even October 31. That said, it's all worth it just to see Michelle in this costume. 
Roseanne
That brings us, of course, to the granddaddy of all '90s Halloween TV. We're talking about Roseanne. The Connors never missed an opportunity to celebrate the holiday to the fullest, and, beginning in season two, the ABC series delivered eight Halloween episodes in succession, making the show synonymous with Halloween programming. Some were weaker than others (season nine's Rosemary's Baby spoof was more notable for its out-of-nowhere crossover with Absolutely Fabulous), but if you're looking for Halloween TV gold look no further than season two's "BOO!" Who didn't want the Connor's Tunnel of Terror in their own neighborhood on All Hallow's Eve?