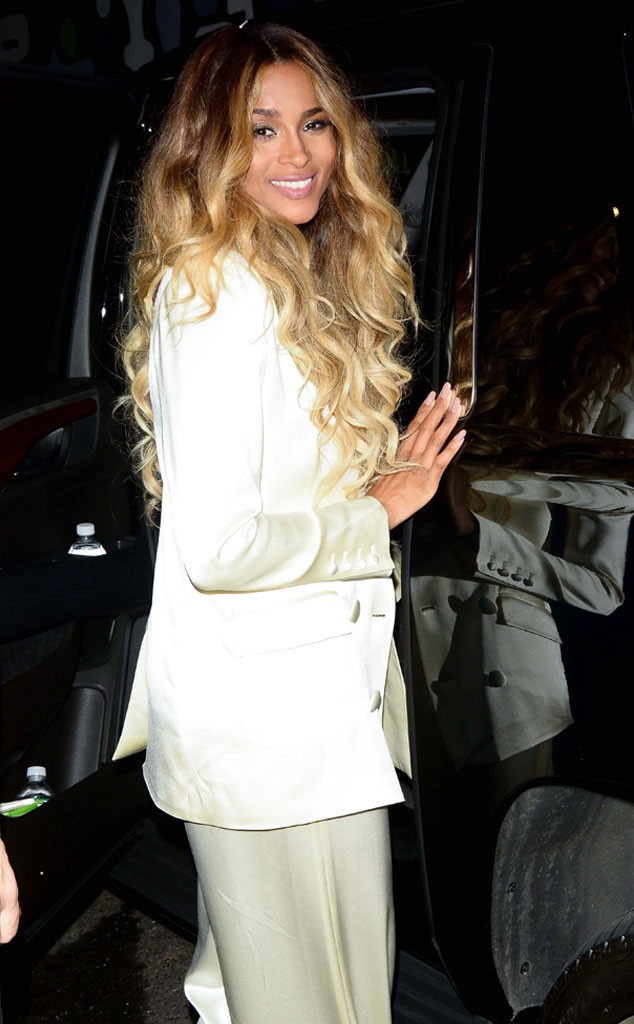 Patricia Schlein/Star Max/GC Images
Is Ciara about to become a mom again? 
That's the question on many fans' minds recently, particularly on the heels of her recent public appearance as Revlon's newest global brand ambassador.
The "Goodies" songstress arrived to the Refinery Hotel in New York City on Tuesday night in honor of the brand dressed in an all-white Houghton suit with a loose fitting tuxedo jacket. 
"Baby bumpin," one fan commented on Instagram. "Exactly...," another fan quipped back. 
While she has not commented on the speculation, two sources do tell E! News the 30-year-old is expecting. 
"Ciara is pregnant and is so excited to be a mom," one source told E! News. "Russell [Wilson] would like to have two to three children. They both would like a big family."
The "1, 2 Step" singer and the Seattle Seahawks quarterback married three months ago in front of close friends and family at the Peckforton Castle in Cheshire, England. Ciara is already a mother to 2-year-old Future Zahir Wilburn, whom she had with ex-fiancé Future. 
While the pro football player does not have any children from his previous marriage, the athlete constantly gushes about his stepson and having that role in his life. 
"It's a blessing. He's such a special kid and he's so smart. He's active as can be. He loves sports—loves running around," he told E!'s Sibley Scoles. "I love kids. She does, too, and hopefully God willing..as long as they're healthy, that's what we pray for whether it's a boy or girl—who knows—but we've got some time for that."
Watch:
Russell Wilson Says Wedding With Ciara Was "Amazing"
Meanwhile, his wife has already been working on projects with girls in mind, particularly when she led a conversation with young women from I AM THAT GIRL and Keds in celebration of Women's Equality Day in late August. 
"Days like this when we get together with I AM THAT GIRL and we're able to talk to the young girls around the world, from all different places, it's really important to be able to share your wisdom to help them in their lives too. And I also got to gain some things from them as well," she told E! News at the time. "I do think about, like, one day I may have a daughter."
Is that day possibly sooner than we think? Sound off in the comments!