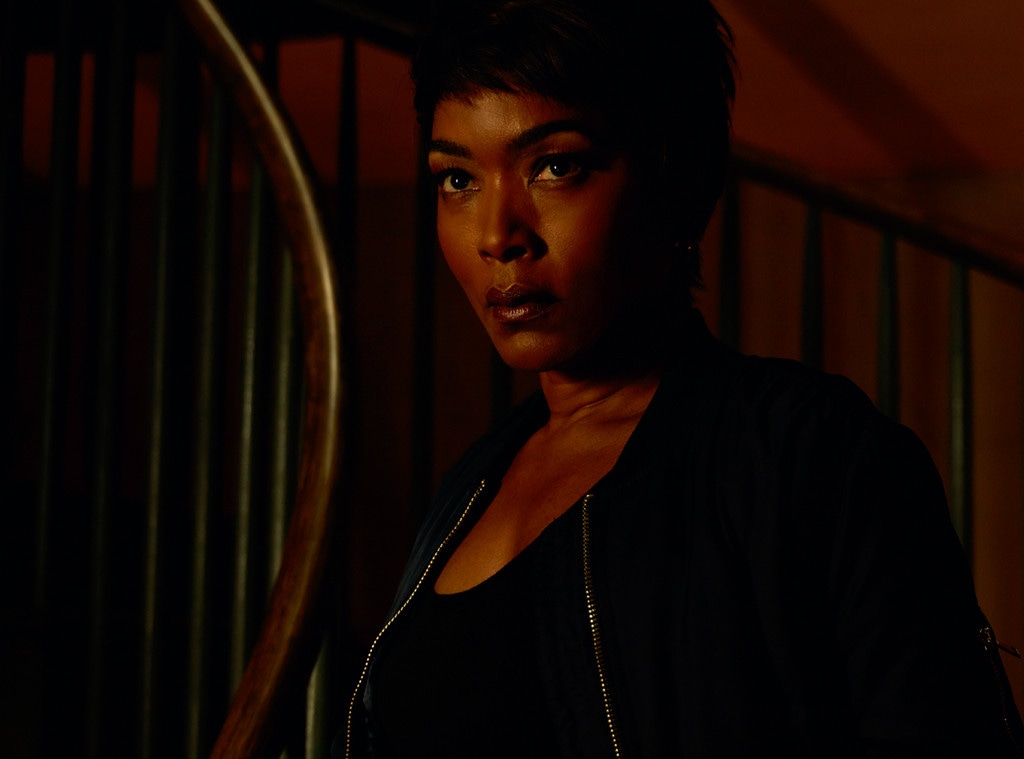 FX
While American Horror Story: Roanoke fans are busy dissecting teases about tonight's "radical twist," it should be noted that there's something even more important happening behind the scenes. 
For the first time in the show's six-year history, a woman directed an episode of American Horror Story: Angela Bassett, who "knocks it out of the park in every way," according to co-creator Ryan Murphy.
Sarah Paulson is also set to direct an episode of one of Murphy's shows next year, he tells E! News—and this came about, in part, thanks to his new foundation, Half, which seeks to fill 50 percent of director slots by women, people of color and the LGBT community.
"There was a moment where I realized, 'The system is screwed up and I'm part of the system, so I'm part of the problem,'" Murphy explains. "Only 17 percent of episodic television is directed by women, which is a deplorable number. And I want to help change it."
Though Bassett has directed before (most recently Lifetime's Whitney movie), Murphy explains that people weren't giving her the projects she deserved, "which is bulls—t," he contends. "So I told her, 'You're going to do this big, big episode and you're going to knock it out of the park,' and she did. And I've seen it time and time again with these women that we brought into this directing world that they're just killing it, and they're working twice as hard because they know they have a lot to prove."
Murphy believes Paulson—who of course, just finally won her first Emmy for The People Vs. OJ Simpson—will be a natural. "She's going to direct an episode for me, either in season two of Feud or of [American Crime Story] Katrina. And you know, Sarah Paulson knows more about sets and storytelling than anyone, so I told her, 'You should do this. You will be a great director. You will be a great producer.'"
Murphy's Half foundation isn't only giving established actresses like Paulson and Bassett directing opportunities—In fact, the majority of his focus has been on opening doors to young people who otherwise might not even consider directing as a viable career. He has been speaking at colleges and universities, and also started a mentorship program in which each current director is shadowed by someone who wants to break into the business. Next year, Half also plans to launch a scholarship program to pay for women to go to film school.
Vince Bucci/Invision for the Television Academy/AP Images
With a recent sweep at the Emmys and four shows currently in production—American Horror Story, American Crime Story, Scream Queens and Feud—Murphy certainly has the real estate to affect some real change into a system he believes to be desperately flawed. 
"Television is above all else a very big business," Murphy explains. "If you're going to direct an episode, you know, that's millions and millions of dollars you've invested that you're kind of just handing it to a director and saying, 'OK, here you go. Hope it works.' So as a result, the system for 25 years, since I started out, has always been a lot of people who have had a lot of experience and those people are usually white, middle-aged men. It's just the truth of it. And what I realized is that I had an obligation to step up and mentor people who deserve a shot."
You'll see Basset's AHS directorial debut tonight—in what is clearly the most pivotal episode of the season, and in which (spoiler alert!) Basset herself switches to play a different role. [Note: I also appear in the episode for a nanosecond, which Bassett directed, which is a story my grandchildren will be sick of hearing some day.]
"I just want to give people opportunities like I have had," Murphy adds. "And the people who gave me my big opportunities for the most part in this business were women. So this is sort of like my payback. And I want my kids to grow up in a different world. It's the right thing to do, it's what it should be and it is probably the most rewarding thing that I have ever done in my career."
American Horror Story: Roanoke airs tonight at 10 p.m. on FX.