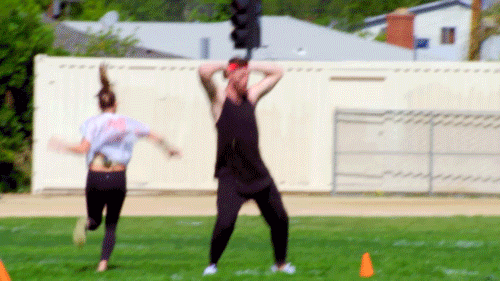 E!
It's game time, baby!
With 12 women left in the house, it was officially crunch time for Travis Kelce on Wednesday night's episode of Catching Kelce. So, the Kansas City Chiefs tight end decided to ignite the ladies' competitive spirit (even more) with a touch football game versus his brother, Jason Kelce of the Philadelphia Eagles.
"If I don't beat my brother I'm going to feel embarrassed in front of these girls," Travis said. "My brother's just never going to let me live that down."
But Travis wasn't the only one with his game face on. His female suitors were out for blood both on and off the field just to get a chance to spend more time with the football stud.
Let's recap the top must-see moments from this week's episode!
1. Maya's breasts (almost) made a play: Because Travis was so fired up to beat his brother in the football game, Kentucky contestant Maya tried her very best to impress him. Unfortunately, her chest ended up stealing the show when she attempted to catch a pass from Travis. "Instead of my hands catching the ball, my boobs did," she explained. "But instead of my boobs grasping it, it bounced off my boobs. That sucked." LOL!
2. Anika revealed her famous ex-boyfriend: In a totally random development, Anika from Minnesota admitted she'd previously romanced Italian model and actor Fabio. "He approached me when I was working out at the gym," she told Mississippi contestant V Rich on the car ride back the mansion. But when V implied that he was her sugar daddy, the two became involved in a heated argument that eventually forced Travis to play mediator. Not cool.
3. Travis made out with Lauren: Following the football game, Travis chose Missouri contestant Lauren as the lucky girl to join him for the week's group date at a red carpet charity event. Their connection ultimately grew even deeper during their alone time after they shared a steamy smooch.

4. Travis also made out with Jamie Leigh: But Lauren wasn't the only one making moves on date night. West Virginia contestant Jamie Leigh took full advantage of her private moment with the football star when he admitted his biggest weakness is being a "Yes" man. We'll just give you one guess as to how that played out…
5. Travis and Avery shared a meaty meal: After the red carpet event, Travis picked Avery to join him for the VIP date at Pink's Hot Dogs in Hollywood. The late-night rendezvous even included enjoying an extra-long wiener Lady & the Tramp style. How romantic!
6. Travis kicked Anika and V Rich to the curb: After sending Ashley from New Mexico home in elimination, Travis decided it was time to dismiss both ladies for their constant bickering over Fabio. "The petty stuff, the small drama that everyone can avoid, I can't handle that," he told them. Hey, on the bright side, we think Fabio might still be available!