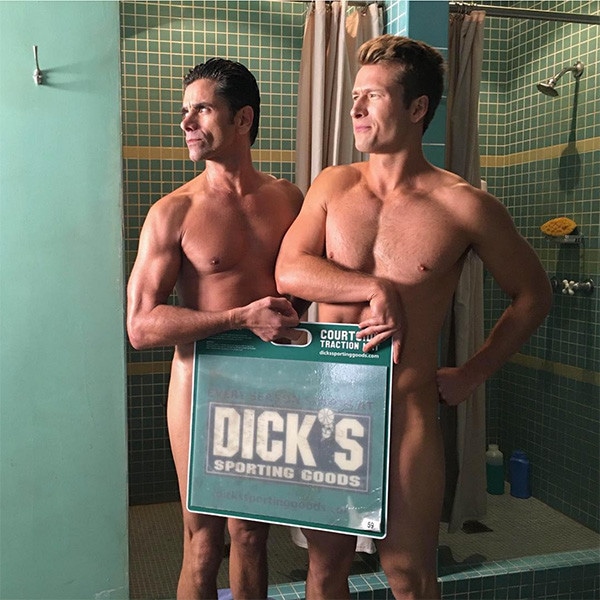 Instagram
With all due respect to every Scream Queens casualty who came before him, the most devastating by far has to be Chad Radwell (Glen Powell), who fell through a bloody ceiling above the head of Chanel Oberlin (Emma Roberts) in last week's episode—crushing our Chad-loving souls into a thousand wish-bone pieces. 
He can't really be dead...Can he?!
Everyone knows the first stage of grief is Denial, but we're also aware Glenn Powell is a certified national treasure being guarded by the Smithsonian, so it seemed only right to go straight to co-creator Ryan Murphy for the truth about Chad's fate. And we got the truth. And we can't handle it.
"Sadly, Chad is dead," Murphy confirms to E! News. "He really is dead and gone. I will tell you, I love Glen and he is so funny, but it was really about ramping up the stakes of the show."
Ramping...up...the..stakes...of...the....show. Apparently, that's precisely what happened because now it's just a little bit harder to breathe.
Moving forward, you should know, Scream Queens is not holding back when it comes to deaths this season. 
"Every episode now, someone major is getting killed off," Murphy reveals. "This week we have literally, and I'm not going to tell you who, but a fan favorite character bites the dust, so people will have to tune in to see who that is. It's a shockaroo, taken too soon, RIP."
You know how Zayday Williams (Keke Palmer) referenced Agatha Christie's Ten Little Indians in episode two, hinting that one by one the characters might be offed? Well, it sure sounds like that might be more than just a casual reference.
As for how Chanel will be handling Chad's death, well, naturally, her biggest concern is Chad's money, and it turns out another former lover of "Chaddy" is back to fight for it. Check out this exclusive sneak peek at tonight's episode:
Scream Queens' second season has moved the main characters to a hospital run by Dean Cathy Munsch (Jamie Lee Curtis), adding some man-candy appeal with John Stamos and Taylor Lautner, starring alongside Emma Roberts, Keke Palmer, Abigail Breslin and Billie Lourd—with Lea Michele's Hester locked up Hannibal Lecter style in solitary confinement. 
Scream Queens' next episode, with the next big death, airs tonight on Fox.