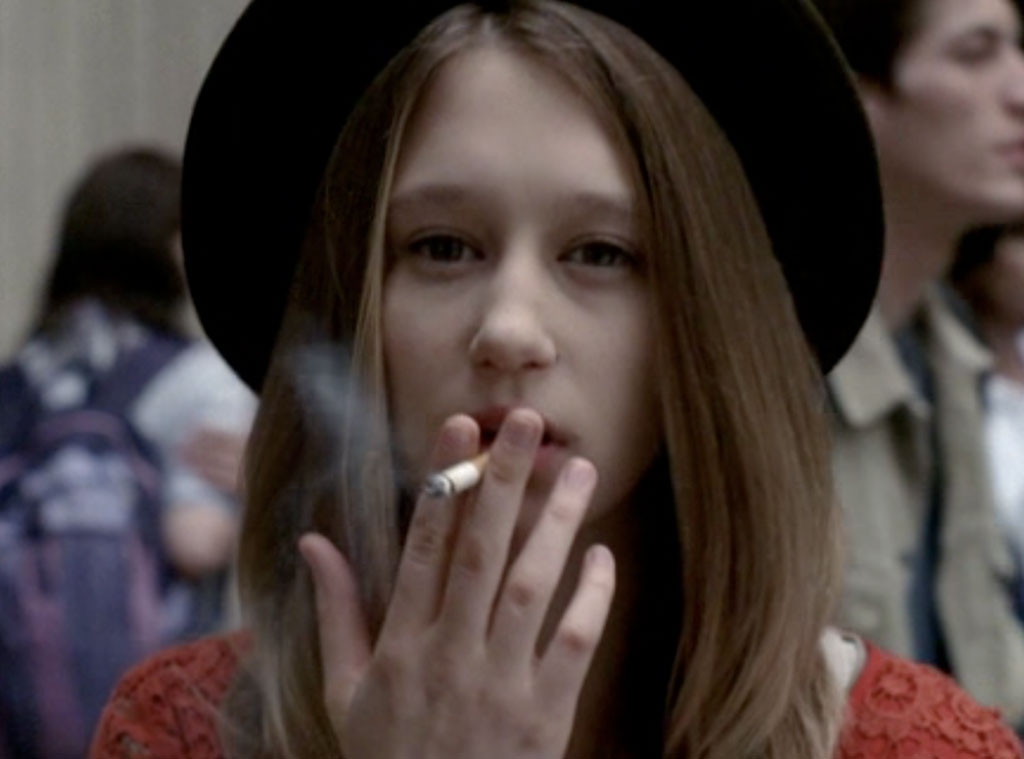 FX
American Horror Story: Roanoke just might be the new gold standard when it comes to a game-changing twist that changes everything—and the reason you could fall off your couch on Wednesday night.
E! News has learned that starting this week, for the first time in American Horror Story (TV?) history, the show's core cast—including Sarah Paulson, Evan Peters and Kathy Bates—will start playing different roles halfway through the season. "It's a radical twist, a completely new form of storytelling," co-creator Ryan Murphy tells E! News of the episode, which catapults the show into an entirely different direction.
Plus, some long-awaited news for fans: Taissa Farmiga is back! And we will finally get to see Finn Wittrock return and play the "most f--ked-up character of all time," according to Murphy, who also teases some deliciousness ahead for fan favorite Evan Peters. Evan and Taissa and Finn and a mind-blowing twist...It's the stuff that (f--ked-up) dreams are made of, y'all.
Read on for the exclusive scoop from Ryan Murphy and soak it in...
How does this twist compare to other AHS twists from past seasons?
Ryan Murphy: It feels bigger. The thing I love about episode six as you are watching it is that we drop a huge bomb at the end of the third act, where you kind of are in disbelief at what the chyron on the screen is saying. And then that takes you into another world and the stakes are really, really, really high. This season has been all about redoing the narrative of what we've always done. I think it's always been a sort of straight-forward version of storytelling. And what happened with this season, which is really broken into two halves, one through five, which everybody has hopefully seen, and then six through 10. And it's a completely different show. It's a completely different narrative form. Things that you thought to be true about people are revealed to not be true. And it was exciting to work on, because it was like working on two shows at once. The big twist of episode six takes you into a complete other world.
Were the actors in on this twist from the beginning?
No. I had to call up Sarah Paulson and Kathy Bates. We didn't tell them [the twist] this year. So we had them thinking this idea that they were playing one thing through the whole year, and right around the time we started shooting episode four, I called them up and I said, 'OK, I didn't want to tell you this, but it will be revealed that you're actually something completely different than what the audience thought you were.' And they all loved that challenge.
Many of them, as you know, have had to do different voices and different accents, and so it was a very energizing way to work and it really energized the show and took us in a very different direction. Sarah Paulson remarked that it was one of her favorite things that she's gotten to do on the show, because it's such an abrupt shift into something else. 
There has been so much secrecy surrounding this season. When I got my script [Note to readers: I appear in the next episode but can't say how!], I felt like I was getting classified documents from the Pentagon. Words were X'd out. I had to sign all kinds of things. How did you keep it all a secret and were you amazed nothing got out?
It's been hell! [laughs] And yes, I am amazed that it hasn't been spoiled. That's something we worked really closely with [FX President of Marketing] Stephanie Gibbons and [FX President] John Landgraf, because they wanted the marketing of the unknown and the secrecy of it, and we decided to really guard it under lock and key.
We used to have a script distribution list of almost 215 people and that got whittled down to four people who weren't acting on the show. We made everybody sign confidentiality agreements. We X'd things out it scripts. Sometimes certain words were X'd out until the actual take and then the actors were told then, which was fun for them. It was always a great game of suspense of cat and mouse within our production offices that I had with the actors. And I really love that the actors kept in under wraps. 
I was really proud of Sarah Paulson and Cuba Gooding because they were doing a lot of red carpets around that time and I thought, 'Oh it's going to come out. How can it not?' But they handled it with such great class and secrecy.
But I will say, I was a little heartbroken with TMZ. They had a photo of one of our sets that supposedly was taken by a guy dressed up in a cop uniform who claimed to be a part of our security force. I still can't believe that. That got out, but really nothing that we were adamant about. I think all of us are going to be glad after this week's episode airs, that the cat is out of the bag.
So this isn't how you are going to be treating all your shows moving forward?
Never! [laughs] This was just a secret season. And I love that it paid off, because we took a big risk, and I think it worked and that's always rewarding. I think this season is really modern and fun and I've read people saying and I agree that it's our scariest season yet, because it's like season one Murder House in that it feels very real. And what happens from now until the end—it's just a race to the finish, which is really, a very harrowing and brutal race.
Who else is coming back?
Finn Wittrock is coming back soon, playing his most f--ked-up character of all time. To the point where he was like, 'This is so crazy that I don't know that I can do it, but I'll do it.' And Taissa Farmiga is coming back for the first time ever since Coven, in I think a really, really great part and we love her. We're very excited—she's a part of our world and always will be, and I always wanted her to come back.
And will we see more Evan Peters?
Oh yes, and it's probably my favorite thing he's done. Evan Peters in episode six is one of the greatest, most hilarious things Evan has ever done and he loved it. He's a very big, pivotal part of episode six, playing a completely different character than what we've seen him play. Evan is just the best, I love him.
Check back for more scoop from Ryan Murphy after the highly ambitious sixth episode of Roanoke airs Wednesday at 10 p.m. on FX. And follow me on Twitter (@kristindsantos) for live-tweeting/panicking during the episode.