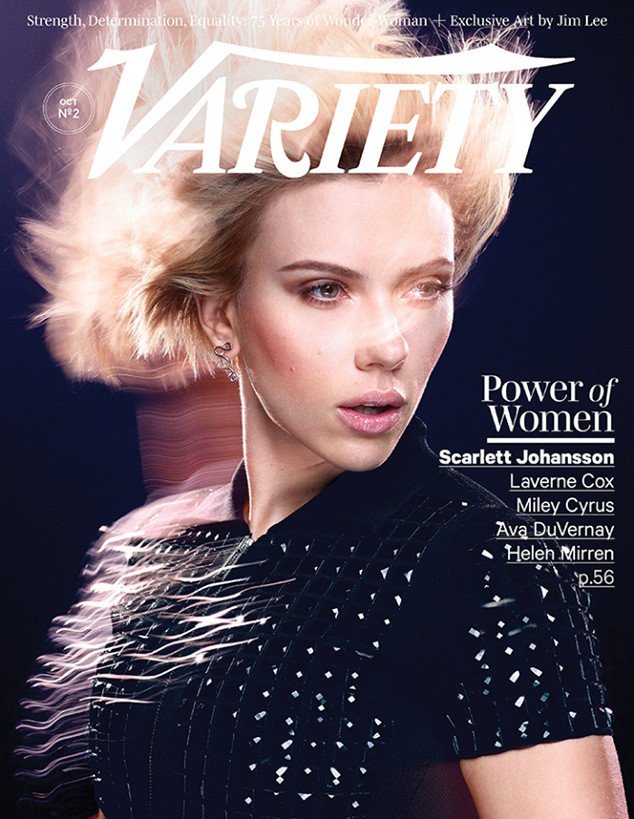 Warwick Saint/Variety
It's hard to imagine a Marvel movie without Scarlett Johansson.
The actress made her debut as Black Widow (a.k.a. Natasha Romanova) in 2010's Iron Man 2, starring Robert Downey Jr. "I knew I wanted to be involved with Marvel and Jon Favreau," she says in Variety's Power of Women issue (which also honors Laverne Cox, Miley Cyrus, Ava DuVernay and Helen Mirren). "I always like Jon Favreau's stuff. The superhero genre was never a favorite, not that I didn't like it. I liked all the Tim Burton Batman movies, but I wasn't a big comic book fan growing up. I loved Iron Man. It spoke to me. I thought Robert's work was groundbreaking. It captured my attention as a person that isn't normally a fan of that genre."
Getting into character proved to be a challenge. "The physical part of it was something I'd never gotten to experience. That was something that pushed me out of my comfort zone. I never had the opportunity to play a character in a franchise before, and to grow this character as I was growing as an actor," she says. But the challenge wasn't all physical. "As the character becomes stronger in many ways, I think she also becomes more vulnerable. Her vulnerability is a strength of hers," Johansson says of the Russian spy. "I think vulnerability is often seen as a weakness."