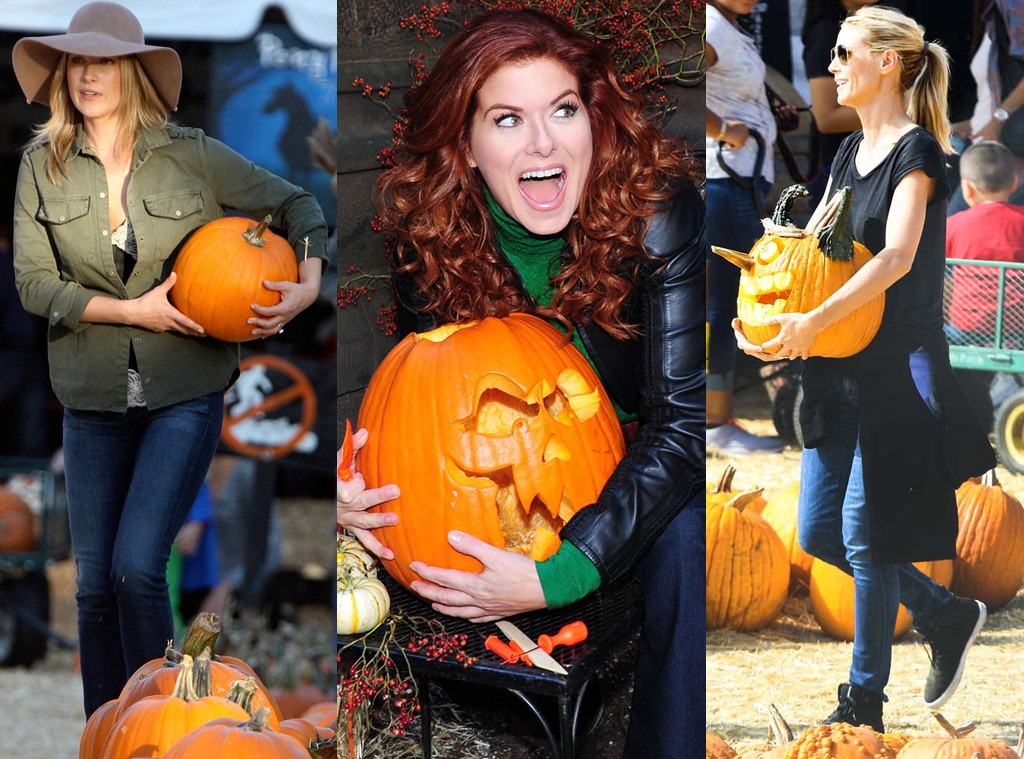 Michael Simon/startraksphoto.com; AKM-GSI;
Fall slowly breezed its way into our lives a few weeks ago, bringing with it cooler temperatures, Pumpkin Spice lattes and a renewed obsession with foliage. 
But every year, we set our autumnal clocks not by the equinox or the Starbucks menu or even the changing of the leaves. No, we know it is fall once celebrities descend on Los Angeles pumpkin patches. Once mid-October strikes, Hollywood's hottest club is Mr. Bones' Pumpkin Patch. This place has everything! Hay bales, corn stalks, mildly offensive Native American kitsch, and of course every celebrity west of the Mississippi. 
Yes, not since the early days of The Ivy restaurant or The Nice Guy has one Los Angeles locale been such a scene. But can you really blame celebrities for flocking to the pumpkin patch like fall-loving moths to a cinnamon apple-flavored candle flame? They are just like us, after all, and us really gets into the fall season. 
This tradition is as old as time; in fact, it dates all the way back to...whenever the paparazzi was invented. The stars do all sorts of things to get into the Halloween spirit. They decorate their houses with skeletons and gravestones and cobwebs galore, as Kourtney Kardashian Snapchatted this very morning (social media or it didn't happen, right guys?). They fill their kitchens with the delectable scents of freshly-baked apple crumbles and pumpkin breads, as we imagine Lauren Conrad has done several times this season. They attend haunted houses and hayrides, where they can don their most carefully curated cold-weather clothes despite the often 70-plus degree temperatures.
But most importantly, they hit the pumpkin patch. And thank the Mayor of Halloween Town for it, because it's pretty much the only thing that will get us in the spirit these days. 
All Access Photo/Splash News
Often times these A-listers (okay, not always A-listers, but you know what we mean) bring their adorable broods with them to pick out the perfect pumpkin. Like Alessandra Ambrosio, who doesn't let an October go by without a trip to this magical land of fall funtivities. Or Jessica Alba, whose two daughters love them some pumpkin patching. Gwen Stefani never misses a trip to Mr. Bones, and the entire Kardashian family makes an annual pilgrimage to Da Patch.
And then there's James Van Der Beek, who took his children for their inaugural visit to Mr. Bones several days ago, and whose wife even managed to fit in an autumnal pun! Such is the hallmark of a true fall hero.
But the stars don't need kids to pick out the perfect pumpkin! Just like regular people, who often insert themselves right in the middle of their fellow townspeople's family fun, with nary a thought given to the fact that they are budging young children in line for the corn maze or taking the last candy apple when there is an adorable little girl who's been dreaming of the candy all day. 
Paris Hilton never misses a photo opp at Mr. Bones. Kristin Cavallari made visits before she was herself a mother. Photos spotted Rachel Bilson farm-ing it up without little Briar Rose. And we're sure dozens of tween stars have stopped by the patch to take endless selfies in front of the scarecrows and gourd arrangements—we'd double check that but, you know. 
So now that we are firmly into the month of October, we have so many celebrity pumpkin patch sightings to look forward to. If you're feeling down while sitting at your cubicle during the middle of a Wednesday, just wishing that you could be out enjoying the fresh breeze and cool apple cider, just know that somewhere out there, a Hollywood star is doing it for you.