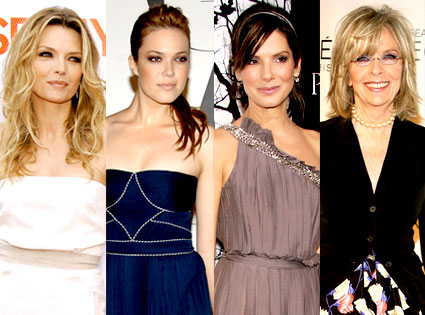 Lisa O'Connor/ZUMAPress.com; Jamie McCarthy/Getty Images; Bryan Bedder/Getty Images
Diane Keaton, Michelle Pfeiffer, Sandra Bullock and Mandy Moore. Sounds like a pretty good lineup for another stab at a remake of The Women.
But alas, the A-listers have only teamed up for a lawsuit.
The comely quartet have sued CompUSA, Systemax, TigerDirect and several other electronics-peddling corporations for using their images, which carry "substantial commercial value," in online advertisements without the actresses' permission. (View the complaint.)
According to court documents filed Tuesday in Los Angeles Superior Court, the defendants used the plaintiffs' pictures and personas "repeatedly and continuously" to sell various products online and in their retail outlets.
We may have never bought a universal remote or a TV wall mount because of Michelle Pfeiffer, but who's to say other people haven't?
Pfeiffer, Keaton, Bullock and Moore are requesting unspecified damages. Overall, they are alleging unjust enrichment, violation of common law right of publicity and violation of a California civil code that outlaws unauthorized use of a person's image for commercial purposes.