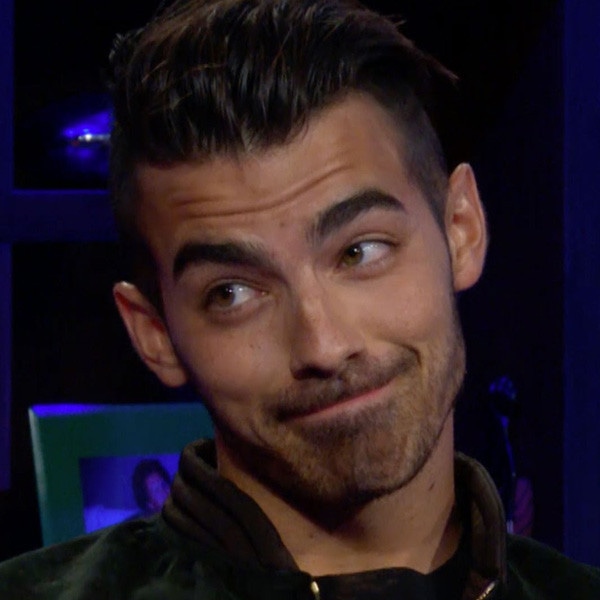 Bravo
In case you weren't aware, Joe Jonas is funny AF.
The musician dedicated some time today to answer fans' burning questions through a Reddit AMA and it was probably the most entertaining thing you'll read all week. No question was pushing it and every answer was laced with his famous wit and humor that we've grown to love.
(Seriously, we could read a Joe Jonas AMA all day, every day.)
Given the fact that he delivered so many golden answers, it was quite the task to try and pluck out a few favorites to highlight, but we managed to fulfill the task, and we think what you're about to read is a fun bag of candid, funny, interesting and revealing tidbits.
From his penis size to the Jonas Brothers breakup to losing his virginity to Ashley Greene, here are eight of our favorite Joe Jonas responses.
1. When Asked About Bad Blood After the Jonas Brothers Breakup: A fan asked Jonas to reflect on the band's infamous breakup and brought up that Joe was "accused of breaking up the band for drug addiction, you were scrutinized for being seen with a therapist, you weren't on speaking terms with your brothers."
He responded thoughtfully and thoroughly, writing back, "I think that probably half of those questions are true. I was seeing a therapist and I wasn't on speaking terms with my brothers. When it happened, we were focusing on going on another tour and we had plans to hit the road and do what we had been doing for a while. Nick brought it to the table that he wanted to focus on different things, like acting and doing music on his own. At first, it was really shocking to me because it was kind of all I had known was the Jonas Brothers, forever. So, I was pretty mad and confused because, I was like, I've been putting so much time and effort into this for so long and now I just have to stop and figure out what's next."
He admitted, "And maybe I was a little envious of Nick because I knew that he already had kind of a leg up and had plans to work on music already and he was creating and producing. So, I was probably mad at him, too. I remember kind of losing it a little bit and I didn't speak to anybody. I closed myself off and we cancelled the tour and didn't really know what was going on. We were honestly trying to figure out if it was the right decision to call it off or do a final tour or final goodbye, but I think, for all of us, we did it for ten years and it was a lot of time doing one thing...On the questions about the drug addition. That was all false. That probably would have made me look really cool, but unfortunately that wasn't real."
2. When Asked Who His Man Crush Is: Turns out a few leading men in Hollywood catch Joe's eye, but one takes the cake (kind of literally). "I have a few. One being Daniel Craig. I have had multiple Daniel Craig birthday cakes in my life. One was a photo of him coming out of the water from Casino Royale and they made it into a cake."
He adds, "Obviously, Matthew McConaughey is one, too. I think he's the man. So, between those two, there's a lot of man crushing going on. Also, I'm pretty into this guy, Ken Bone, recently, tbh. He kind of takes top of the list for me. Depending on who he votes for. C'mon Ken, we're believing in you. Don't let us down!"
3. When Asked About Nick's Nipples: Yes, his brother Nick Jonas' areolas made their way into the conversation when one user exclaimed, "What's up with Nick's nipples, bruh? - s--t is weird." LOL. Joe came to his brother's defense, jokingly saying, "Nick's nipples are not as big as they may appear. It did take multiple surgeries to get them down to a normal size. I think it was like 30-40 surgeries to just get them to a little quarter shape," and threw in a, "RIP Harambe. P.S. D--ks out for Harambe."
4. When Asked About Fans Calling Him "Daddy": Because that, too, is weird, bruh. Well, apparently, only if you're underage, according to Joe. "I just hope their actual father isn't reading their Twitter accounts. But I take it as a compliment...if you're old enough to say that. I think you should at least be 18 to be able to say daddy to someone."
5. When Asked If He Really Has a Bigger Penis Than His Brothers: No intro necessary for this one. "I like to think so. Although, it's not often that I'm in a locker room or shower with my brothers, so I couldn't really tell you. But, I'd like the Internet to believe that I'm still killin' it."
6. When Asked Who He Lost His Virginity To: "I lost my virginity to this girl named Ashley. You can probably just Google it. It's pretty easy to figure out. I dated a girl named Ashley, so just Google it to figure out which Ashley that is," he responded. (Spoiler alert: He's talking about ex Ashley Greene.)
"It's quite the great story because I didn't have any condoms, so I went to our drummer, Jack's room, who was my roommate at the time and I demolished his room looking for them. Found them underneath his underwear drawer. When he came home, he thought somebody broke into his room because his whole room was demolished because I was in dire need. Needed to happen then and now. Safety first, kids."
7. When Asked If He Had a Boner During DNCE's Sexy Video "Body Moves": Because who didn't get turned on just by watching him get sexual with Charlotte McKinney?! "Thank you very much about saying it's tastefully sexy. There was definitely some half chubbing going on during the video. I wouldn't say a full blown boner, but I would say a haflie," Joe said.
"I mean it's kind of hard not to in that situation especially when you're trying to be intimate, and also they put us in an elevator, me and Charlotte McKinney who I'm sure Reddit is very familiar with. They put her in an elevator with me and then they had kind of a hidden camera filming this whole time, and I had a great time doing the video.
Also during our ["Toothbrush"] video I worked with Ashley Graham, and the first thing out of her mouth, I never told anybody this, she actually said 'if you get a boner, I'm gonna start to laugh,' so that was how she broke the ice to get us comfortable on set."
8. When Asked Who His Ideal Dinner Party Guest Would Be (Dead or Alive): Jonas answered, "Dead or alive, I would definitely go with Bill Murray, he would bartend, drunkenly bartend. Then I would say probably I think Will Ferrell would be pretty sweet to have there as well. It would be funny to see the competition of who can make who laugh more. I gotta pick somebody dead cause that just makes it special. Bob Marley, I would love to have Bob Marley in the room, and he can make us weed brownies. It would be really fun."
Wait, can we get an invite to this dinner party?