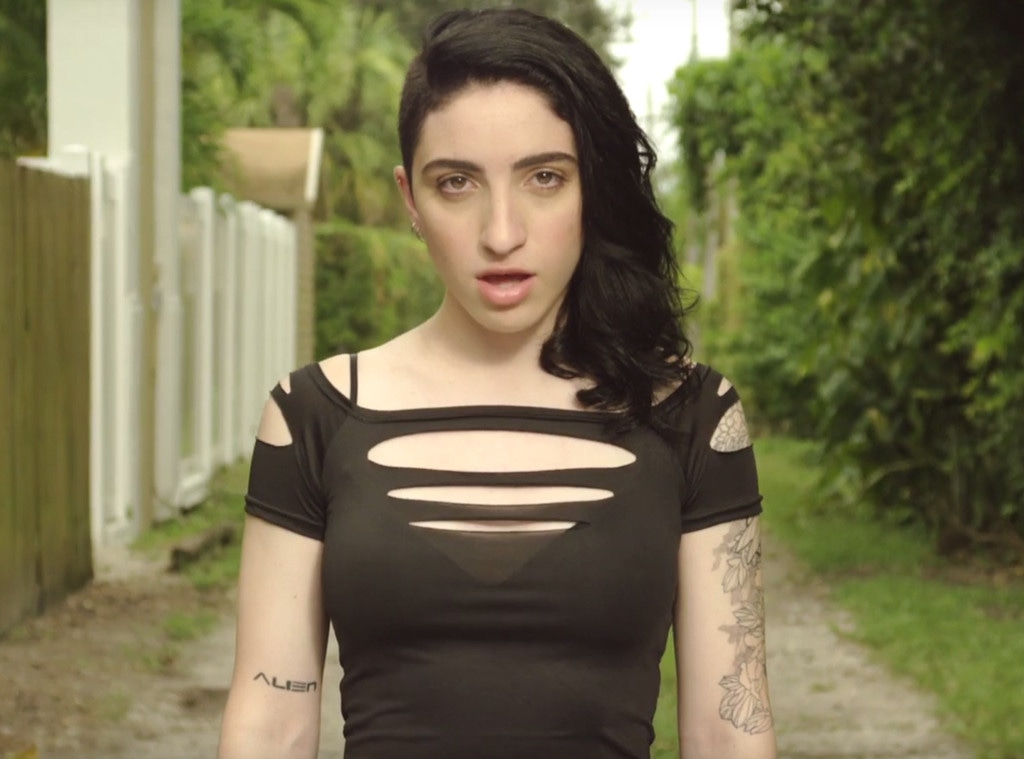 Emily Estefan
Emily Estefan's got a style of her own and she's also got a sense of humor that shines through in her new music video "Reigns (every night)." The daughter of Emilio and Gloria Estefan is looking to have fun with all that she does and still manage to have her message delivered, if you ask us, she's doing a fantastic job. With a soulful sound and a track followed by an album that is completely written by her, the youngest Estefan is looking to make her mark in the music industry, but on her own terms. 
"The story line for video of "Reigns (every night)" is a little bit of a surprise or kind of like a change in perspective can really change the way that you interpret the song," the 21-year-old Berklee graduate said. "I say it all the time, I love the fact that music can truly mean completely different things to the different people that listen to it. I think "Reigns (every night)" is one of those songs that you could hear playing in the background and not think twice about its intention or what's going on and just enjoy it, or at second listen you find out that a little bit something else is going on."
In the music video, we start off seeing Emily with a crush on her neighbor, which we think it's a mutual thing, but we quickly learn that's not quite the case.
"I had a blast filming the video, I got to get into character, and that's always fun! We filmed it in a small town in Miami called Miami Springs and kind of made it a throwback to the 70s," Emily explained. "We had a great team of people, and I am beyond happy with the end product. Also, if people pay close attention to the video they'll find some great 'easter eggs' as I call them of some familiar things!"
Having such successful parents, the new artist is now, more than ever, appreciative of all that they've done in their career.
"It was impossible for me to know how hard they truly worked to be able to setup this life for my brother and I, for the whole family, honestly. They had to wait many years to have their whole immediate family in Miami. I really can't begin to comprehend how hard they worked towards the American dream," Emily said. "It influences my music, because of them, I'm aware of the power of my speech and the power of what intention you put and have people listen to it. So, I'm always thinking about what I'm saying in a more respectful light and make sure it's honest and what I want to say."
When it comes to her life, she says she understands how privileged she's been to have the family that she does, especially now with her parents being able to help her and support her through the very first chapters of her career. "I'm so blessed because first of all, most parents wouldn't support an artistic child. My parents would be hypocrites if they didn't, but at the same time, it's also like they know how hard it is and they want a certain life for their daughter. But the bottom line is that they also know that it's like an infection and it's something that you can't turn away from," Emily explained. "If you do, you'll live the rest of your life unhappy."
Emily isn't trying to fit into a specific role or look a certain way that isn't true to who she is, and that's why we love her. 
"People try and change me every day, but thankfully I've been able to say, 'No, that's not me,'" Estefan revealed.
With her music, this new artist is hoping to "put into the world, the change I want to see," she's also hoping that with her honest lyrics and sound that at the very least it can help people, even if that means to distract them and make them dance for a minute, or allow them to discover something about themselves through her music. 
We know you will, Emily!