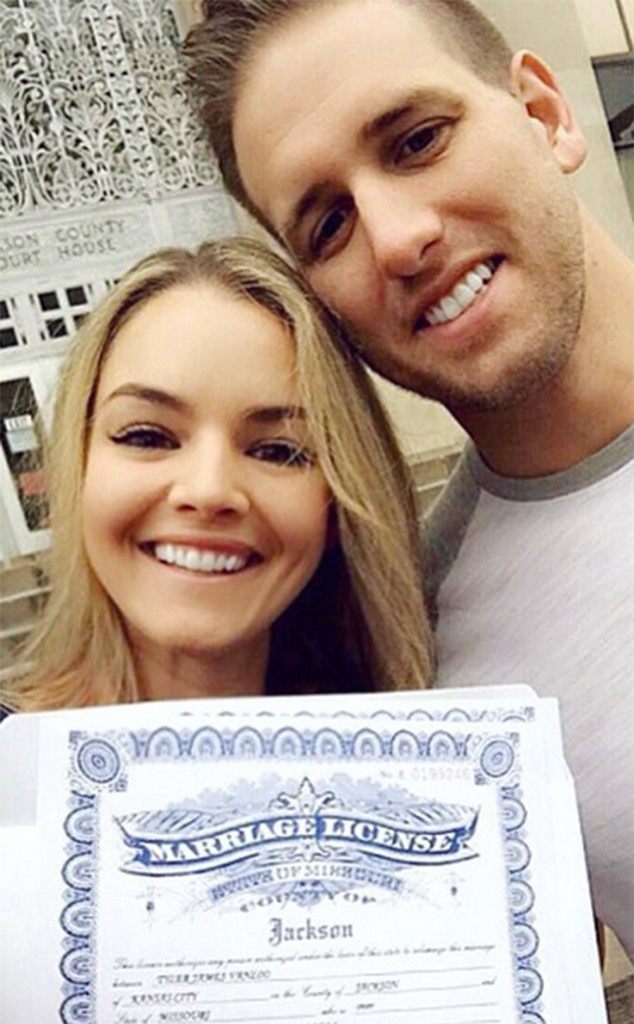 Instagram
Congratulations are in order for Nikki Ferrell!
The former Bachelor star married her fiancé Tyler VanLoo in a romantic ceremony Saturday afternoon in Kansas City.
Fellow Bachelor Nation member Andi Dorfman documented part of the celebration on Snapchat before serving as a bridesmaid.
"Guess who's married," she shared on the popular app while panning the camera to Nikki. "Southern celebration." E! News can also confirm fellow contestants Kelly Travis and Christy Hansen were in attendance. 
The big news comes after Nikki counted down to her wedding on social media. Whether obtaining a marriage license or showcasing her Shine wedding invitations, the bride-to-be couldn't hide her enthusiasm.
"We gon git mawwied y'all," she wrote on Instagram shortly before the big day. "#finalcountdown #theoldballandchain #stuckwithmeforever #illfindyou #lastminutedetails."
Back in January, E! News confirmed the former reality star got engaged to her boyfriend Tyler. She announced the happy news on Instagram.
"And on the last day of vacation this happened!" she wrote beside a photo of her man down on one knee. "I can't wait to marry my best friend. Over the moon happy right now!"
Fans later learned the romantic gesture happened in Colorado while the couple was ringing in a snowy new year.
Bachelor Nation may remember Nikki from season 18 of The Bachelor when Juan Pablo Galavis picked her as the winner but didn't give her a ring and refused to say he loved her on live TV. They would later split before the show's next season.
"There was a while where I did feel like he was totally in love with me. Was it too late? Probably," she shared. "I think at that point I had come to the conclusion that we were different people and we were never going to be on the same page."
Fortunately, Tyler has made the nurse and Midwest girl a happy lady. Congratulations to the couple on their special day.