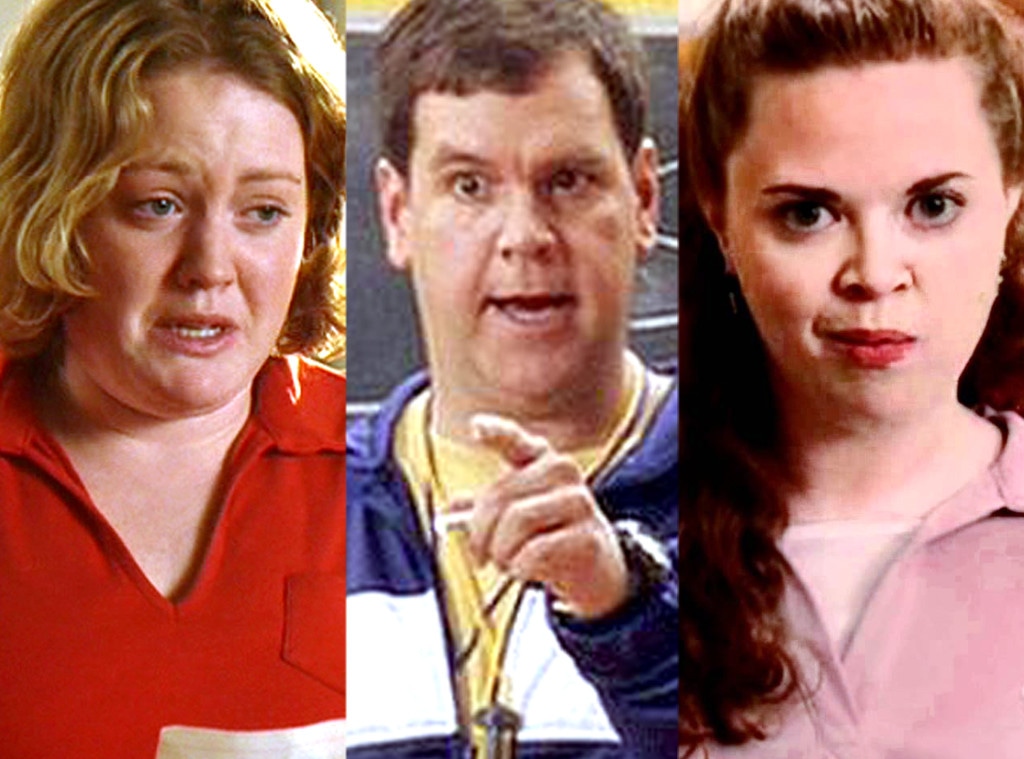 Paramount Pictures
"It's October 3rd," and any sane person on this earth knows what that holy phrase means. It's Mean Girls Day, bitches. We could spend this time recalling our favorite quotes, but why? You already know all of them and use them shamelessly in your daily life. We could also reminisce about Cady, Regina, Gretchen and Karen, but again, you probably already do that every day too. Instead, we wanted to honor characters who don't always get the attention they deserve. The Trang Pak's, Caroline Krafft's and Nfume's of the world. After all, any true MG fan respects Amber D'Alessio for making out with that hot dog and totally Spotify'd some Ladysmith Black Mambazo at one point or another. Why not compile a list of the amazing underdogs that really make this movie go round. Without them, The Plastics really wouldn't be The Plastics, and The Burn Book wouldn't even exist. 
1. The army pants and flip flops enthusiast. It turns out this gem of a character has a name, and it's Bethany Byrd. Actor Stefanie Drummond is also a director and writer and has worked on a ton of projects since Regina George punched her in the face. No word as to whether or not she IRL owns the outfit that made her famous.
2. That girl who doesn't even go here. She just has a lot of feelings, and that's okay. She's got a few in real life as well. In an interview from 2013, actor Jill Morrison got super real about her Mean Girls role. "Yes, sometimes it does get on my nerves. It can be quite constant, so yes. I feel badly even saying that," she told The Huffington Post when asked if she was getting tired of being recognized for her part. 
3. Coach Carr. Alright, maybe we shouldn't call him an underdog because his character is really disgusting. In real life, however, actor Dwayne Hill is an Emmy-nominated voice over actor and has worked on cartoons like Arthur (yes, like the meme). 
4. Glen Coco. Probably the most iconic underdog out of everyone on this list. Glen Coco, played by David Reale, recently admitted that he is more than cool with all of the attention from his characters cult following.
5. Your mom's chest hair. Honestly, a wig made out of discarded body hair is pretty eco-friendly if you think about it. 
6. The ugliest effing skirt you have ever seen. Also, cheers to the disgusting vest, the pink shirt Damien wants back and the only pair of sweatpants that fit Regina right now. 
7. Unfriendly Black Hottie. Of course, all the UBH's are epic, but this shout out goes to the one with the glare that always gets you. Her name is Alisha Morrison and she plays Lea Edwards, aka the girl with the ugliest effing skirt from above. Fun fact: did you know she was also in Harriet the Spy and Are You Afraid of the Dark? Vintage! So adorable. 
8. Seth Mosakowski. The ultimate underdog. But also v gross for making out with his cousin Karen. 
9. Cheese Fries. Also whaddup to Swedish Kälteen Bars.
10. Jason. Daniel DeSanto has been acting as far back as the late '80s and just like Unfriendly Black Hottie Alisha Morrison, appeared on Are You Afraid of the Dark. Unclear if he's still buttering muffins. 
11. Shane Oman. Real name Diego Klattenhoff, we get why Regina had a thing for this guy. He's aged like a fine wine and you might recognize him from a little show called Homeland. You go, Shane Oman. 
12. Randy from Chase Visa. Really the most underrated character in the entire movie. 
13. Karen's fist. Deserves its own IMDb page.
14. The girl from Michigan. Miranda Edwards has been keeping busy since her small (but unforgettable) part in Mean Girls. Look for her as Roxie in the TV show Orphan Black. 
15. Emma Gerber. You may know her as the girl who eats her feelings, but in real life, actor Jan Caruana is an award-winning actor, teacher, director and writer. Flawless. 
16. Butter. Ending on a real winner here. FYI, it's not actually a carb.