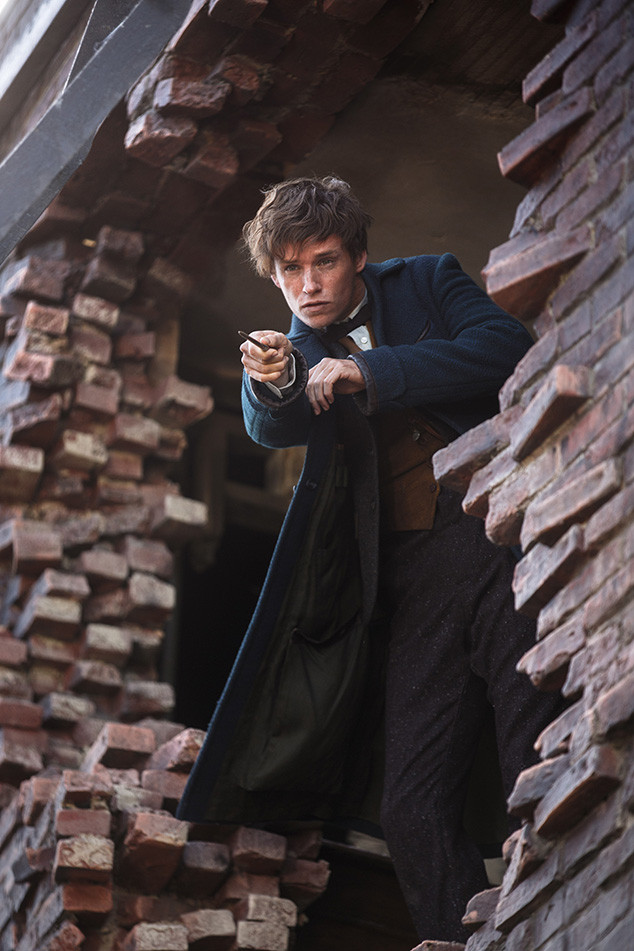 Jaap Buitendijk/Warner Bros.
We're less than two months away from Fantastic Beasts and Where to Find Them, but to hold you over these next several weeks is a new trailer!
Ellen DeGeneres debuted the new preview Wednesday morning, giving Harry Potter-turned-Fantastic Beasts fans a little magic to get through hump day. Although there have been previous trailers that have given Muggles No-Maj an inside look at some of the magical creatures escaping from main character's Newt Scamander case, this one gives viewers a better glimpse into the action that's to come. Based on new scenes included in this preview, it's clear that there's going to be a war. 
Colin Farrell's character is on the hunt for Newt's creatures, but with so many on the loose the No-Maj are starting to realize they're living among witches and wizards. But with war on the horizon, Farrell's Percival Graves isn't going to risk exposing his people. 
"I refuse to bow down," he says ominously in this extensive trailer.
A preview released at Comic Con this past summer revealed the looming war between No-Majs and the magical creatures that continue to wreak havoc on New York City, with the eccentric magizoologist and his friends trying to recapture his beloved creatures before anyone (namely Graves) can cause harm to them. 
"Magical beasts are terrorizing No-Majs, and when No-Majs are afraid, they attack," says a haunting voice in the trailer.
Redmayne's character later fires back, "They're on alien terrain, surrounded by the most vicious creatures on the planet—humans."
But while Newt might be fearful of the U.S. and its wizphobia, it's Redmayne who is really nervous about the launch of the franchise. "The stakes are high because [Harry Potter movies] were so good before," Redmayne told E! News last September. "You don't want to screw it up."
Redmayne also shared details about the forthcoming trilogy with Entertainment Weekly earlier this year, giving fans a little bit of insight beyond what can be seen in the trailers. "There is a dark aspect to it; I think it's going to be surprising how moving it is," he said of the film's tone. 
And for fans wondering why author J.K. Rowling opted to set the movie in 1920s New York City, Redmayne revealed, "It feels like the world is on a precipice. Everyone's a bit nervous. There are things happening that make everyone uncomfortable, and people have a choice to make about which side they want to stand on."