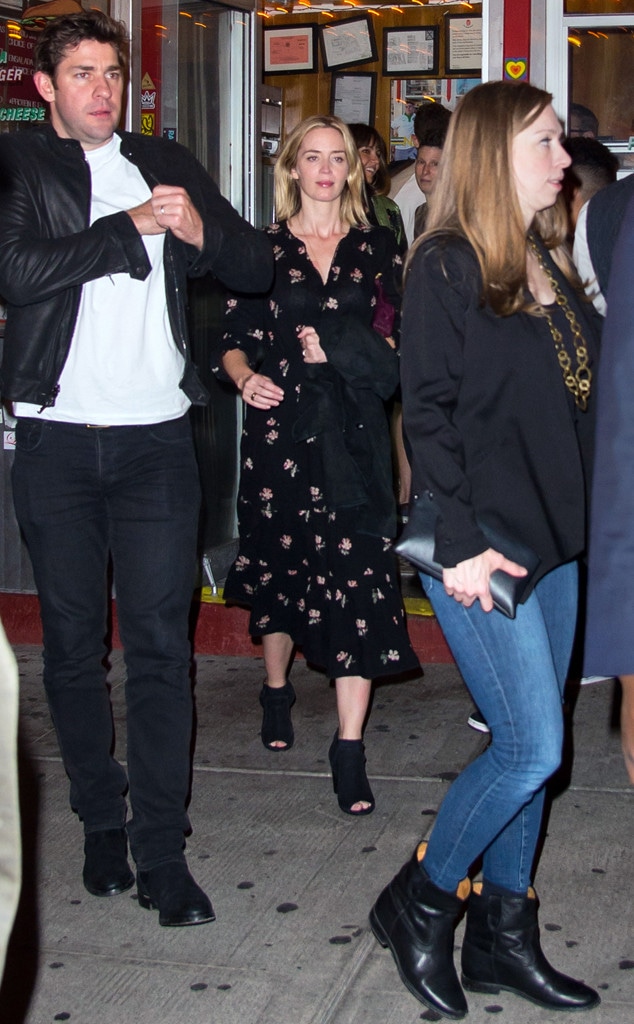 Lee/Stewart/Splash
Oh, to be a fly on that wall. 
Last night in New York City, there were arguably hundreds if not thousands (if not hundreds of thousands) of dates going on across the city. Lovers were gathering at restaurants and in bars to eat, drink and be merry. But at La Esquina in the Nolita neighborhood, there was a very special get-together. This was a date of astronomical proportions; one that had so much star power that we're still unclear as to how the place didn't implode.
It was a triple date between Matt Damon and his wife Luciana Barroso, John Krasinski and Emily Blunt, and Chelsea Clinton and her husband Mark Mezvinsky. We know.
The group (obviously) didn't announce the raison d'etre for the festive evening, but we do know that Blunt and Krasinski are in town for the promotional tour of her upcoming flick The Girl on the Train.  And, we can tell from observation that the entire group quite enjoyed their dinner—after all, aren't those the faces of people who really loved their enchiladas? 
But do we really need them to issue a statement to know what went down in the hallowed halls of La Esquina's very famous and very dark basement digs? No we do not. Because we've been covering this industry (and lusting after John Krasinski) long enough to know this gang pretty well. We've dug deep into their subconscious to produce this list of everything that was discussed at the Triple Date 'Heard Round the World. 
1. The merits of margaritas made with mezcal versus tequila. 
2. The Brangelina divorce—they're only human, after all.
3. How inspired they all are by the charity work of all parties involved in the Brangelina divorce, because this is a classy group and they're not going to just gossip blindly. 
4. The fact that they really need to stop talking about the Brangelina divorce, because Emily has her Girl on the Train junket tomorrow and she's probably going to get a lot of annoying questions about her costar Justin Theroux's marriage to Jennifer Aniston.
5. Whether it's whack that they didn't actually invite Jen and Justin to this group date.
6. How they hope that nobody in the press takes this invite omission as a sign that they're Team Angie.
7. Whether they should get dessert. Celebs, they're just like us!
8. A debate on if Kate McKinnon does a better impression of Hillary than Hillary does. 
9. The twist ending to The Girl on the Train, before they realized that Chelsea hasn't had time to finish the book because she's been so busy with the campaign and they totally spoiled it.
10. A good-natured fight over who has the most attractive children. 
11. Then they decided that it doesn't matter because they're all more attractive than is reasonably fair. 
12. Pantsuits.
13. Matt Damon's new glasses, after John awkwardly didn't realize that he doesn't normally wear glasses. Oops!
14. The best way to get corn out of your teeth—that La Esquina elote really gets stuck!
15. John gives Matt and Mark a lesson on how to be the Internet's boyfriend.
16. Step one: Go on talk shows and say really sickeningly adorable things about your wife and daughters.
17. Step two: Look like John Krasinski. 
18. An in-depth plot to get Damon a guest spot on Jimmy Kimmel Live! once and for all. 
19. What they think is going to happen on the next season of Scandal. 
20. Where to get the best Olivia Pope-sized wine glasses, because they all have a lot to drink over right now.