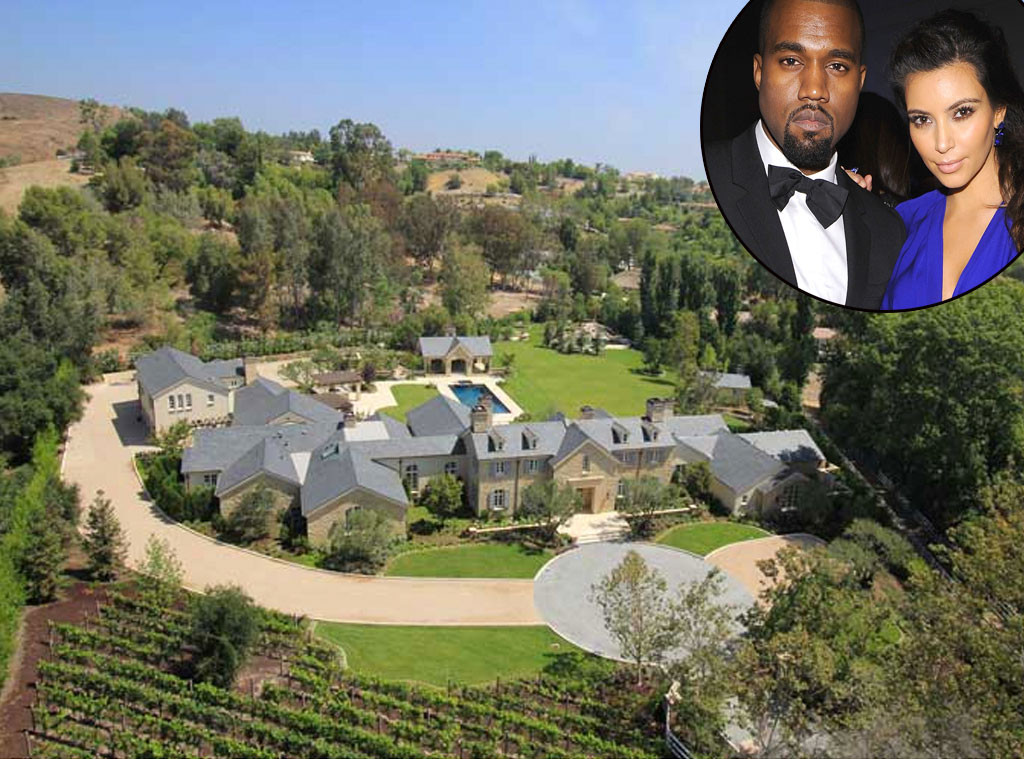 hiddenhillsjewel.com, Getty Images
Kim Kardashian and Kanye West bought a massive Hidden Hills home in 2014 for $20 million and have been waiting for what feels like forever until the renovations are complete. Now, we've learned exactly what's been taking so long...
The couple has been putting tons of work into the property. In fact, the 5-acre compound will rival that of Michael Jackson's Neverland Ranch once it's completed.
E! News has learned the mansion will include: a 2-story playroom, full-size movie theater, gym and a basketball court. It will also come complete with a hair salon and a full spa with facial and massage rooms for Kim as well as a sound studio for 'Ye.
A real estate source confirmed to E! News, "They will move into the Hidden Hills home when it's completed in a few months."
Kim chatted briefly with us about the home last year, explaining how she and Kanye are basically turning it into an all-new home. "Still a lot of work to do," Kim said of the massive renovation at the time. "But when it's done it will be amazing."
She continued, "We have to re-do my closet, the bathroom, the kitchen. So we're doing, like, section by section."
In order to build their perfect dream home, Kim and Kanye even bought the neighbors' home next door for $2.9 million in 2014. This allowed them to expand their property and account for all the additions they wanted (a real-size home theater takes up a lot of space, after all!).
While Kim and Kanye waited for the house to finish up, they've lived with mom Kris Jenner on and off.
Kim appeared on Jimmy Kimmel Live! last year and talked about the experience of living with her mother along with 'Ye and little North (before Saint was born). 
"People didn't understand why we lived with my mom," she said. "After a year and a half, she got really crazy with us and pretty much, not kicked us out, but just was really anxious to get us out. She thought I just got too comfortable and I was starting to rearrange all her furniture in order, different wallpaper.  I was going crazy with some of the things in her house, so I wanted to make changes and she wasn't having it. It's better that we're out."
Despite Kris "kicking them out," Kim and the family moved back in right before Saint was born. 
Kris joked at the time that she's never felt "empty nest" syndrome because Kim keeps returning home! "Now I have a big family again!" the momager gushed.
Stay tuned for an all-new Keeping Up With the Kardashians, returning October 23 at 9 p.m. only on E!