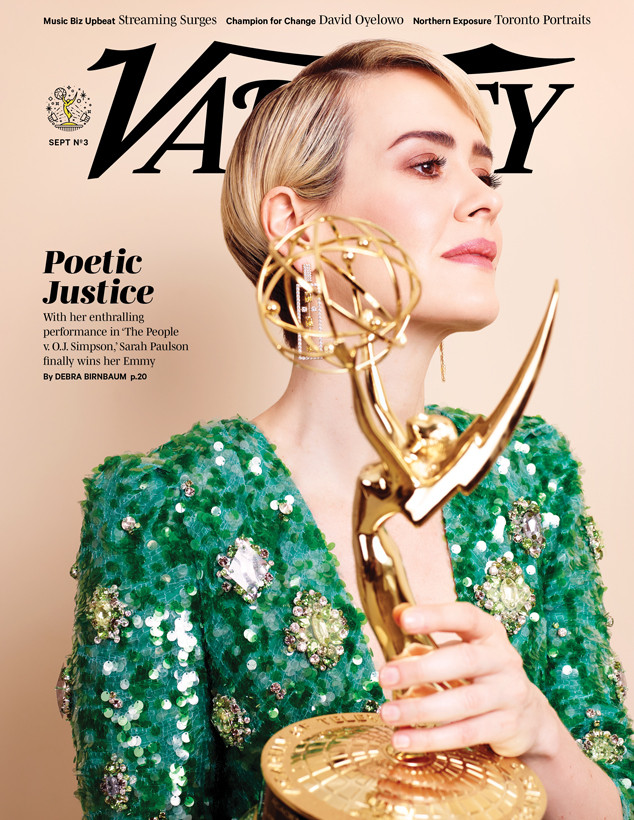 Jose Mandojana for Variety
Sarah Paulson has officially joined the ranks of Variety cover stars.
The 41-year-old actress, best known for portraying a variety of characters (no pun intended) on American Horror Story, is the latest to grace the magazine's cover following her Emmy win this past Sunday.
The win, which was awarded to Paulson for her portrayal of prosecuting attorney Marcia Clark in Ryan Murphy's drama The People v. O.J. Simpson: American Crime Story, was the first Emmy win for the actress, despite her five previous nominations.
"It really is a fairy-tale kind of thing," Paulson told Variety. "It's surreal."
The same could be said of her career-defining role. "The thing I kept coming back to was I wanted to cut to the quick of how abandoned I felt she was by women, almost as a collective," Paulson said of making Clark a three-dimensional character. "It just felt like everyone wanted to drop the hot potato that was Marcia Clark. I so felt for her, having only played it. Multiply that by a million, and also have it be your actual life."
Paulson also gave a peek into her life as an actress as she talked about her friend/director Murphy, her sister Liz, and the woman she has to thank for her award: Clark.
"I never was on a show that lasted more than a year," Paulson explained. "As an actor, you're always afraid that you don't belong."
This feeling didn't last long though, as her sister and her new award reminded Paulson that she was just as worthy as the rest.
"Somehow, standing there with all of those people, their reaction made me think that I belonged."
Long before her Emmy win, Paulson said her sister knew she was destined for big things. "She always said to me, 'It's not going to happen for you until later in life. I know you want it now. I know you feel you should have it now. But you're going to have to wait.'"
As she celebrated her success with her sister, Paulson began to cry at Fox's post-Emmys party. "I started to think about where she had been in her life a few months ago, and what we had endured as the child of a single parent. I know what it was like to be the child of someone working and trying to mother, and being the sister of someone working and trying to mother," the actress recalled. "Playing Marcia gave me a whole panoramic view of what that was like."
"My sister probably wanted that win for me more than anyone in the world," she added.
Be sure to check out the rest of what Paulson has to say in this week's issue of Variety.