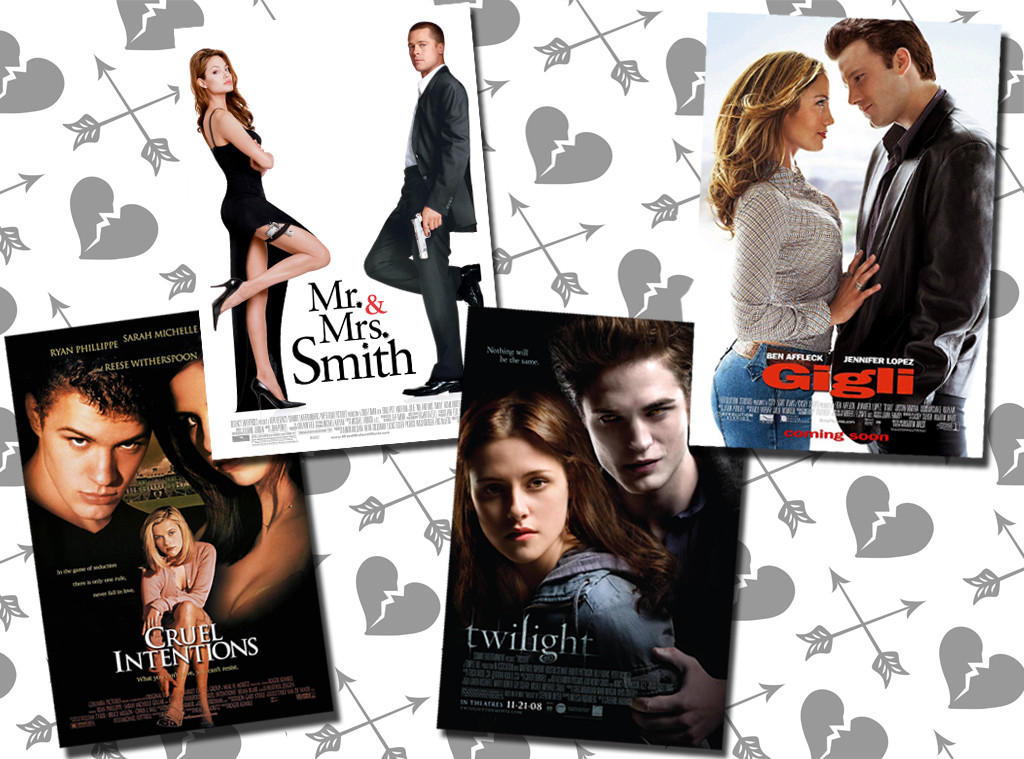 Christina Mack/E! Illustration
For actors, romance often sparks on set. Yet, just as film can light the flames between two unsuspecting stars, it just as easily play a part in the relationship's slow burn.  
Chalk it up to added pressure, mounting expectation or simple coincidence, celebrity couples who pair up in real life before or after joint on-screen projects simply don't tend to last. The most recent proof of this theory is Angelina Jolie and Brad Pitt, a famous couple for more than a decade who unexpectedly revealed they would not last until "death do us part."
Just a few weeks after their second wedding anniversary, Jolie filed for divorce from the Oscar winner on Monday, citing irreconcilable differences and requesting sole physical custody of their shared six children. The filing also marks yet another curious bit of timing—it has been less than a year since they starred in By the Sea, their first film together since meeting and controversially falling for each other while working on 2005's Mr. and Mrs. Smith.
In what some have described as a "vanity project," the couple appeared equal parts gorgeous and miserable as they portrayed a 14-year couple on the brink of a breakdown—raising red flags of potential real-life inspiration. However, Jolie insisted such wasn't the case. 
"I'm counting on the audience to know that if it was close to us at all, we could never make this film," she assured NBC's Tom Brokaw. "It's because we're actually very, very stable and these aren't our issues."
The husband drank too much. The wife was depressed and no longer attracted to him. The box office wasn't either. Despite a reported budget of $10 million, the film barely cracked $3 million in revenue and reviews were equally not so thrilled. 
Of course, there have been endless reports claiming a variety of reasons for the Brangelina breakdown, but one factor remains consistent—yet another on-screen/off-screen couple has ended. 
However, Brangelina wasn't the first famous couple with a single moniker and flailing films under their belt. Bennifer, also known as Ben Affleck and Jennifer Lopez, surely rings a few bells. 
As one of the most-followed pairs in modern Hollywood, their wedding postponement and subsequent breakup could have been predicted based in part on two things—Gigli and Jersey Girl. Having starred as lovers in both films, they each collected massive press attention, Razzie Award nominations and box-office duds that would forever be tied to the rise and fall of Bennifer. 
"We didn't try to have a public relationship," Lopez told People. "We just happened to be together at the birth of the tabloids, and it was like, 'Oh my God.' It was just a lot of pressure."
The list of couples marked by the on-screen curse is seemingly endless. After starring in 1999's cult classic Cruel Intentions as the signature bad boy and wholesome virgin who (spoiler!) fall in love, Reese Witherspoon and Ryan Phillippe also married in real life that same year. However, the two would not last, divorcing after nearly ten years of marriage and two children together.
"I think more of the problem was age. When we got together we were so young," Phillippe said during an interview on Larry King Now. "I think it can create issues with two people in this industry because there's so much noise that goes along with it."
Many more would never even make it to Mr. and Mrs. The blockbuster stars of the Twilight franchise, Robert Pattinson and Kristen Stewart, captivated fans with their depiction of the tumultuous love story between a vampire and mere mortal. Their burgeoning fling behind the scenes would become an equal subject of tabloid fascination, but ultimately ended after Stewart was caught kissing her director.
Same goes for High School Musical's Vanessa Hudgens and Zac Efron, The Notebook's Ryan Gosling and Rachel McAdams and The Amazing Spider-Man's Emma Stone and Andrew Garfield—all on-screen lovers turned off-screen lovebirds turned exes. 
While the superstitious theory is certainly not new—Elizabeth Taylor married and divorced co-star Richard Burton twice after an affair during Cleopatra in the 1960s—from the news of Brangelina's divorce, this one piece of advice seems more sage than ever: don't make a movie with your significant other.