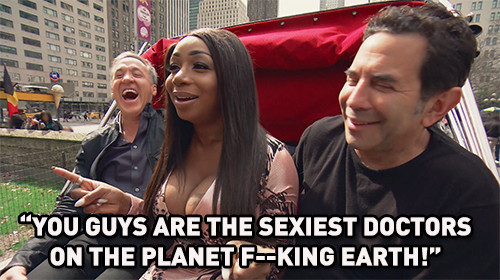 E!
There was a very hilarious reunion on Botched By Nature tonight!
Doctors Paul Nassif and Terry Dubrow met up with their previous patient Tiffany "New York" Pollard on the episode and they couldn't have been more excited to see each other again.
Back in 2015, Pollard appeared on Botched and the doctors fixed her botched breast implants and nose. So Paul and Terry wanted to reunite with the I Love New York star to see how she's doing post-surgery.
"You guys are the sexiest doctors on the planet f--king earth!" Tiffany told the doctors during their reunion.
After seeing that she's doing very well, Dr. Dubrow said that Tiffany looks "happy, healthy and amazing."
Take a look at the recap to get more scoop from the doctors' reunion with Pollard and to see more jaw-dropping moments from this episode of Botched By Nature!
Related:
Nose Infection Leads to Heartbreak on "Botched by Nature"
1.  Nicole Says She "Almost Would've Rather Died" Than Have Her Nasal Implant Removed:
After being diagnosed with Wegner's granulomatosis, Nicole went to a plastic surgeon who attempted to fix her "smushed" nose by putting a silicone nasal implant in.
But three weeks after surgery the implant became infected and the doctor removed it during a second surgery.
"I would've almost rather died than to have him take out my implant," Nicole reveals in the clip above. "I did not want to go back to the nose I had."
Watch the video to see Nicole tell the doctors her story!
Related:
Uneven Breasts Are a Big Deal on "Botched by Nature"
2. Sharice's Right Breast Is "Twice the Size" of Her Left Breast:
The second patient the doctors meet with on this episode is Sharice, who has gigantomastia.
Dr. Dubrow explains that Sharice's right breast is "twice the size maybe even more than her left breast."
When the doctors meet with Sharice, she explains that she started wearing bras at the age of 6 and her left breast stopped growing in high school. Sharice also tells the doctor that she was teased in school growing up and she doesn't go out because of it.
Sharice is now 24 years old and she's ready to have the doctors help fix her chest. Take a look at the video above to see what the doctors tell Sharice about her breasts!
3. The Doctors Meet Up With Tiffany Pollard:
While the doctors are in New York meeting with Sharice, they meet up with their former patient Tiffany Pollard to see how she's doing.
While taking a horse and carriage ride with the doctors, Pollard can't help but gush about Paul and Terry. After calling them the "sexiest doctors," she tells Paul he is "so sexy" and asks him if she can grab his leg!
"I must admit, seeing Dr. Nassif out of the office…there's something extra going on with him," Pollard says.
4. Dr. Nassif Says Nicole's Nose Tissue Is ''No Good'':
For Nicole's nose surgery Dr. Nassif explains that his plan is to, "First take a left ear composite graft and take a piece of rib. I will then reconstruct the tip of the nose. Lastly I will create a nasal labial flap from the left cheek in order to reconstruct the base of the nose."
During surgery, Dr. Nassif says that Nicole's nose operation is "as hard as it gets."
"In the most simple way for me to say this, the tissue is no good," Dr. Nassif explains. "I just don't know how the grafts are gonna live. It's one of these things where we just have to see how she heals."
5. Dr. Dubrow Calls Sharice's Case "Extremely High-Risk":
Before operating on Sharice, Dr. Dubrow explains that it's an "extremely high-risk" case.
During the surgery, Dr. Dubrow explains that he will start with liposuction, making Sharice's breasts as "even as possible." Then he will perform a lift on her breasts by removing the extra skin and "making her areolas smaller, which should result in symmetrical and reasonably-sized breasts."
6. Sharice Says Her Surgery Is "Life-Changing":
After her successful breast surgery, Sharice is excited about the future.
"This is something that I've wanted for so long," Sharice says. "I'm excited for the summer, I'm excited to wear a bathing suit, I'm excited to go to water parks, to the beach. I'm excited to buy sexy clothes. I'm excited about all of that, it's kind of life-changing."
7. Nicole Is "Excited to Start Life Again" After Her Nose Surgeries:
"I just feel great," Nicole says after her surgeries. "I'm excited to start life again with my mom, my sister and my best friend."
Nicole continues, "I ended up having six surgeries, more surgeries than we thought I was going to need. But Dr. Nassif stuck with me through all of them and I'm so grateful to him for that."
When Nicole meets up with her mom, her sister and her best friend they tell her she looks "so pretty" and "gorgeous."