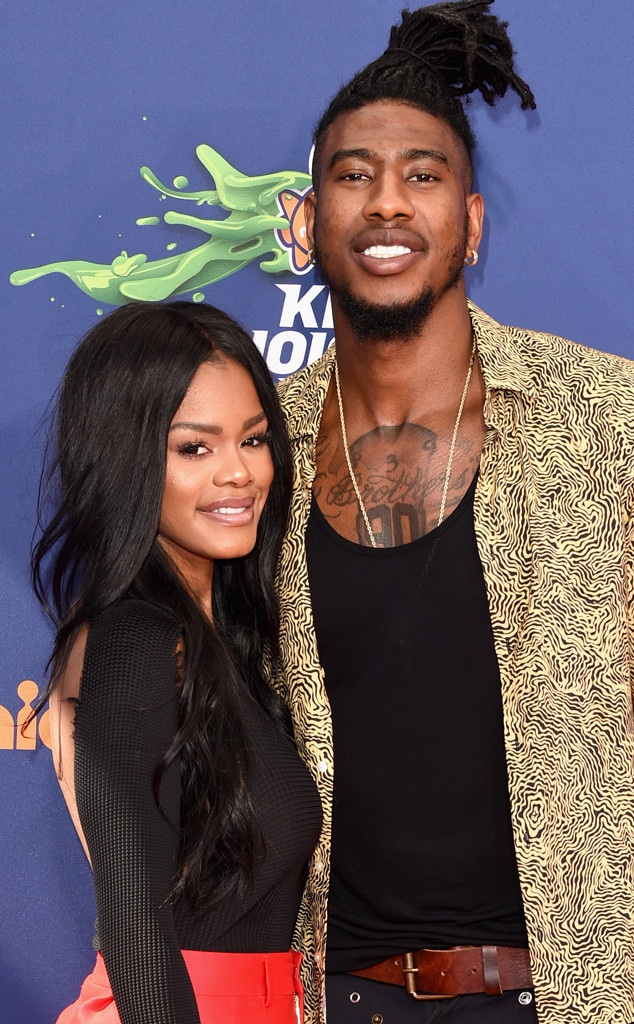 Jason Merritt/Getty Images
Teyana Taylor's name has sky-rocketed to the headlines of major media outlets following Kanye West's debut of his video "Fade" at the 2016 MTV VMAs last month, which features the singer in a sexy, skin-baring dance routine.
But with that fame, there are always bound to be rumors.
The 25-year-old and her NBA star boyfriend Iman Shumpert—with whom she shares their 10-month-old daughter—found themselves in the middle of several cheating allegations, but have remained united in shutting them down.
In fact, both took to Instagram over the last couple days to promise they're doing just fine.
On Friday morning, Shumpert shared a photo (that's since been deleted) writing, "I was young. I was selfish. I've broken hearts and been insensitive to them. I never really cared what the Internet said of me until now and it's not because they're antagonizing me...they are now directing hate toward a woman that gives off nothing but positive energy and deserves nothing more than the world that I vow to give her."
He continued, "I normally wouldn't acknowledge this type of thing but you guys win. If you're going to send the hate, direct it at me. Don't make her pay for my mistakes. I'm older now, I'm different now. It's Peace and love. Don't make her pay for the mistakes of my past."
The Cleveland Cavaliers player shared a follow-up photo (which he also deleted) of the pair at an event wearing matching jackets and added, "It ain't no breaking up. Junie's gonna grow up with both her parents and siblings," he said of their daughter. "The bitterness will get you no where. Just spread love."
Taylor also shared the cute photo above, hugging her boo. "New levels.... New Devil.. Keep shining tho #Blessed," she captioned the sweet pic.
Meanwhile, Shumpert proposed to Taylor in November during her baby shower ahead of their daughter's birth.
E! News confirmed the athlete made an appearance at the "Royal Shower" held inside the Museum of Contemporary Art in Cleveland where he decided to pop the question. As you could have guessed, she absolutely said yes! 
As for the ring, let's just say it's something special. "I am his Ruby Woo...I'm still speechless," Taylor wrote on Instagram while flashing the new bling. "I love you baby. @imanshumpert."
She added, "Thank You @imanshumpert for putting the color back in my life! I love you so much."
Last September, we also confirmed the Hollywood couple was expecting their baby girl.
"When a man loves a woman how she was born to be loved...procreation is the best blessing you can receive!" Shumpert wrote on social media. "I couldn't be more happy than to share my first child with the woman I intended to have my family with."