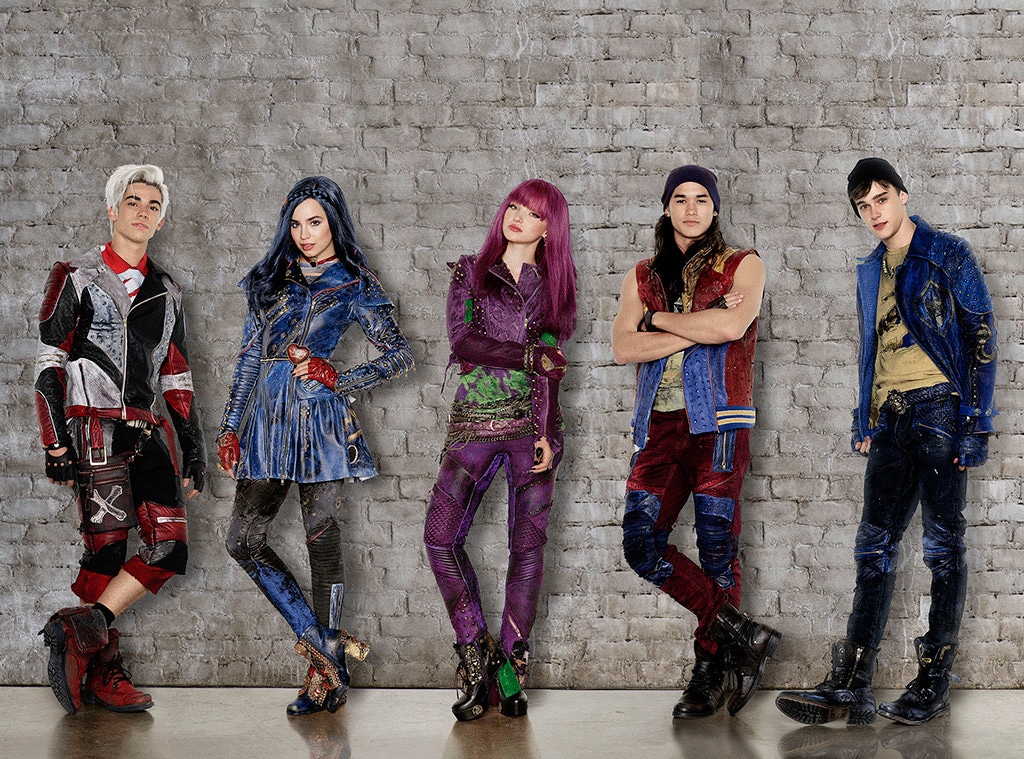 Bob D'Amico and Craig Sjodin/Disney Channel
The VKs are back! Descendants 2, which will premiere in 2017 on Disney Channel, has started filming and E! News has an exclusive look at the Villain Kids in their second outing in idyllic Auradon—and some exclusive details from the sequel.
Here's what's happening as we catch up with the kids: "The story deepens in the music-driven sequel to the global smash hit Descendants, as the teenage sons and daughters of Disney's most infamous villains—Mal, Evie, Carlos and Jay (also known as Villain Kids or VKs)—try to find their place in idyllic Auradon," according to Disney Channel's official synopsis.
"When the pressure to be royally perfect becomes too much for Mal, she returns to her rotten roots on the Isle of the Lost where her archenemy Uma, the daughter of Ursula, has taken her spot as self-proclaimed queen of the run-down town," the description continues. "Uma, still resentful over not being selected by Ben to go to Auradon Prep with the other Villain Kids, stirs her pirate gang—including Captain Hook's son Harry and Gaston's son Gil—to break the barrier between the Isle of the Lost and Auradon, and unleash all the villains imprisoned on the Isle, once and for all."
Director Kenny Ortega tells E! News exclusively, "When Ben realizes Mal has left Auradon, he decides to go after her. Mal's friends—Carlos, Evie and Jay—decide to go with him to help, but first they have to teach him their wicked ways so he can sneak around the Isle of the Lost without being recognized."
Aha! So that's why Ben is dressed as a villain in the exclusive first photo from the set, which features Carlos (Cameron Boyce), Evie (Sofia Carson), Mal (Dove Cameron), Jay (Booboo Stewart) and Ben (Mitchell Hope) in their new looks for the sequel.
As E! News revealed last month, Captain Hook's son Harry is being played by Scotland native Thomas Doherty. He'll be joined by fellow newcomers China Anne McClain as Ursula's daughter Uma, Dylan Playfair as Gaston's son Gil, and Anna Cathcart as Drizella's daughter Dizzy.