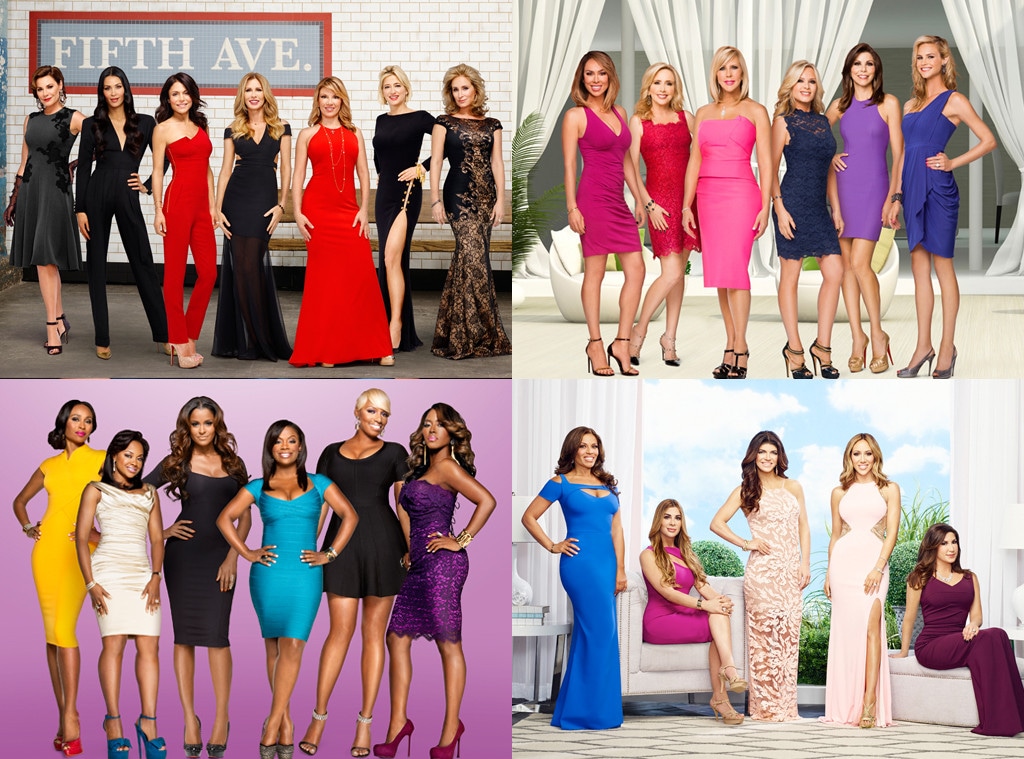 Bravo
Ah, The Real Housewives. That glorious franchise that dominates our weeknights when new episodes air, has provided us with the perfect reaction GIF for any and every situation, and can entirely consume a lazy Sunday if we make the delightful mistake of channel surfing on over to Bravo while a marathon is underway.
But, of course, not all entries in the storied franchise are created equal. Some cities spawn greater feelings of guilt when we surrender our weekends to them than others. (Not that it stops us from watching, mind you. We just suppress the guilt and tuck in for the next episode. Curse you, Andy Cohen!) What follows is our ranking of The Real Housewives cities, based on the guilt one feels while watching.
9. The Real Housewives of D.C.
Look, if you're still watching this one-and-done dud, you deserve all the guilt. All of it.
8. The Real Housewives of Potomac
The guilt you feel over surrendering a Saturday afternoon to Maryland's most etiquette-obsessed ladies should be because you didn't have anything at all better to do. You know, because they're pretty boring.
7. The Real Housewives of Miami
You could do worse than spending some time with these spicy ladies from the Sunshine State. But you could also do much better. Any episode that features the once-in-a-lifetime reality TV find that was Mama Elsa Patton is an automatic guilt reducer, though. That woman was pure gold.
6. The Real Housewives of Dallas
Between poop hats, Frito pies, and tales of carny life, Bravo's first foray into the Lone Star State was one weird and wild rodeo. But with just a brief run of 10 enjoyable episodes, this one ranks the least guilty of pleasures among Bravo's second-tier Real Housewives entries. If you chose it over any of the top five on this list, however...
5. The Real Housewives of Orange County
Despite being the city that started it all, Orange County has somehow always felt the least essential of the Big Five. But what it lacks in RHONY's class, RHOBH's glitz, RHOA's shade, and RHONJ's family melodrama, it makes up for in Vicki Gunvalson. For 11 straight seasons, the OG of the O.C. has proved that some people are singularly built for reality television.
4. The Real Housewives of New Jersey
From season three on, you might as well have just renamed this entry The Teresa Giudice Show—and for good reason. It was her show, everyone else was just appearing in it. That said, her never-ending family drama feels a bit repetitive season after season. Vintage season one RHONJ, however? You cancel whatever plans you have if you stumble upon that lightning in a bottle and pay attention, puh-lease! Zero guilt involved in that glorious instance.
3. The Real Housewives of Atlanta
The shade of it all! You need a good comeback for all the people irritating you in your life? You tune in to these Georgia peaches and you don't feel one ounce of guilt about it. Nene Leakes, Phaedra Parks, Kenya Moore, and their Southern co-stars are like walking, talking GIF generators, put on this earth to endlessly entertain us. 
2. The Real Housewives of Beverly Hills
Bravo's women from America's most famous zip code have been turning out some riveting television since nearly day one. Whether it's season one's Dinner Party From Hell (seriously, one of the finest hours of television ever) or season six's dramatic trip to Dubai (where everyone really let Lisa Vanderpump have it), there's little here worth feeling guilty over. Season two's icky march up to Russell Armstrong's suicide, though? That season still remains a blight on RHOBH's guilt factor. 
1. The Real Housewives of New York City
There is no one—we repeat, no one—more endlessly watchable on Bravo than the ladies from the Big Apple. Between season three's trip to Scary Island ("Go to sleep!") as Bethenny Frankel and Jill Zarin's relationship fell apart in real time, season six's leg toss heard 'round the world, and the just-completed season eight—which may be the best season in the franchise's history—RHONY is just damn good television, period. There is absolutely nothing to feel guilty about here. Binge away, Bravoholics. Binge away.
Which entry in the Real Housewives franchise do you feel zero guilt watching? Let us know in the comments below.
(E! and Bravo are both part of the NBCUniversal family.)