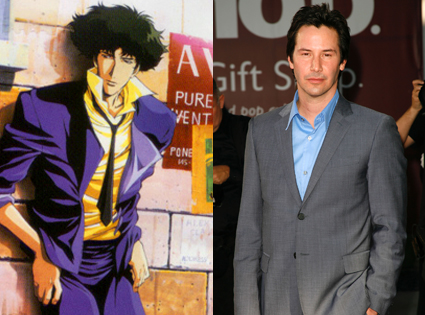 Bandai/Lisa O'Connor/ZUMAPress.com
Keanu Reeves is going intergalactic again.
He of the comforting monotone has hitched his wagon to 20th Century Fox's big-screen adaptation of the acclaimed Japanese anime series Cowboy Bebop, which is set in 2071, 50 years after a massive lunar explosion decimated Earth's population and necessitated the colonization of the entire solar system.
Thanks to greater than usual logistical issues, an elite team of Old West-style bounty hunters, or cowboys, is needed to keep the peace.
Per the Hollywood Reporter, Reeves is attached to play Spike Siegel, a reformed criminal turned space cowboy and copilot of the Bebop, who, like a character from the actor's past, is well-versed in kung fu and other combat skills but is toting around quite a few personal demons.
No word yet on who's in line to play Spike's copilot, Jet Black, a onetime Inter-Solar System cop with a mechanical arm, but so far we're liking the whole Firefly-Battlestar Galactica-Bill & Ted vibe.
In other casting news:
• Chevy Chase is not going to be breaking out his Gerald Ford impersonation for some upcoming episodes of Chuck this spring, in which he will be playing Ted Roark, the brilliant founder of Roark Instruments, the über-cool computer company where Chuck has always dreamed of working.
• E! News confirms that Kathy Griffin will continue to stay off the actual D-list with an upcoming guest spot on the season finale of  Privileged. Zap2it.com has it that the Emmy winner will be playing Marco's probably opinionated wedding planner.