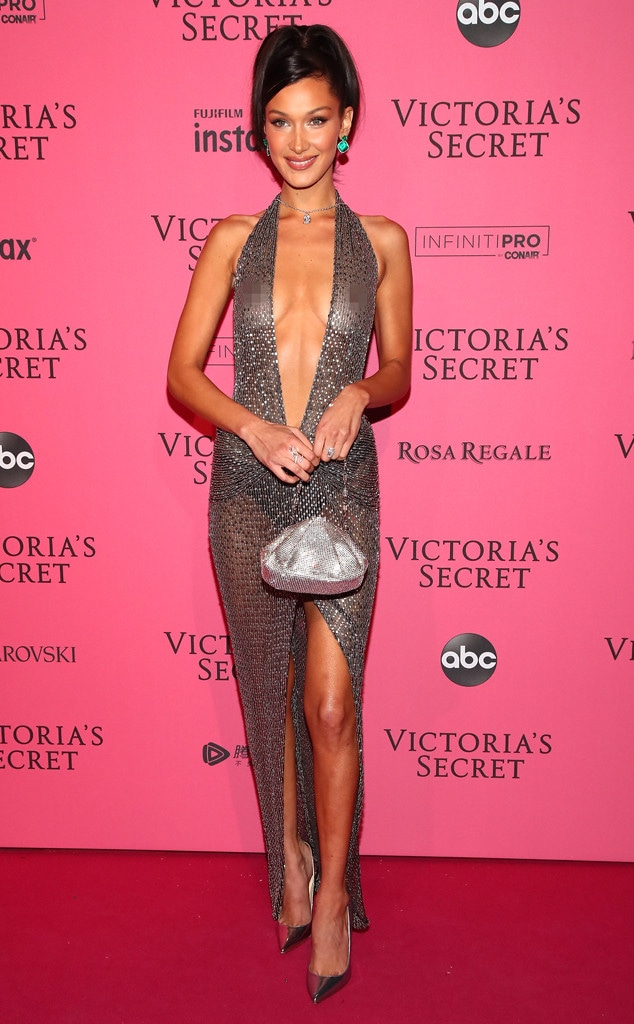 Astrid Stawiarz/Getty Images for Victoria's Secret
Bella Hadid has continued adding to her already impressive modeling resume.
The 19-year-old covers the latest issue of Flare magazine, posing half-naked in several photos for the sexy spread.
The black and white pictures feature Bella in a "just out of the shower" type look with wet hair and minimal makeup. While she wears a few outfits—including a see-through Calvin Klein for Urban Outfitters top as well as skirt and jacket—the spread is mostly dedicated to showing off her curves, flaunting cleavage with no shirt or her legs with no pants.
The publication boasts, "The dark-haired beauty with the feline features is one of the most in-demand models and proved that she's got the goods in our smouldering Herb Ritts-inspired photo shoot."
Meanwhile, posing topless is nothing new for the model. 
Earlier this year, Bella playfully apologized to her mom Yolanda Foster for Instagramming a sexy, topless picture from behind-the-scenes of a "secret project" she was working  on with a "dream team," consisting of photographer Russell James and stylist Elizabeth Sulcer. 
She posted in thong underwear and not much else, captioning the pic, "Sorry mama."
Astrid Stawiarz/Getty Images for Victoria's Secret
But we're pretty sure Yolanda gets it! All three of her children (Bella, Gigi Hadid and Anwar Hadid) have followed in her footsteps and broken into the modeling business. Knowing what the industry can be like, though, Yolanda made a conscious effort with her kids—and especially her daughters—to teach them that modeling wasn't the end all, be all for their lives.
"I remember taking Gigi to New York City, and before we went to an agency, she looked at me and said, 'But what if none of the agencies want me?'" the former Real Housewives of Beverly Hills star recalled in an interview with Glamour magazine. "I said, 'Well, that's great. You're going to school any way to study criminal psychology at the New School, so it doesn't really matter. If you can have a side career in modeling while you're studying that would be great. But if not, that's OK too.'"
She really tried to discourage her daughters from modeling at a young age as a means of protecting them from the harsh ways of the industry.
"I always felt that I didn't want the world to judge her on the way she looks," Yolanda explained. "I always had a very strong sense that I wanted both my girls to develop as real people and who they are individually as women, rather than being judged on their [looks]. I think that's really damaging for any child. I always felt very strongly about that, and I was very strict."