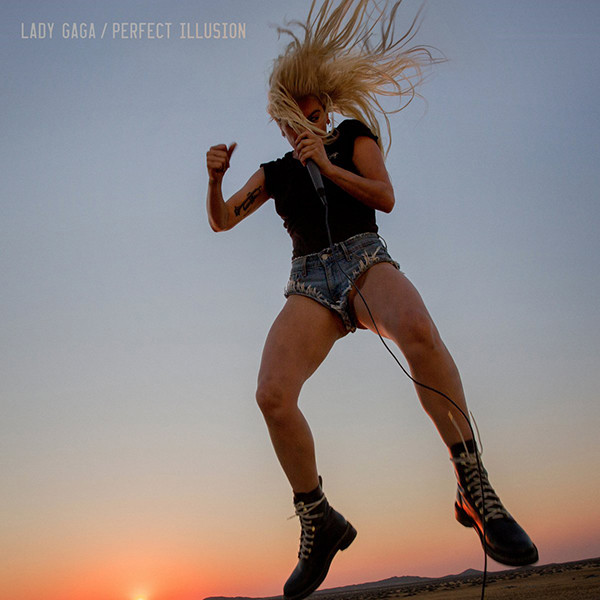 The moment Lady Gaga's Little Monsters have waited for is officially here!
In what was an arduous wait for the pop singer's beloved fans, Lady Gaga dropped her first solo single in three years on Friday. Titled "Perfect Illusion," the track, which sets the tone for Gaga's fifth studio album, is equal parts rock anthem and dance floor mega hit. 
Leading up to its hotly-anticipated release, the six-time Grammy winner teased snippets of the song on social media. Sharing multiple artistic photo collages on Instagram, Gaga offered a taste of the "Perfect Illusion" lyrics and vibe. "I don't need eyes to see/I felt you touchin' me/High like amphetamine/Maybe you're just a dream," she tweeted. 
Additionally, the 30-year-old revealed the cover art for the single, an uncharacteristically rugged version of herself rocking out with a mic in hand. In the photo, Gaga sports a pair of chunky combat boots and frayed denim shorts as she jumps into the air with the sun setting behind her. 
BloodPop, the producer who co-wrote "Perfect Illusion" with Gaga, told Rolling Stone ahead of its release that the song is "soul-rooted, [but] pop at heart," adding that it's "a big rock song that makes you want to dance."
Mark Ronson also collaborated with the performer on the project alongside Tame Impala frontman Kevin Parker. Of creating the track, Ronson told Buro 24/7, "I think it's just really good music and probably a record for people who might not have realized that her music had something for them—at least based on the small amount of people who've heard it so far. It's definitely pretty deep musically for sure."