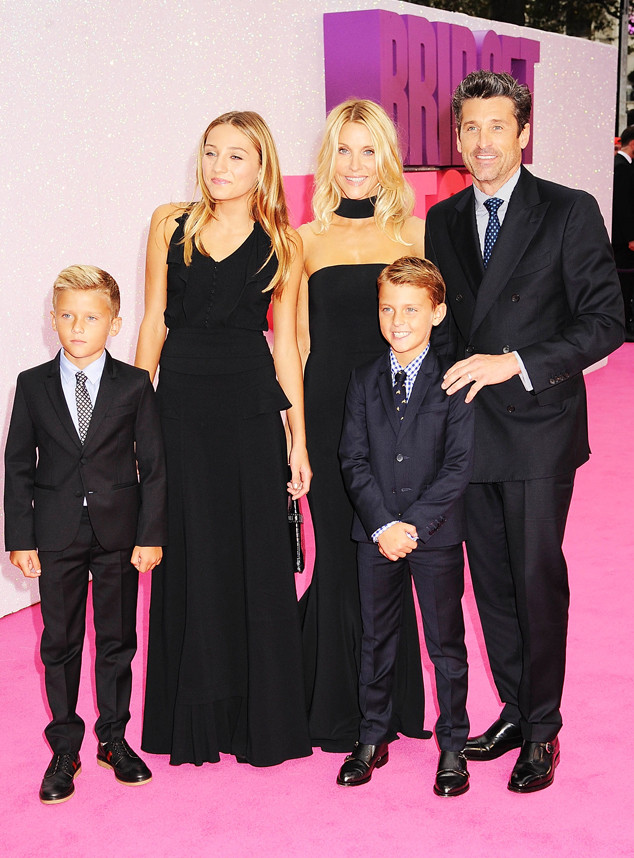 Dave J Hogan/Getty Images
Patrick Dempsey's babies are all grown up!
The actor, 50, turned the London premiere Bridget Jones's Baby into a family affair, inviting his wife, Jillian Dempsey, 50, daughter Tallula Dempsey, 14, and twin sons Darby Dempsey, 9, and Sullivan Dempsey, 9, to join him on the red carpet Monday. The outing also marked Patrick and Jillian's first official appearance since calling off their divorce earlier this year. During the star-studded event, Patrick also posed for photos with his co-stars Colin Firth and Renée Zellweger.
In Bridget Jones's Baby, the paternity of Bridget's baby is a mystery. After two back-to-back hookups, she realizes either Jack (Patrick) or Mark (Firth) could be the father. (Daniel, played Hugh Grant, is out of the picture.) At Monday's premiere, Patrick said he would be willing to reprise his role in a fourth installment of the series, adding that producers would be "smart to leave it open." Speaking to reporters, he said, "It would be nice to see Bridget growing and living her life. There hasn't been another character like that where you're growing up with her."