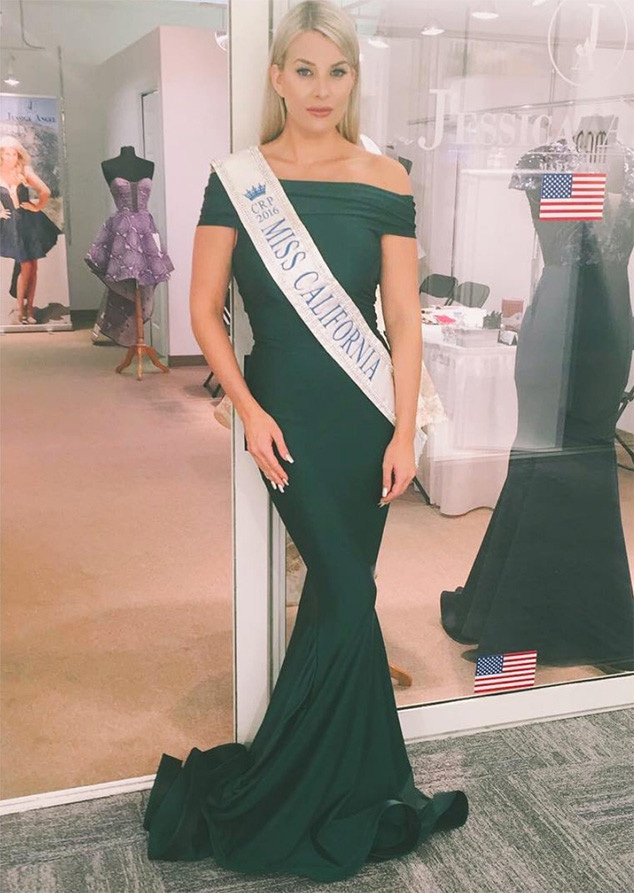 Instagram
UPDATE: The Miss California Regional pageant held a press conference on Thursday during which they confirmed Baylee Curran was, in fact, stripped of her title due to racially charged commentary as well as "racy" photos.
The pageant's rep said there were no nude photos of Curran, but there were "racy" photos that were deemed to be grounds for dismissal as any "full-nude, partial-nude or implied photo shoots" are unacceptable by the pageant.
The rep also confirmed that Curran had made racially charged comments to other contestants.
--------
Is Curran hiding some skeletons in her closet?
The former beauty queen has been making headlines after being involved in an alleged gun altercation with Chris Brown, and you know what happens any time someone unfamiliar starts making the news—people want to know more about who they are.
Well, in Curran's case, there seem to be some interesting tidbits about the Norco native that are now coming to light, with the main mystery behind the 24-year-old being why she was stripped of her Miss California throne.
When we contacted the organization's rep, we were told, "Baylee only served as Miss California Regional from April 1 to July 5 due to multiple allegations that were further investigated."
So, what were these allegations? Apparently, it was a fun bag of racial slurs, racy photos and unfavorable behavior.
Rudy Valentino/Splash News
A source close to the contestant tells E! News, "The racial comments were regarding African Americans. Baylee made racial slurs to the person's face. This person was someone very closely related with the pageant directly that she should have respected," but wouldn't disclose the specific comments made.
 
The insider adds that Curran, "was very catty with the other girls and she made girls feel uncomfortable." And as for these photos, our source states that they "not nude, but they were risqué, which goes against a clause in the contract she signed stating that the titleholder is not allowed to take any sexually suggestive or pornographic photos."
"There are emails, text conversations, and eyewitnesses that can confirm all of these allegations as well as the fact that the only reason why Baylee still has the sash and crown in her possession is because the organization has not been able to get in touch with her to confiscate," the source adds. "They have contacted her several ways and several times."
When E! News' Ken Baker spoke with Curran, he asked about her Miss California controversy. She simply responded, "Yeah, that's kind of another legal situation. I did see some statements that they were trying to refill my title because of nudes. I have never taken a nude photo in my life, so I don't know if those nude photos were produced on their own. I haven't seen anything yet."
When asked about the racial slurs, Baylee states, "Oh, I'm not racist. I'm not racist. Nor have I ever made any racial slurs...Like I said, there are a lot of false accusations coming about at the moment."