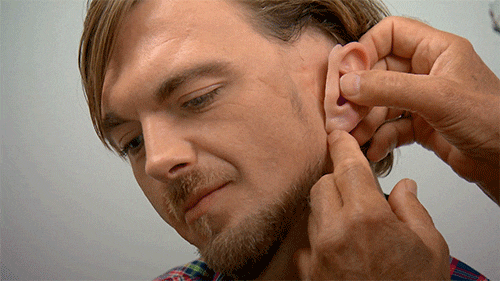 E!
Charlie now has two symmetrical ears!
On Wednesday's Botched By Nature episode, doctors Paul Nassif and Terry Dubrow met with Charlie, a musician whose left ear didn't develop as a result of Goldenhar syndrome.
Charlie explained to the doctors on the episode that he can only hear out of his right ear and he feels "incomplete" without a left ear. Instead of doing a surgical procedure, Charlie chose a prosthetic option in order to have his left ear be symmetrical to his right ear.
In order to build the ear, the doctors brought in prosthetic specialist Robert (who used to work for the CIA!) to help create a left ear for Charlie.
Take a look at the recap below to see the prosthetic process and find out how Charlie looks today! Plus see more jaw-dropping moments from this episode of Botched By Nature!
Watch:
"Botched" Docs Meet Patient With Unique Anatomical Situation
1. Taylor's Right Breast Didn't Develop During Puberty:
The first patient the doctors met with on this episode was Taylor.
When Taylor was going through puberty, her left breast developed but her right breast didn't. What Taylor has is called amastia, an extremely rare medical condition that occurs in less than one percent of women. When the doctors visit Taylor, she explains that she doesn't feel "comfortable" in social settings because of her underdeveloped breast.
Watch the video clip above to see Taylor tell her story!
2. Charlie Chooses the Prosthetic Option:
When the doctors meet with Charlie, they present him with two ear options, one surgical and one non-surgical. The non-surgical would be to build a prosthetic ear, which is "immediate" and would look "exactly like" his right ear.
Charlie decides to do the prosthetic ear in order to achieve perfect symmetry between his left and right ears.
3. Terry Wants to "Undo What Nature Did" to Taylor:
Taylor has a lot of "symmetry issues" with her breasts as a result of her medical condition, so Terry is going to wait to decide how large he can make her breasts until he's in surgery.
"I want to make you happy," he tells Taylor before surgery. "What I want to do is I want to end this problem for you, I want to undo what nature did to you."
He talks about what will happen in Taylor's surgery, explaining, "I'm going to start by making an incision under Taylor's areola on her smaller right side and manipulate the pocket in order to fit an implant. I'll then put in sizer implants in both breasts to get a sense for how big of an implant her chest can safely accommodate and insert appropriately sized implants, doing my best to get the volume of each breast to match."
He continues, "Next I'll evaluate the droopiness of the left side and weigh whether or not I need to perform a lift. In the end Taylor should have the full symmetrical breasts she's waited so long for."
Terry didn't think he would be able to put size D implants that Taylor wanted in her chest, but he's able to do it. And he's also able to avoid a having to do a full lift on Taylor.
4. Prosthetic Specialist Makes a Mold of Charlie's Ear:
In order to make the prosthetic ear, Robert makes a mold of Charlie's right ear and a part of his ear that did develop on the left side using liquid silicone. 
"For Charlie's ear molding today we'll use liquid silicone to coat both sides of Charlie's head, making an impression on both his good right ear and his left side where his ear is missing," Paul explains the process. "After the silicone is done drying we'll have perfect impressions from which to devise Charlie a mirror image of his right ear to wear on the left side of his head, giving Charlie the symmetrical appearance he's always desired."
Watch:
Dr. Dubrow Performs Surgery on Dr. Nassif?!
5. Terry Jokes He Has "Massive Hangover" Before Performing Hernia Surgery on Paul:
Terry is about to perform surgery on Paul's hernia, but he can't help but make a joke before the operation starts.
Watch the video above to see Terry joke about his "massive hangover" and see Paul's reaction!
6. Terry Discovers Paul Has Two Hernias:
During surgery, Terry discovers that Paul has not one but two hernias! A belly button hernia and one above it called an epigastric hernia.
But even though the surgery was more complicated than expected, Terry is able to accomplish everything he wanted to and the operation is successful.
7. Charlie Sees Himself With Two Ears for the First Time:
Using medical adhesive, Robert places the prosthetic ear on Charlie and Terry and Paul are amazed.
When Charlie sees the prosthetic ear on for the first time he says it's "insane."
"Seeing myself with two ears for the first time is incredible," Charlie says. "I feel like I'm looking at something completely new, this is definitely better than I expected. It's more than I could've hoped for."
Charlie says he can now pursue his music career without "worrying" about his appearance.
8. Taylor "Couldn't Be Happier" With Her Breasts Post-Surgery:
Six weeks after her surgery, Taylor meets up with her friends on the beach to show them the results. When Taylor arrives wearing a bikini top her friends immediately tell her she looks "awesome." 
"My breasts look fantastic," Taylor says. "I couldn't be happier with them, it's everything I've hoped for, everything I could've imagined, thought of, dreamt of. They're exactly what I want."