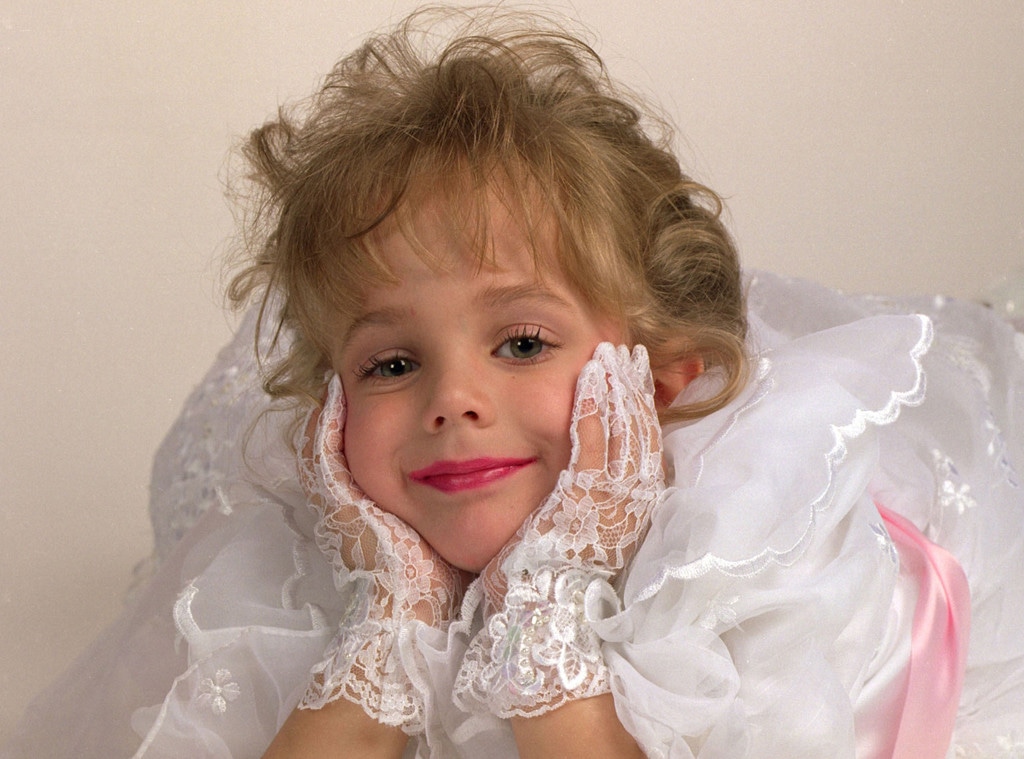 ABL Studio/ZUMAPRESS.com
The question "Who Killed JonBenet Ramsey?" is, once again, on everybody's lips.
With the 20th anniversary of the still-chilling-to-this-day murder of the 6-year-old beauty queen almost upon us, people close to the case are talking, the media coverage is ramping up and we've got at least two docu-treatments to anticipate, plus there's a Lifetime movie in the works. (There was a TV movie, Perfect Murder, Perfect Town: JonBenet and the City of Boulder, but that was already 16 years ago.)
So, a public that's still hungry for answers is at least going to get more information, much of which will surely lead to new theories among the seasoned, new interest among the previously uninformed, and plenty of debates around the office. And more perspective, while hardly as satisfying as a soothing "case closed!" announcement accompanied by the Law & Order clang-clang, have at least proved to be something that the binge-watchers and true-crime junkies among us have been craving.
And since Serial, Making a Murderer, the 24/7 dissection of the Manson family and the months-long deep dive into the O.J. Simpson trial 25 years after he was found not guilty of the murders of Nicole Brown Simpson and Ron Goldman have only left us wanting more, more, more...
Here are some of the most bizarre crimes, most of them unsolved and all mysterious, that could use the deep dive treatment that only the current golden age of television can provide (though a great podcast will do as well):
AP Photo/Stefano Medici; PA Wire
The Victim: Meredith Kercher
The Crime: Murder
The Accused: Amanda Knox; her boyfriend, Raffaele Sollecito; Rudy Hermann Guede
The Outcome: Knox and Sollecito were found guilty in 2009; they appealed and after a second trial they were acquitted in 2011; prosecutors appealed and in a hearing on the events of the second trial the duo were again found guilty—but Knox had been in the U.S. since 2011 after being acquitted; Knox & Sollecito were both officially cleared by Italy's Supreme Court of Cassation, the country's highest court, in 2015; Guede's 30-year prison sentence reduced to 16 years, then he was let out on day-release terms that allowed him to work outside the prison in June 2016
Kercher, who was British, and Seattle native Knox were roommates in Peruggia, where both were studying abroad. They lived with two Italian students. Kercher's body was found on Nov. 2, 2007; she had been fatally stabbed in the neck. Knox had called one of their Italian roommates to tell him that she feared something had happened to Kercher after seeing an open front door and blood in the apartment earlier in the morning. She and Sollecito didn't get through to police until 12:51 p.m. to report that they couldn't get into Kercher's bedroom and there was blood in the apartment.
The couple were arrested on suspicion of murder on Nov. 6. The owner of a pub where Knox had worked in town was also arrested, but released on Nov. 20. Rudy Hermann Guede, whose bloody fingerprints were found on some of Kercher's possessions, was extradited from Germany in connection with the crime on Dec. 6. Knox and Sollecito, in an Italian prison all the while, weren't indicted until almost a year later. Guede's trial, meanwhile, was fast-tracked; he was convicted of murder and initially sentenced to 30 years in prison.
The suspects' youth, the confusion, the politics (racial, socioeconomic, the list goes on), the violence, the intricacies of the at-times inscrutable Italian justice system: Who doesn't want to know more?
Happily, our wish was someone's command. The years-in-the-making documentary Amanda Knox, directed by Rod Blackhurst and Brian McGuinn, will premiere at the Toronto International Film Festival and then hits Netflix on Sept. 30. "Everyone else who had reported the story had been on the outside. I wanted to look at it from the inside out," McGuinn told Vanity Fair. Yes, please.
INTERNATIONAL NEWS PHOTO/Getty Images
The Victim: Elizabeth Short, aka The Black Dahlia
The Crime: Murder
The Suspects: Many
The Outcome: Unsolved 
Many thanks to Ryan Murphy for giving us as the weirdest explanation yet for the notoriously gruesome 1947 murder of Short: One of the previous owners of the Murder House in American Horror Story's first season was a disgusting dentist who accidentally kills the aspiring actress after raping her. The psychotic surgeon ghost in the basement offers to help, but he instead mutilates her body and carves the infamous Glasgow smile on her face. 
In real life, Short's body was indeed found, sliced in half at the waist and with that ghastly wound on her face, in a vacant lot in Los Angeles' Leimert Park.
But despite all the physical evidence and the storied investigation, Short's story has largely been told through inspired-by-real-events fiction, including James Ellroy's page-turner Black Dahlia and the dour yet silly big-screen adaptation. So many theories, so many suspects, so many accusations—including the most believable one yet from retired LAPD detective Steve Hodel, who spent 15 years putting together the evidence that his late father, Dr. George Hodel, was the killer.
Time for poor Elizabeth Short to get her 21st-century docu-series due.
AP Photo/Pablo Martinez Monsivais
The Victim: Natalee Holloway
The Mystery: Disappeared in 2005, pronounced legally dead in 2012
The Suspects: Joran van der Sloot, brothers Deepak and Satish Kalpoe
The Outcome: No one was ever charged with a crime pertaining to Holloway
The University of Alabama-bound 18-year-old vanished on her high school graduation trip to Aruba. Per authorities, she was last seen in the company of island locals van der Sloot and the Kalpoe brothers on May 30, 2005. Van der Sloot was arrested twice and the brothers three times in connection with Holloway's disappearance (they maintained they dropped her off at her hotel and that was it) but no one was ever charged due to lack of evidence, and no body was ever found. Van der Sloot's father, an attorney, was also detained in June 2005 for questioning about his son's alleged involvement.
The case was closed in December 2007 then reopened in February 2008 after investigators saw video footage of van der Sloot saying Holloway had died and a friend disposed of her body. He later denied that that was the case and told Fox News' Greta van Susteren that he had sold her into slavery. Prince Charming is currently in a Peruvian prison for the murder of Stephany Flores Ramírez in Lima—which, eerily, occurred five years to the day, May 30, 2010, after Holloway's disappearance.
The Victim: Caylee Anthony
The Crime: Alleged murder
The Accused: Casey Anthony, Kaylee's mother
The Outcome: Found not guilty of first-degree murder, aggravated manslaughter of a child and child abuse; found guilty of lying to law enforcement 
Well then what the hell happened to 2-year-old Caylee, whose skeletal remains were found Dec. 11, 2008, with a blanket inside a trash bag that was left in the woods near the home Casey lived in with her parents, George and Cindy Anthony. Traces of duct tape were on the skull's mouth. Caylee's death was classified as a homicide but the cause was death by "undetermined means."
Cindy Anthony had called 911 on July 15, 2008, to report her granddaughter missing, saying she hadn't seen her for a month and her daughter Casey's car smelled like a dead body. Casey would ultimately admit that she hadn't seen her own daughter for weeks, at one point claiming a nanny had kidnapped her but she'd been too ashamed to tell police.
John Springer Collection/CORBIS/Corbis via Getty Images
The Deceased: Thelma Todd
The Circumstances: Mysterious, depending on who you ask
Reminiscent of those who suspected that 1950s-era Adventures of Superman star George Reeves didn't really commit suicide but was actually murdered (a theory probed in the 2006 film Hollywoodland with Ben Affleck as Reeves), the story of Todd's accidental death on Dec. 16, 1935, didn't sit well with some.
The 29-year-old comedic actress was found dead in her own car, but in the garage of the house where Jewel Carmen and her husband Roland West—who was also Todd's lover—lived. Cause of death seemed to be carbon monoxide poisoning (one theory at the time was that Carmen locked Todd out of the house and the actress tried to keep warm in the running car) and ultimately her death was ruled "accidental with possible suicidal tendencies." 
Todd's friends said she was perfectly happy. The official medical findings stated she had no visible injuries other than a cut on the lip. An inquest was held to probe the possibility of murder, with a judge recommending further investigation. A grand jury agreed with the official explanation, and the case was closed—but no suicide note or motive for suicide was ever uncovered.
Surely someone can get their hands on a copy of that autopsy report and give us a real answer, untainted by 1930s-era tabloid suppositions?!
The Victims: The Beaumont siblings
The Mystery: No one knows to this day
The Suspects: Assorted convicted killers
On Jan. 26, 1966, Australia Day, the Beaumont siblings—sisters Jane, 9, and Arnna, 7, and their 4-year-old brother Grant—disappeared after setting off for Glenelg Beach near Adelaide. 
And that's it. Despite the biggest missing-persons investigation of its (or any) time in Australia, no trace of the children was ever found and the case remains open—with a $1 million reward for information that helps solve the mystery still on the table.
There were four primary suspects, all four of them convicted killers who, after they were in prison for other crimes, were suspected of having something to do with the Beaumont kids.
The children's parents, Jim and Nancy Beaumont, eventually divorced but are both still alive and Australian authorities keep their whereabouts on file in case of a break in the case.
Um, is there anyone who just read that who doesn't want to know more?
JEAN-LOUIS DUZERT/AFP/Getty Images
The Missing: Nicholas Barclay
The Impostor: Fréderic Bourdin 
The Mystery: Unbelievable
Check out the 2008 New Yorker article "The Chameleon" if you want to read something true that, at the same time, can't possibly be true.
A 23-year-old Frenchman named Fréderic Bourdin managed to pass himself off for nearly five months as 16-year-old Nicholas Barclay, who had gone missing in San Antonio, Texas, three years beforehand, on June 13, 1994, when he was 13.
Passed himself off not just to society in general, but to Barclay's family.
The unraveling of Bourdin's lie and how in life this was at all possible is worth the read—and the watching of the 2012 documentary The Imposter.
But the real Barclay was never found. One theory (from the police and others) mentioned in The New Yorker was that Nicholas' older half-brother Jason killed him, or was at least somehow involved in his disappearance or knew what happened, and their mother, Beverly, knew but wanted to protect her older son. Jason died of a cocaine overdose in 1998, and authorities suspected suicide.
"It was clear that Jason knew what had happened to Nicholas," Bourdin told the magazine.
Because this story couldn't get any stranger. A 99-minute film is a start, but we're thinking the details of this still-unsolved case—and the impostor who turned it into an international incident—could keep people at home watching Netflix for days.
Meanwhile, The Killing of JonBenét: The Truth Uncovered airs Sept. 5 on A&E at 9 p.m., and CBS' six-part The Case Of: JonBenét Ramsey premieres on Sept. 18 at 8 p.m. PT/8:30 ET.