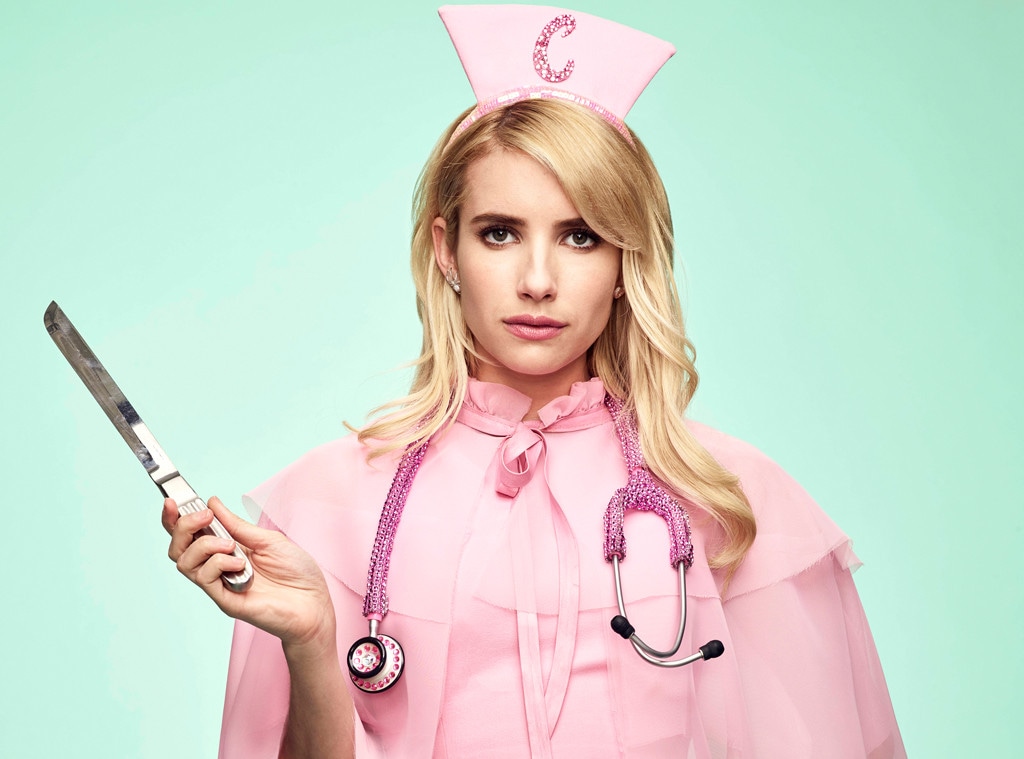 Fox
Good day Idiot Hookers, your first look at Scream Queens season two—yes, actual footage—is finally here. In the preview below, get a look at the return of the Chanels (Abigail Breslin and Billie Lourd), Chanel Oberlin (Emma Roberts) and all your other favorites who are back for some eerie hospital adventures.
The Chanels are back and Cathy Munsch (Jamie Lee Curtis) wants them to become medical students at her hospital. On staff there are newcomers Dr. Rock Holt (John Stamos) and "basically female Viagra," Dr. Cassidy Cascade (Taylor Lautner). Hey, those are his words.
"I love that it's a little bit darker. The hospital setting gives it kind of a more eerie vibe," Roberts says in the video below.
Oh, it's also (somehow) funnier.
"If you like the first season, you're going to love the second. It's funnier, it's scarier, we're just pushing more boundaries," Lautner says.
Stick around to see Stamos' character grope Roberts' at the movie theater, because why not!
"It's going to be a crazy ride this year," Roberts teases.
Crazier than season one? That's a big feat to accomplish.
Scream Queens season two stars Roberts, Curtis, Lourd, Breslin, Stamos, Lautner, Lea Michele, Keke Palmer, Glen Powell, James Earl and Niecy Nash. Guest stars already on tap include Cecily Strong, Cheri Oteri, Colton Haynes Laura Bell Bundy and Jerry O'Connell.
Scream Queens season two premieres Tuesday, Sept. 20 at 9 p.m. on Fox.
Watch:
John Stamos Talks Shirtless "Scream Queens" Scene