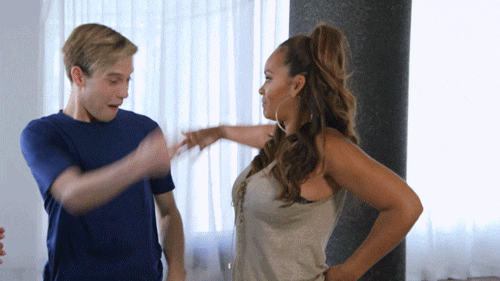 E!
It was emotional night for Tyler Henry's clients.
In Wednesday's all-new episode Hollywood Medium With Tyler Henry, the 20-year-old clairvoyant met with actor and musician Corey Feldman, reality personality Evelyn Lozada and supermodel Rachel Hunter.
Each of the celebrities had overwhelming experiences connecting with their loved ones, from Corey reuniting with his longtime friend to Evelyn receiving a poignant message from her brother-in-law. "I'm glad to know that we have men that are like our guardian angels and just holding it down for us and making sure we're good!" the Livin' Lozada star gushed.
Catch up on the episode with these must-see moments!
Watch:
Tyler Henry Shocks Corey Feldman With Spot-on Reading
1. Tyler Henry turned Corey Feldman into a believer: Tyler could immediately sense the actor was a skeptic as soon as he arrived at his home, but he was quickly able to change Corey's mind when he revealed information about his grandfather's brother that no one could possibly know. "Do you anyone that dealt with a skin abnormality on the head or face?" Tyler asked. "Yes! That's crazy!" Corey responded, acknowledging it was actually a birthmark. "That was a crazy one. Because there's no way anybody would have known that!"
2. Tyler Henry connected with Corey Feldman's best friend: Afterward, Corey handed Tyler a chain with a ring attached and he immediately felt the presence of someone who would have passed away from a drug overdose. Tyler had no idea who it was, but Feldman confirmed it was his close friend, late actor Corey Haim. "It all makes perfect sense really what you just described," he said.
Tyler explained that Haim was referencing to the writing of a book and encouraging Feldman to share more details about the suffering and abuse he endured during his life as a child star. "I know that I care," Feldman said. "I know that I want to do everything that I can to help others, but it's a lot or responsibility and it does have its own level of very intense and very real danger attached to it."
3. Tyler Henry advised Corey Feldman on coming forward about Corey Haim's abuse: "The individual that's being referred to clearly had lots of opportunities to interact with kids," Tyler told him. "All it will take is one person coming forward for a whole other group of people to come forward. It's clear that other people would also come forward and support you."
Feldman felt this was the reassurance he was hoping for. "Literally, I've been praying for several nights in a row for this answer," he said. "I feel like that whole thing was orchestrated by some greater power to help me find that answer."
Watch:
Tyler Henry Reads Evelyn Lozada and Daughter Shaniece
4. Tyler Henry surprised Evelyn Lozada with an unexpected connection: "The man that's coming through is really having me talk about with a living male who would be younger," Tyler told Evelyn and her daughter, Shaniece Hairston. "It would be either be like a son or a like grandson kind of a connection. He also, for whatever reason, took you being here as an opportunity for him to come through."
Evelyn and Shaniece weren't sure who it could be at first, but they eventually realized it was the grandfather of Shaniece's boyfriend, Zat—who was listening from the other room—when Tyler mentioned the name, George! "Shut the hell up!" Evelyn exclaimed. "We've talked about wanting to connect with his grandfather!"
5. Evelyn Lozada's deceased brother-in-law acknowledged her previous abusive relationship: While communicating through Tyler, Evelyn's beloved brother-in-law, Anthony, brought up her first marriage. "There's references to not being honest, not being completely transparent and ultimately not emotionally monogamous," Tyler said. "I feel like we go from a really bad situation to a great situation."
"That makes a lot of sense," Evelyn responded. "Right before he passed, I ended up getting married. And right before he officially passed away—he was already in the hospital—there was an incident with me and my ex-husband that put me in a hospital and then I ended up in hiding." Now that she's moved on, Evelyn was curious to find out if Anthony approves of her current relationship. "It's a thumbs up, for sure!" Tyler promised.
6. Tyler Henry connected with Rachel Hunter's horse: "This animal is acknowledging that when I know I'm going to deal with this, there's no point in keeping me alive," Tyler said. "I definitely feel that coming through. Animals still have a connection to us, no different than a lot of people in life." Rachel was amazed that he was able to communicate with her horse. "It just showed there are so many things that make you up as a human being and animals are one and I think there's great comfort in that," she said.
7. Tyler Henry predicted Rachel Hunter's love life: "What's kind of interesting is that I see you at your romantic happiest closer to like—like past the five-year mark," Tyler revealed. "Don't worry. No doubt you'll have partnerships and whatnot within this time frame, but it's actually after the mark you reach the happiest, I think. Relationships can happen earlier. It's just they reach a really good point at that point and I really like that a lot."