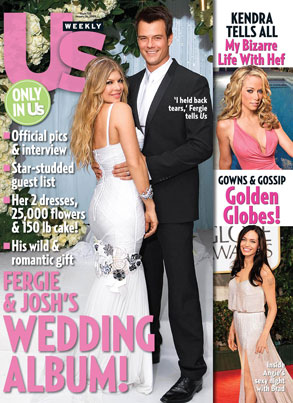 US Weekly
Like it or not, we've been through it all with Fergie and Josh Duhamel and their dream wedding—the working out and lingerie shopping, the joint bachelor-bachelorette party, the $1.5 million ceremony with crystal chandelier trees and finally their Dubai honeymoon.
So it seems only natural to wrap up their love story with a wedding photo (courtesy of Us Weekly). Oh, and a few more details they left out along the way, of course:
The dress was custom-made by Dolce & Gabbana; the ceremony included some nature for Josh and some bling for Fergie; as his bride walked down the aisle Josh told himself, "Keep it together, you big baby!" and Fergs got the reception started by yelling 'I'm married, bitches!" Anything else you wanted to know? Didn't think so.