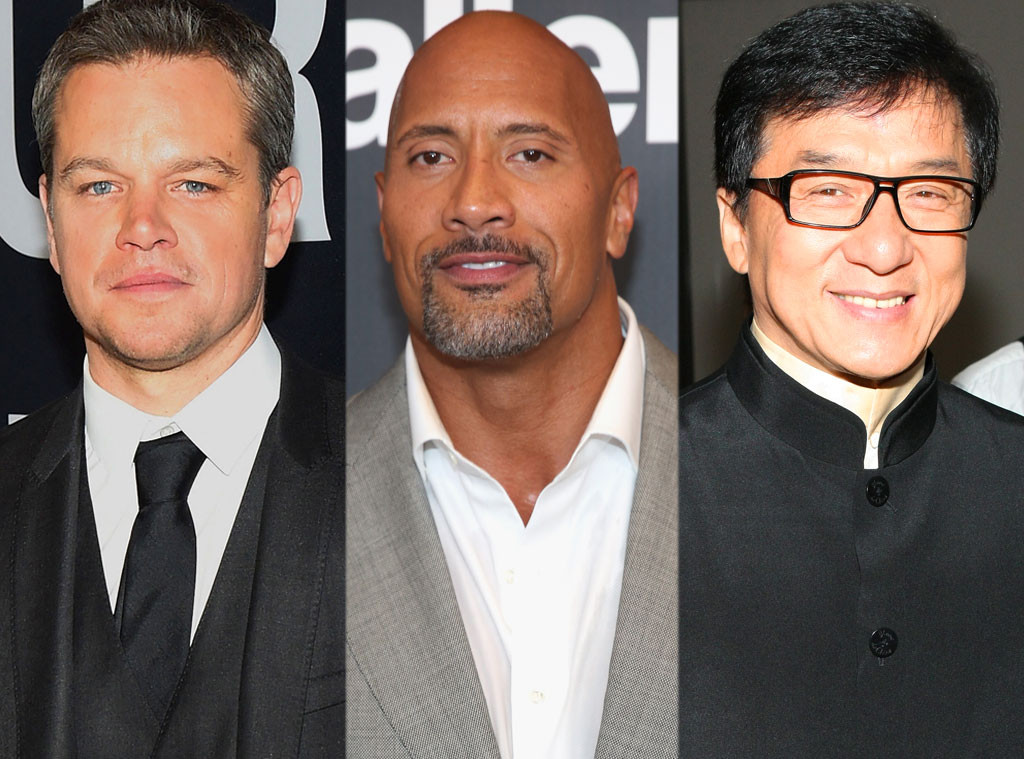 Getty Images
It remains ironic that Jennifer Lawrence was the powerful star to most prominently call out the gender pay gap in Hollywood last year.
Sure, she took some ribbing from those who don't understand how being the top-earning actress in show business qualified her to be the spokesperson for financial inequity—but that's like saying once you've reached a certain level of success you no longer have a voice when it comes to a very real issue, one that exists or has existed in some way on all rungs of the earnings ladder.
But J.Law's essay about not wanting to rock the boat and demand what she felt was her rightful compensation rings extra-ironic today upon Forbes' release of its list of the 20 highest-paid male actors, a couple of days after the 10 highest-paid actresses of the year were revealed.
First of all, the list only had 10 women because it included only those who'd made at least $10 million since last June—Forbes explained that it whittled the list down from 18 actress last year to "give a more accurate portrait of acting's earning elite."
But let's take it from the top.
Top-earning male actor Dwayne "The Rock" Johnson has banked $64.5 million since June 2015, while Lawrence, the top-earning female, earned $46 million.
To give those who write the checks the benefit of the doubt for a minute, let's remember just how many irons in the fire Johnson has. In addition to starring in and presumably getting nice back-end deals on movies like Furious 7 (though San Andreas came out in May 2015, just missing Forbes' June 1 cut-off), he's an executive producer and star of HBO's Ballers, his voice is in video games, he's got endorsements and is a big presence on Instagram and Facebook, sites that bank on their most active A-listers.
Lawrence, meanwhile, is a face of Dior, she starred in two huge franchise films, The Hunger Games: Mockingjay—Part 2 and X-Men: Apocalypse (the latter another May 2015 release, however), and was nominated for another Oscar for Joy—a "smaller" film monetarily but another high-profile prestige release from David O. Russell. She also topped the actress list for the second straight year.
Johnson replaced last year's top earner, Robert Downey Jr., who with a paltry $33 million for being Iron Man (both residually and in Captain America: Civil War) and endorsing HTC smart phones is only No. 8 on the list in 2016.
That being said, no one on the women's list, except for Lawrence and Melissa McCarthy, made that much. McCarthy, in fact, notched at No. 2 with exactly $33 million as well, and No. 3 was Scarlett Johansson—who like RDJ is a Marvel star who appeared in Captain America: Civil War—with $25 million.
Moreover, while most huge male and female stars also do ad campaigns or otherwise endorse products (sometimes overseas, so American fans don't always know that they're out there), every single actress' paycheck on the Forbes list is only that high because it's padded with side projects, be it McCarthy's own fashion line, Lawrence's Dior contract, Julia Roberts' Lancôme ambassadorship, Jennifer Aniston's veritable grab bag of product endorsements or No. 5 star Fan Bingbing's ads for Chopard and L'Oréal.
And speaking of Fan Bingbing, who is a super-star in China with earnings of $17 million...
Jackie Chan, who's had major hits in the U.S. in the past but made this year's list based on one hit at the Chinese box office (he double-threats as a producer and star) and a few more movies in post-production for which he got some money upfront, banked $61 million to land at No. 2, right behind The Rock.
But, you suggest, Hollywood can't help it if Dwayne Johnson's big 2015 movie, Furious 7, earned $1.5 billion at the worldwide box office to Mockingjay—Part 2's $653 million worldwide. That's just economics!
Sure, but while Vin Diesel joins Johnson on the list in the No. 7 position with $37 million (this includes their Fast 8 advances, per Forbes), none of their female co-stars who've been with the franchise longer than The Rock, even crossed that $10 million threshold.
"The whole point of [the FF movies] was to diversify Hollywood," Diesel told Forbes in 2015.
Buda Mendes/LatinContent/Getty Images
But while those films are certainly an electric example of ensemble casting par excellence, what about diversifying the portfolio? Shouldn't Michelle Rodriguez and Jordana Brewster be making some bank? The bromances may take center stage, but that doesn't mean the actresses deserve short financial shrift.
And the discrepancies go on.
Ben Affleck made $43 million. Gal Gadot, who was also in Batman v. Superman: Dawn of Justice and is starring in her own Wonder Woman film...nowhere to be found.
Johnny Depp, whose turn as the Mad Hatter in Alice Through the Looking Glass couldn't have hit theaters at a worse time for him, made $48 million, more than Charlize, Amy Adams and Julia Roberts combined.
Fast 8 newcomer Charlize Theron cashed in over the past year with $16.5 million to rank No. 6, but it's her The Huntsman: Winter's War and Dior J'Adore salaries that reportedly put her there.
The top Bollywood actor on the men's list is No. 8 Shah Rukh Kahn, tied with RDJ with $33 million. The top Bollywood actress on the women's list is No. 10 Deepika Padukone, with $10 million. Actually, No. 10, 14 and 18 on the actors' list, Ashkay Kumar, Salman Khan and Amitabh Bachcan, all made $20 million or more.
And though surely a flock of accountants (a murder of accountants? a pride of accountants?) have technical answers for all of this, combined with focus group studies about the habits of movie audiences and what puts butts in the seats in theaters, bankability and other factors that keep salaries rising ever higher. But on paper this is ridiculous.
Three of the actresses (Lawrence, Theron and Roberts), aka 30 percent of the list, are Oscar winners. Matthew McConaughey, who even behind the wheel for Lincoln is only No. 19 this year with $18 million, is the sole Oscar winner (for acting, anyway), though there are nominees such as Depp, Downey Jr., Tom Cruise and Will Smith. Affleck and Matt Damon (No. 3 with $55 million) won for writing Good Will Hunting back in 1998 and Affleck added a Best Picture Oscar for being an executive-producer of Argo in 2014.
There are more spectacular flops on the men's side, such as Depp's Through the Looking Glass and Mark Wahlberg's Ted 2. But their upfront fees on average are higher, even if their back-end box office deals don't add up to as much as they'd projected. And overall, men are the faces of more franchises, they have more to say and more to do
And while you may have guessed on your own, a 2014 Journal of Management Inquiry study on age, gender and compensation in Hollywood found that female stars have a smaller window, age-wise, in which they're at the top of their earnings game. Sure enough, no one on the actress list is over 50, while Jackie Chan is 61; the No. 4-paid gentleman, Tom Cruise, is 54; Depp is 52; Downey Jr. is 51. (The ladies' window is widening slightly, however, with five of the actresses being over 40, although Lawrence is 26.)
Alex J. Berliner/ABImages via image.net
Time also reported last year that Lawrence was the most profitable star, bringing in $50 at the box office for every $1 spent on her salary. And yet, even last year, her top-earning $52 million was still dwarfed by Robert Downey Jr.'s $80 million.
Even if The Rock had more irons in the fire than Jennifer Lawrence over the past 12 months, it's not as if we can just chalk this entire list up to the guys being busier than the women, on-screen or off, despite men technically having more lines to read. Each of the actresses on the list is also a businesswoman in one way or another and the money is coming in, whether it's from acting, endorsing, investing, etc.
In fact, the 10 highest-paid actresses earned a collective $205 million. And the 20 highest-paid men? $703.5 million.
"It's hard for me to speak about my experience as a working woman because I can safely say my problems aren't exactly relatable," Lawrence acknowledged in her Lenny Letter op-ed, "Why Do I Make Less Than My Co-Stars?"
But bigger numbers don't make the gender pay gap in Hollywood any less of a reality.