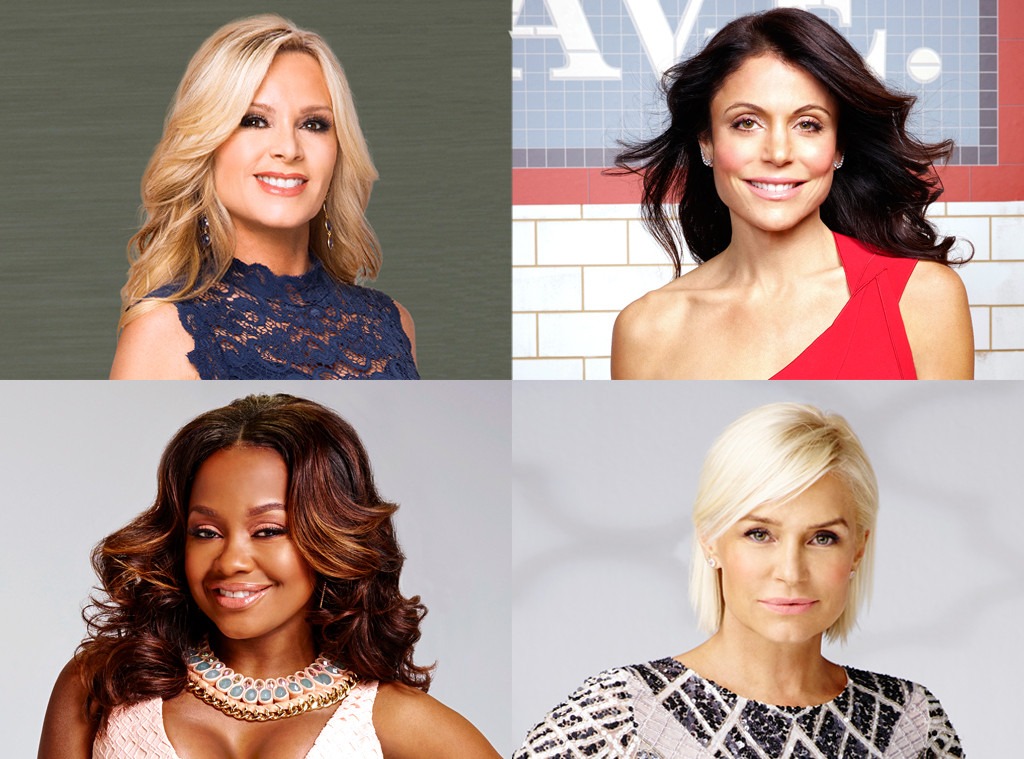 Bravo
The Real Housewives have damn near perfected the art of the insult. With seven cities in the franchise's current rotation—and a handful of international iterations capturing the world's attention—Bravo's bevy of beautifully bitchy women have become walking, talking GIF generators, spouting off some of the most withering takedowns that reality TV has ever seen. Of course, not all insults are created equal. Some are calculating and cruel. Some are wonderfully witty. And some are so gloriously off-the-wall that they're instantly iconic.
While we impatiently await whatever fresh put-downs the season eight finale of The Real Housewives of New York City has in store for us, let's take a look at the 19 best Real Housewives insults ever.
19. The Simple, Yet Effective
Caroline Manzo was preparing to never see her Real Housewives of New Jersey nemesis Danielle Staub again when she delivered this direct blow. Bonus points for adding in: "When I said you were garbage, I meant you were garbage."
18. The "I'm Coming For Your Business"
When Andy Cohen asked Kenya Moore if she was possibly wearing her Real Housewives of Atlanta frenemy Porsha Williams' line of hair extensions, she was locked and loaded with this dig. Kandi Burruss' reaction face says it all.
17. The Schoolyard Taunt
Bethenny Frankel didn't give a single you-know-what when Kelly Bensimon tried to knock her down a peg with this dig, but it was an instantly iconic Real Housewives of New York City moment that we'll never forget.
16. The Last Stab
Aviva Drescher was on the losing end of a battle she should've never even begun with RHONY frenemy Carole Radziwill over the latter supposedly having used a ghostwriter for her memoir What Remains (Spoiler alert: She didn't.) when she delivered this memorable jab. It would turn out to be one of her final moments on the show, but she sure went down swinging.
15. The 11 Secret Herbs & Spices
Why did Tamra Judge refer to her Real Housewives of Orange County nemesis Lizzie Rovsek in such a flavorful way? We don't remember, but does it even matter when the insult is this finger lickin' good?
14. The "It's Alive!"
Real Housewives of Atlanta's Phaedra Parks seems to have been put on this earth to spout off wicked one-liners at every whim. Case in point? This spooky slam aimed at former pro football player Chuck Smith after he popped up to claim he'd bedded Phaedra, as well as her co-stars Kandi and NeNe Leakes.
13. No Love for Louis Vuitton
Oh, your clunky shoes are from a high-end label, Alex McCord? Well, Luann de Lesseps couldn't care less. Stomp away from her, OK?
12. The Beastly Beatdown
Is this the most colorful on the list? Nope. But when Kim Richards delivered this line to Real Housewives of Beverly Hills co-star Eileen Davidson while on holiday in Amsterdam, it shocked Eileen and the audience so much that we'll all probably never forget it.
11. The What?
Do we understand why Phaedra called Kenya an "oatmeal pie face"? No. Do we care? Not one bit. This one is so off-the-wall, it makes us laugh whenever we think about it. (Which is often.)
10. The Significance Dismissal
Porsha's attempt to strike back against Kenya's nearly 20-year-old fame has probably become every Millennial's favorite insult.
9. The In Your Face
Bethenny Frankel is not one to mince words, as seen here in her brutal Luann takedown.
8. The Barnyard Bullying
Kim has said a lot of colorful stuff during her time on RHOBH, but this bizarre taunt aimed at now-BFF Brandi Glanville certainly takes the cake.
7. The Alliterative Accusation
Remember when we said that Phaedra seemed custom-made for this sort of this? This jab at Kenya is one of her very best.
6. The Diss From Down Under
If you don't now who Real Housewives of Melbourne's Gina Liano is, you should remedy that immediately because this is the gold that you're missing out on.
5. The Sly Shade
Cool Carole for the win for this subtle, yet stellar slam about Luann's St. Barts shenanigans.
4. The McCord Moment
Alex didn't have a lot of quotable moments during her run on RHONY. Rather, she usually broke out into hives and stammered her way through confrontations. But this one-liner, aimed at Luann, is one for the record books.
3. The Lord's Name in Vain
Before Tamra had her own Come to Jesus moment, she was perfectly comfortable lobbing this hysterical line at ultra-religious Alexis Bellino. It was so iconic, it sort of became Alexis' unofficial nick-name.
2. The One With the Table Flip
The moment that put Teresa Giudice, as well as RHONJ, on the map. You'd be hard pressed to find a Housewives fan who doesn't have their impression of Tre from this heated moment rehearsed to near perfection. 
1. The Ultimate Question
Well, who is she? Yolanda Foster FTW.
Did the right insult land at No. 1? Or did we completely miss your fave? Let us know in the comments below.
H/t to RealityTVGIFs.com for all the GIF goodness.
The Real Housewives of New York City season finale airs Wednesday, August 24 at 9 p.m. on Bravo.
(E! and Bravo are both part of the NBCUniversal family.)
Watch:
Bethenny: "The Reunion Was Absolutely Terrible for Me"