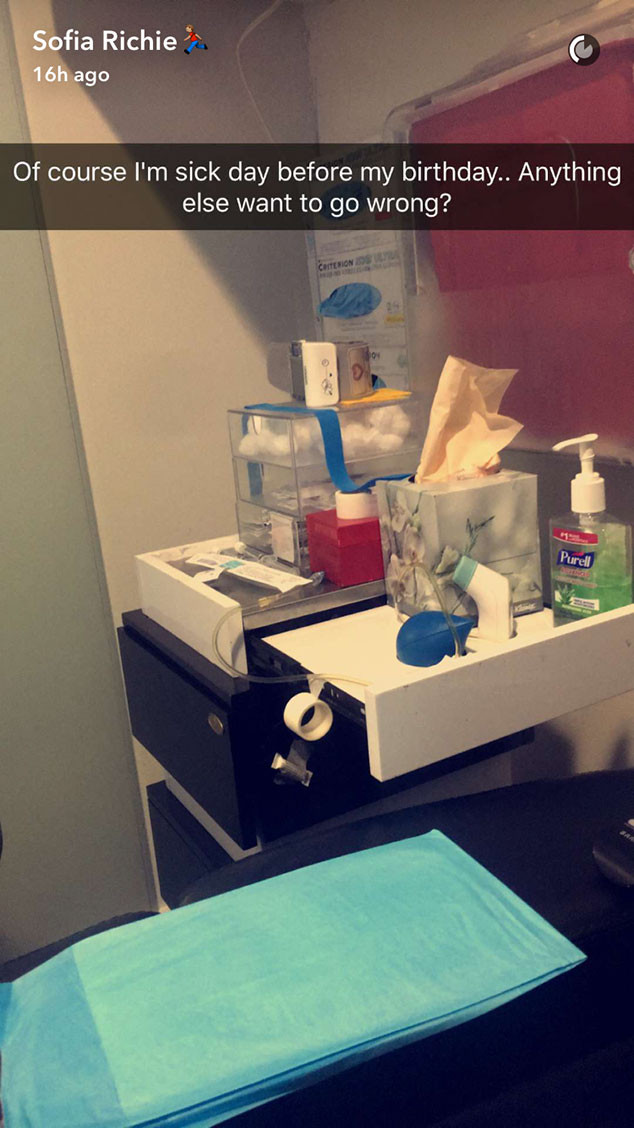 Snapchat
Sofia Richie is ready to celebrate her 18th birthday—but first, there's just one thing standing in her way.
Before boogieing the night away Tuesday, the aspiring model and half sister to Nicole Richie had to press pause on the early festivities to deal with a minor delay.
"Of course I'm sick day before my birthday...Anything else want to go wrong?" she plead on Snapchat along with a photo of what appears to be a doctor's office. As the song goes, Sofia, "It's my party and I'll cry if I want to!"
Not to fret, the birthday girl recovered and headed out on the town for a private bash in her honor at 1OAK in California early Wednesday morning. A club goer exclusively told E! that Richie was joined by friends including Ty Dolla Sign and family. However, her famous dad Lionel Richie and sister Nicole did not attend.
After midnight, Sofia jumped on the mic and announced it was her birthday. She was presented with a cake in the shape of a Range Rover. Richie appeared happy and it was obvious she was having a great time celebrating her birthday. Kent Jones sang "Happy Birthday" and Richie was seen singing along to his hit single "Don't Mind."