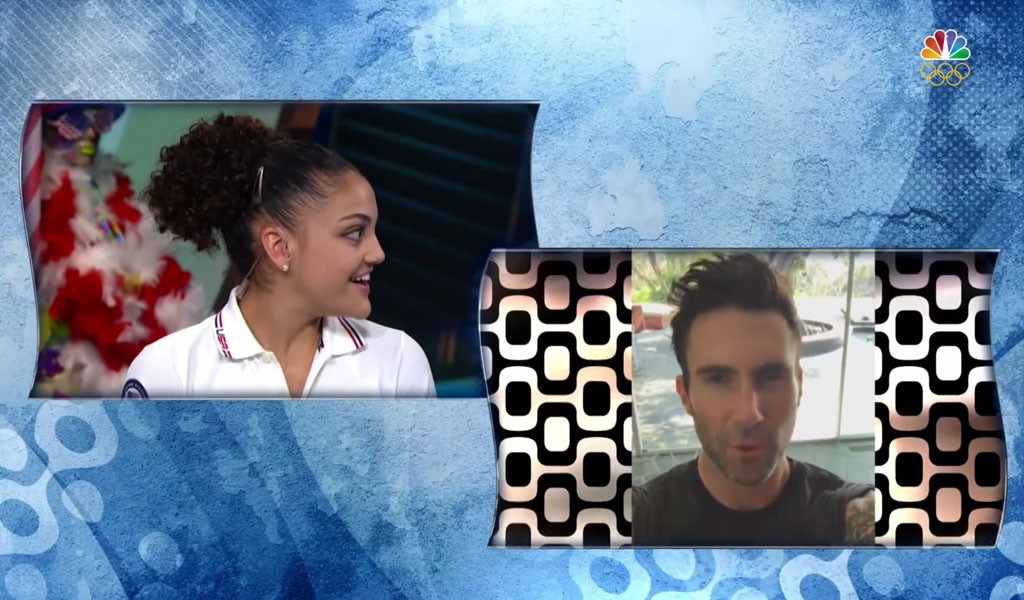 NBC
Adam Levine is to Laurie Hernandez as Zac Efron is to Simone Biles. 
The Team USA gymnast will leave the 2016 Summer Games with a gold and silver medal, but her time in Rio wouldn't be complete without a chance to meet one of her favorite celebs. During her appearance on Ryan Seacrest's Olympic late-night show Saturday, the breakout star of the women's gymnastics team dished on her love for The Voice. 
When Seacrest asked who her favorite coach on the singing competition series was, Laurie said, "So Adam keeps winning so I like Adam because of that. But Christina [Aguilera] is awesome even when I was younger just in the gym my coach would put on a Christina CD and we would listen to her the whole time." 
As fate would have it, Ryan organized quite the special surprise for the 16-year-old as he tells Laurie, "A lot has been made of your fanship and the team's fanship of Zac Efron. He has had is moment," before turning her attention to a screen nearby. 
Hernandez is completely speechless as a video Levine filmed for the gymnast is played. "What's up, Laurie? This is Adam Levine. Just wanted to say hello. Congratulations, you're kicking butt out there and we've been watching you from the states. Excellent work," the singer tells her. 
Cue the rosy cheeks and giddy laughter! Laurie is on Cloud Nine and might never come down. 
And days ago, after weeks of mounting anticipation for Laurie's teammate Simone to meet her celeb crush in person, Efron flew to Rio and surprised the Final Five during their appearance on the Today show. With only hours left until the closing ceremony kicks off, it's safe to say these gymnasts went out with a bang! 
(E! and NBC are both part of the NBCUniversal family).