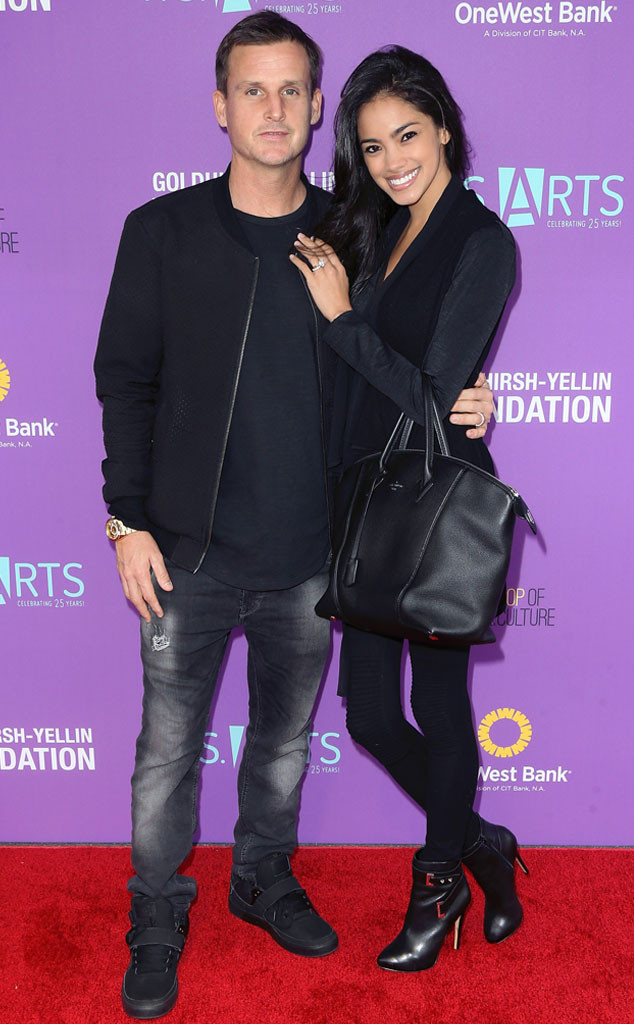 David Livingston/Getty Images
It's not a fantasy! Rob Dyrdek really can call himself a dad.
E! News can confirm the Fantasy Factory reality star and his wife Bryiana Noelle Flores welcomed their first child together on Friday evening.
"Say hello to Kodah Dash Dyrdek aka Dash aka KD aka K-Dash aka Dah-Da... Born 9/9/16 on 7:28pm... 7.7 ounces. Myself and @bryianadyrdek_ feel so incredibly blessed and thankful for our healthy baby boy," Rob shared on Instagram. 
The happy arrival comes just a couple of weeks after the new parents participated in a stunning maternity photo shoot where Rob couldn't help but gush over his wife.
"9 months pregnant and more stunning than ever. As much as I love this woman with all of my being, I could never express how proud I am of how strong she is," he wrote on social media. "We are weeks away from bringing our son into this world and I have been in awe of how well she has handled the difficult task of growing a child and preparing to become a mother."
He added, "So much to be grateful for on this beautiful day."
In the months leading up to the baby's arrival, the happy couple documented their journey to parenthood that just so happened to include romantic getaways and some adorable PDA.
Both Rob and Bryiana were able to get away from work and escape to Bora Bora for a romantic "babymoon" vacation. Back at home, the pair jetted off to Northern California in order to attend Game 7 of the NBC Finals. And yes, they even documented some doctor visits where someone took control of the sonogram machine. 
"I love @bryianadyrdek_ in so many ways and on so many different levels," Rob wrote on Instagram when first announcing the pregnancy news. "I could never create the words to express how deeply and truly I love her and us."
Before you somehow think Rob is the only one head over heels in love, hold that thought. Bryiana has made it perfectly clear that she can't wait for her husband to be a proud papa for their little boy.
"I just want you to know that the only thing better than having you as my husband, will be our children having you as their Daddy. We are so blessed and I love you more than words can ever describe," the President of Iconic Beauty shared on Instagram. "Thank you for the adventure of a lifetime. There's no one in the world I would rather be on this beautiful life journey with."
Congratulations to the couple on their special day.