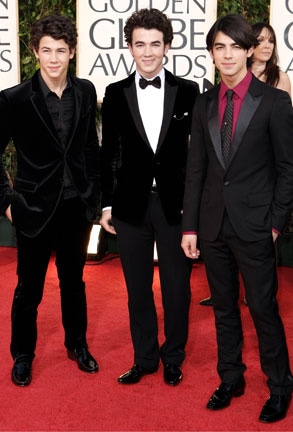 AP Photo/Matt Sayles
The Jonas Brothers will have plenty to be nervous about come Grammy night.
Not only are they first-time nominees, but they'll be making their Grammy Awards performance debut, too!
The brotherly trio just signed on to belt out a tune when the awards are handed out Feb. 8 at L.A.'s Staples Center (and telecast live on CBS), a source exclusively reveals.
The song in question is being kept under wraps for now. But we have a couple of guesses...
"Love Is on Its Way," from their upcoming movie, Jonas Brothers: The 3D Concert Experience, is reportedly being released in the U.S. when the flick hits theaters Feb. 27.
Or there's the newest single, "Tonight," which they performed at the American Music Awards in November. A video for the tune will debut next Monday.
The Jo Bros are up for a Grammy for Best New Artist against Adele, Duffy, Lady Antebellum and Jazmine Sullivan.
Just the other night, Kevin, Joe and Nick presented at the Golden Globes. Sadly, we didn't get to see—or hear—them sing, because the Globes do not include musical performances.