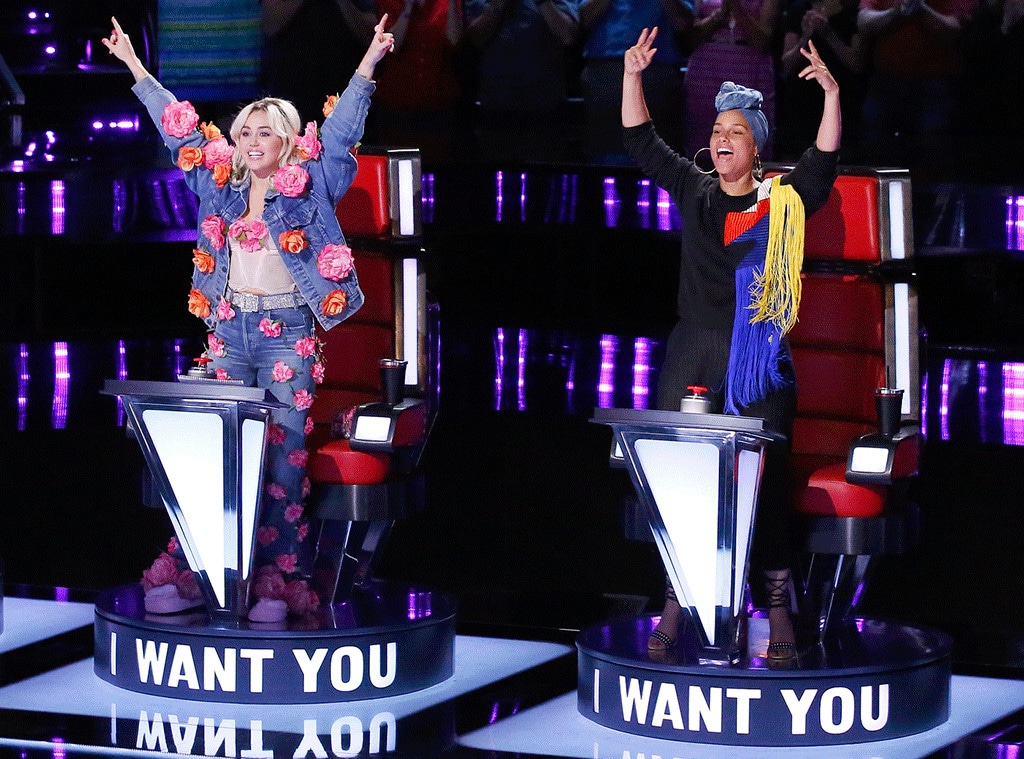 NBC
The Voice's 11th season doesn't technically begin until Sept. 19, but thanks to the Olympics and the gigantic national platform it has given NBC, we'll get to see a sneak peek of the newest coaches in action much earlier than that.
The network is giving us a half hour preview of the first blind auditions of the season on Sunday night following the Rio Olympics closing ceremony, which means we'll finally be able to see if Miley Cyrus and Alicia Keys are the superstar coaches we assume they'll be.
Having seen the much-too-short special a few days early, E! News is here to assure you that Miley and Alicia are just as excellent as you thought. While we can't say too much about the two auditions shown in the special, you should know that they're both dynamo teenage singers who, much like the Olympians you've been watching over the past few weeks, will make you simultaneously impressed and depressed (in awe at their talent and sad that they're basically kids who could run metaphorical circles around you, vocally).
An audience member dished to us last week that Miley and Alicia seem super-close, and that's certainly the case. The ladies are looking out for each other—and in the first half hour of the season, they definitely outshine Adam Levine and Blake Shelton. (And you know that's hard to do.)
Both women have an easy rapport both with their fellow coaches and with the Voice hopefuls, and you can tell that they're both incredibly passionate and knowledgeable about music. Miley is definitely the most energetic of the coaches (and definitely outshines Blake in the class clown role), while Alicia is warm and maternal a la Pharrell Williams and his kind, laid-back, paternal vibe.
Plus, you'll be able to hear them sing—not only in a big performance with all four coaches, but also in a few of their pitches to the young singers they're trying to get on their teams. No spoilers about who the singers are or which teams they join, but here's what we will say: Miley and Alicia certainly spare nothing when it comes to convincing contestants to pick them.
Sorry, Blake, that Southern charm alone won't work anymore!
Tune in to the special Voice season 11 sneak peek on Sunday, Aug. 21 at 10:30 p.m. on NBC. The full season premiere will air Monday, Sept. 19 at 8 p.m.
(E! and NBC are both part of the NBCUniversal family.)