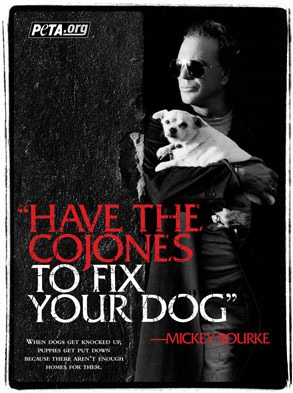 PETA
He may not be showing off his backside like Eva Mendes or Khloe Kardashian (phew!), but tough guy Mickey Rourke is looking to kick some ass when it comes to fighting animal overpopulation.
In an effort to get the word out about the importance of spaying and neutering, the actor is once again showing his passion for pets, this time by tag-teaming with PETA on a new ad featuring his cuddly canine Jaws.
You may recall, the 52-year-old comeback kid thanked "all [his] dogs" during his acceptance speech Sunday after pinning down a Golden Globe for his art-paralleling-life-type role in The Wrestler. "Because when a man's alone," he added, "sometimes all you got is your dog, and they meant the world to me."
Something tells us that when it comes to pet names, "Mickey" just shot to the top.