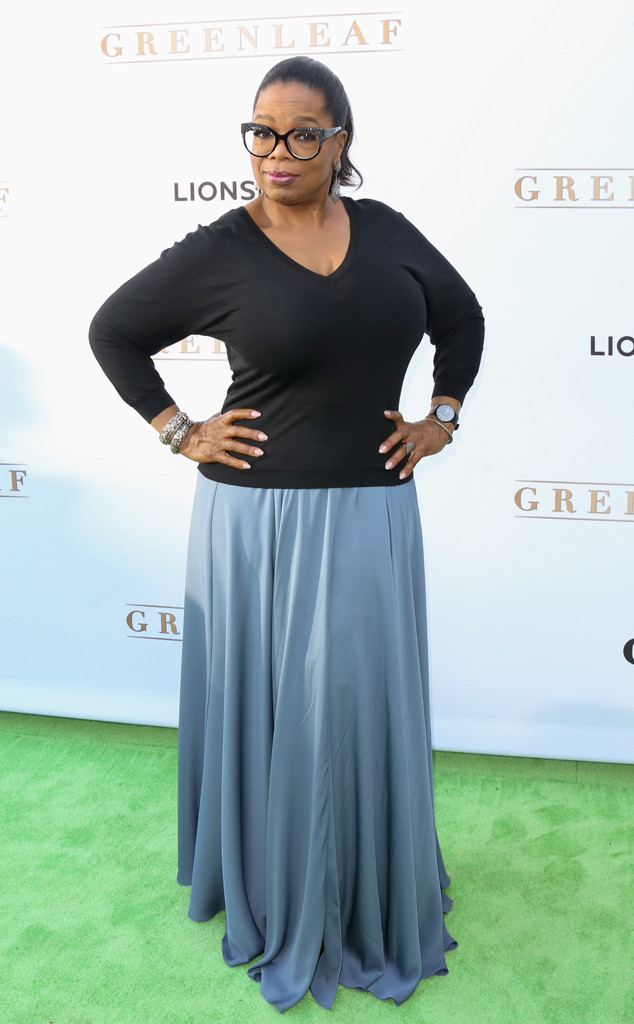 Paul Archuleta/FilmMagic
Oprah Winfrey has shed dozens of pounds in the past year and she has Weight Watchers to thank. 
Dieting is no easy feat, but just as the 62-year-old media mogul has done with books, celebrities and daytime television, Winfrey made losing weight look manageable and familiar by bringing fans along for every step of her journey via social media, commercials and Weight Watcher meeting visits. When she was initially invited to invest in the international weight loss company and become a partial owner, Oprah had to try the product before she could sell it.
"Weight Watchers called me in like mid-July," she told Ellen DeGeneres. "We had our first meeting in August and they said, 'We would like you to come onboard our program and do what you do: self-empowerment, self-enrichment. We think that you can bring another level to us for Weight Watchers.' I said, 'I can't do it unless I actually go with the program. First of all, I've never endorsed anything. I've never been a spokesperson for anybody. So, I will have to do the program myself to see if I actually like those points, because I've been resistant to points.'"
She must have liked the system because by mid-October, she had publicly announced her $43 million investment for a 10 percent share of the company and a seat on the board of directors. "She's a member on her own personal journey toward success, and she believes so much in what we do and our mission that she wants to work with us to inspire people around the world to lead healthier and more fulfilling lives," the company said in a statement at the time. 
Oprah was a relatable choice—after all, she has publicly battled her own weight loss issues for decades, famously wheeling out a wagon filled with animal fat during an episode of The Oprah Winfrey Show to commemorate her 67 pound weight loss, a moment Winfrey has since expressed regret over as she later gained some of the weight back. 
This time, there has been little regret over her decision to start counting points. Since mid-July, Oprah has seen physical success with 30 pounds dropped thus far and a clean bill of health. "Best Health report card ever!Total cholesterol 180.. LDL 82. thanks to #wwsmartpoints #ClevelandClinic #AnnualCheckup," she captioned a photo of herself alongside her doctor in June. 
While weight loss seems easy just looking at photos from an iPhone screen, Winfrey had to face her food temptations and balance them the Weight Watchers way if she wanted to make progress. Sure, she ate birthday cake and fried foods, but counteracted the treats with fresh vegetables from her own garden and weekly hikes, even while on Christmas vacation. Oprah's efforts did not go to waste. "For the first time in the history of my adult life, since I was like 23, 24, I did not gain a pound during the holidays," she said in a video. 
Like many members of the program, Oprah attributes her weight loss to being able to eat virtually anything—as long as its within her allotted number of points for the day. "I basically eat exactly what I want and if I can't figure out what the points are…I just say I'm going to pass on that," she told members during a phone call in March. "If I can't begin to measure the points, I usually pass."
In true Oprah fashion, she even managed to make eating bread a viral part of the program. "I love bread. I now just manage it, so I don't deny myself bread. I have bread every day," she famously said in a commercial. "That's the genius of this program. I lost 26 pounds and I have eaten bread every single day."
After tweeting the video to fans, Weight Watchers' shares climbed slightly over $2 a share. Since Winfrey owns roughly 6 million shares, she earned $12 million off of just. one. tweet. However, despite Oprah's losses on the scale, Weight Watchers has also cost the billionaire a pretty penny.
She initially shelled out $43 million for a 10 percent stake in the company. A day after making the grand announcement, stock value had soared and that same stake was worth $110 million, according to Forbes. However, four months later, the shares' value plunged by 28 percent after a fourth-quarter report revealed the company's year-over-year revenue had decreased by 21 percent, as reported by Fortune. Winfrey's stake dropped in value by roughly $28 million, though it had still increased by the same amount since Oprah first bought it. 
As Weight Watchers' value remains in a state of flux on the market, Winfrey is enjoying the fruits of her physical labor, recently walking the red carpet for the premiere of her network OWN's new drama series, Greenleaf in West Hollywood, Calif. With her hands planted confidently on her hips, it's clear Winfrey is loving her look—and never turning back. 
"Every other time I've ever gone on a diet, I've gone on a diet and then gone off the diet, because I had gotten to the weight I'd wanted to be," Winfrey said during a private call with Weight Watchers members in late January. "The difference is, I've made the shift and this is the way I'm going to live for the rest of my life."
Related:
Gayle King "Feels Great" About 25-Pound Weight Loss