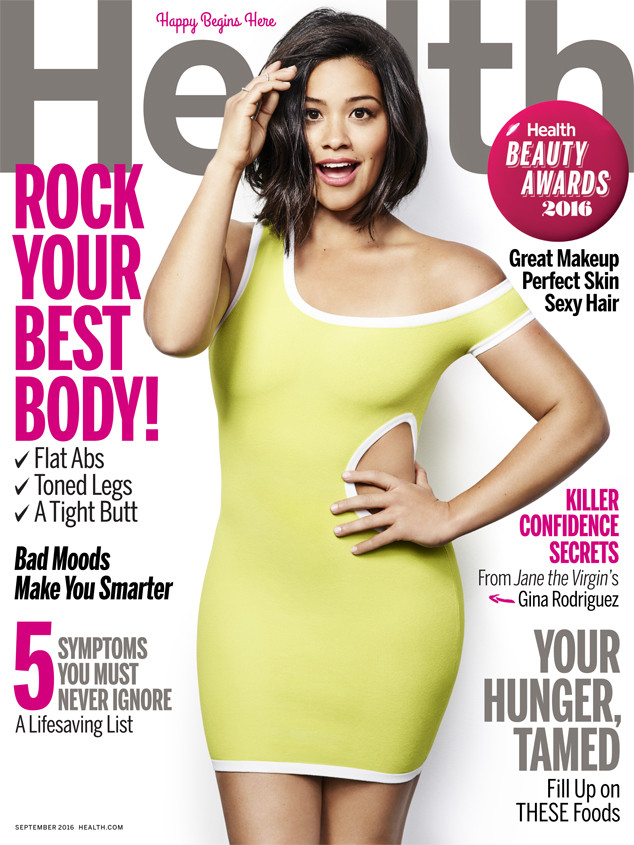 Health Magazine
Gina Rodriguez is having a fantastic year. She has two upcoming films, her hit show Jane the Virgin, and she's also become a predominate name in Hollywood for being a positive role model who empowers women and celebrates diversity through social media. Rodriguez is now gracing the cover of Health and calls it "a dream come true."
Just like many of us, the actress still deals with many things behind the scenes and Rodriguez has been very open about what it's like for her to live with Hashimoto's Disease, but she isn't letting it defeat her. "If I can at least walk for 20 minutes a day, it's extremely helpful for my thyroid gland. Running, boxing, jump rope and hitting the heavy bag are my workout constants," She said. "It's always been a battle for me with weight. Keeping weight off is very difficult because my metabolism is pretty much shot, which to me felt like a curse when I was 19. As an actress, I would say, 'Seriously? In a world that's so vain, I have to deal with the disease that makes you not keep weight off?' But it actually became a blessing because then I got to represent not only women and Latinas but also women who are dealing with this disease. I'm gluten-free, which is the most difficult thing in the world because, like Oprah, I love bread!"
Rodriguez is tempted daily with craft tables on the set, but she won't fall for it. "It's mind over matter because they put out doughnuts every morning, and they smell divine. I have to look at gluten like, "Yea' I want to eat that. Of course, I do, but it doesn't make me feel good. And I want to feel good," the actress said.