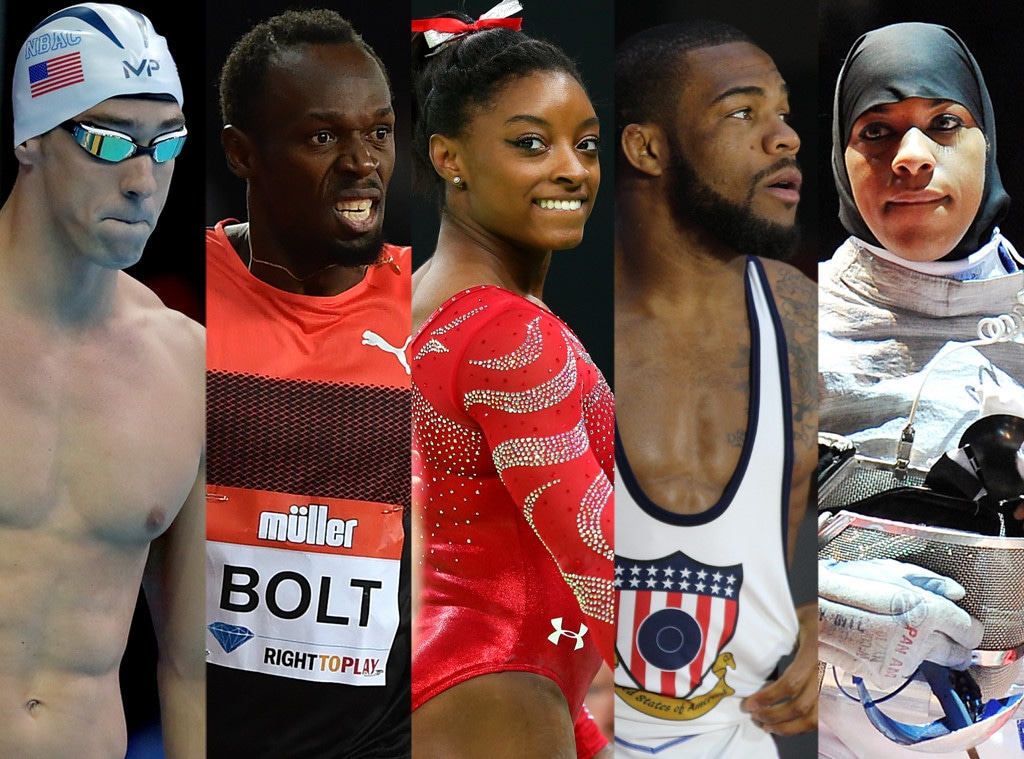 Getty Images; AP
After the 2016 Summer Olympics are over, Michael Phelps will continue to have a lifetime supply of Under Armour everything, and Simone Biles will still be flipping for Special K® Red Berries. Usain Bolt will cash in whether he outruns the competition or not (he probably will). And the U.S. men's basketball team will drive off into the sunset in a fleet of luxury SUVs and sports cars.
But for most of the 10,500 athletes from 206 countries competing in the Rio Games, what can range from four years to a lifetime of training all comes down to the next three weeks.
Some will turn in record-smashing performances and win gold. Others may fail spectacularly. Still others will have stories that bring you to tears. We will be enthusiastically and indiscriminately cheering them on and a combination of all three will leave Rio de Janeiro more famous than when they started.
Yet those who spin a medal into millions of dollars will be in the minority. Most of the athletes competing in the Rio Games are men and women whose names we've never heard before, who play sports that don't get much mainstream coverage when there's no Olympics to tune into. Team USA alone has sent 550 athletes to Brazil to compete in 30 sports.
And there are only so many cereal boxes to go around.
Phelps, the most decorated Olympian of all time, is reportedly worth $55 million (even after losing millions in potential endorsements when a photo of him holding a bong surfaced in 2009 and he was arrested for DUI after the 2012 Summer Olympics).
And Biles is making her Olympics debut in Rio having already made a reported $2 million from prize money and endorsements.  But most of those who reach their sport's most elite level don't actually earn a living as an athlete. And they never will, though international success can certainly help advance their careers in other fields, from coaching to broadcasting, once they've retired from competition.
The nature of Olympic-level competition doesn't always require medal aspirants to abandon all other pursuits, but those who are able to devote their lives to training usually can do so thanks to the generosity and enthusiasm of sponsors and donors—or, in some countries, the government.
It also can cost thousands of dollars just to train at that elite level, hence why athletes tend to grab at the opportunity to live full-time at a residential training center, many of which help cover competition entry fees, the price of equipment and other necessities. The U.S. Olympic Committee does not receive funding from the federal government and Team USA relies "on the generosity of the American people to achieve their dreams," according to the team website.
Luckily, the American people—and corporations—tend to be generous.
The USOC took in $625 million annually between 2005 and 2008 from U.S. broadcasting rights alone, plus another $120 million a year from U.S. corporate sponsors, according to Sports Management Degree Hub. The USOC's Operation Gold Program pays Team USA athletes $25,000 for gold medals, $15,000 for silver and $10,000 for bronze, plus there are other financial incentives from individual sports' governing bodies. Not all, but many other countries, pay similar—or bigger—bonuses. In 2012, Russia was reportedly paying $135,000 for gold, $81,600 for silver and $54,400 for bronze.
Though the athletes are allowed to sign sky-high endorsement deals (provided they aren't on an NCAA team at the time or planning to be on one—Missy Franklin famously turned down millions after the London Games in order to swim in college), only a small number of them truly hit that jackpot. Instead, most seek out smaller deals for cash or services, such as use of training facilities, in order to get by, and part-time—and full-time—jobs are common among aspiring Olympians. GoFundMe pages are also picking up steam these days.
On Team USA alone, dozens of athletes have jobs outside of sports, or they're pursuing higher education with an eye on their post-Olympics future. Then, still others have quit their day jobs to train—or their day jobs suit their Olympic aspirations quite well.
Triathlete Gwen Jorgensen was an accountant at Ernst & Young; Trinidadian-born hurdler Kerron Clement, a member of the gold-medal 4x400 men's relay team in Beijing, models and acts on the side; and pistol shooters Emil Milev, Jay Shi and Keith Sanderson are a physical education teacher, a web developer and the chief marksman instructor at the US Marine Corp base in Hawaii. Respectively, that is.
Other athletes who make a living from their sport, albeit not in the competitive world, include canoe/kayakers Ashley Nee, who worked as an EMT in Maryland and is a kayaking instructor for Liquid Adventures, and  Devin McEwan, also a kayak instructor. Canoe sprinter Maggie Hogan works in transportation for GE.
Team USA's Athlete Career Education Program also hooks athletes up with jobs while they're training— sailor Briana Provancha, who will compete in the two-person dinghy, worked part-time as a sales associate at Cole Haan via the program—and helps them find careers for when their competition days are over.
Meanwhile, the need for a day job is hardly unique to Team USA. Raheleh Asemani, an Iranian refugee who will compete in tae kwon do for Belgium, is a postwoman in her adopted. Colombian rugby player Nathalie Marchino works in sales at Twitter—which, according to ABC News, allowed her a five-month leave of absence so she could focus on making it to Rio.
Kazuki Yazawa, who will compete in canoe slalom for Japan, is a Buddhist priest
And Cornell grad Stephen Mozia, who hails from Knoxville, Tenn., but will compete for Nigeria in the shot put, is a sales support engineer at Emerson Electric in the U.S. And Kazuki Yazawa, who will compete in canoe slalom for Japan, is a Buddhist priest.
Forty years ago, the Games were the sole territory of "amateurs"—or the professionally underpaid. The "full-time amateur athlete" became a thing thanks to the Soviet Union to describe those whose efforts were fully financed by their home country so that they didn't have to do anything besides work on their sport—which gave them an advantage over self-financed amateurs from other nations.
It was around that time, though, that the International Olympic Committee started loosening the rules regarding professional athletes, and by 2012, boxing and wrestling were the only amateur-only sports left in the Games. And this year, boxing opened up its qualifying rounds to professionals.
But even among pros and the best of the best…
According to a 2014 study by BBC Sports, 35 out of 56 sports listed paid prize money at the world level of competition. Only 25 of those paid equal prize money to men and women.
Team USA fencer Ibtihaj Muhammad, who in Rio will become the first Muslim American athlete to compete in the Olympics wearing a hijab, is already a breakout star of these games before stepping into the arena. She has become an inspiration to people around the world, has met the president and been on Ellen, and it came down to her and Michael Phelps as to who was going to carry the American flag during the Opening Ceremony today (Phelps will do the honors).
But for her day job, she designs and sometimes models for Louella, the clothing line she she started a couple of years ago with her siblings.
Because while fencing lessons cost plenty, even being a seven-time World Cup medalist doesn't pay the bills. (It is, at least, one of the sports that pays men and women equally.)
In 2010, the inaugural Z1 Pro-Fencing World Series held in Singapore was offering total prize money of $30,000 to the competitors.
Actually, fencing may be among the glamour sports this year. Team USA member Miles Chamley-Watson is also a model when he's not wielding a foil, walking runways for the likes of Ralph Lauren and posing shirtless alongside Corkcicle water bottles.
Various sports governing bodies and other organizations, not to mention deep-pocketed sponsors, do offer financial incentives—both for Olympic feats and beyond—for winning athletes, knowing that glory is nice but it doesn't hurt to sweeten the pot.
For instance, Ashton Eaton, who as the gold medalist in the decathlon at the 2012 Summer Olympics is the unofficial reigning best athlete in the world right now, banked a $750,000 bonus for setting a new world record during the U.S. Track and Field trials before the London Games.
Ian Walton/Getty Images for IAAF
2012 Olympic wrestling gold medalists Jordan Burroughs and Jake Varner each received $250,000 from the Living the Dream Medal Fund, while fellow Team USA members Coleman Scott and Clarissa Chun got $25,000 for winning bronze in their events. The Fund has upped the ante to $500,000 to repeat gold in Rio and Burroughs will be going for it.
Asked what he was going to do with his prize money in 2012, he told TeamUSA.org, " Nothing, really. $250,000 isn't enough to live off of."
The Lincoln, Neb.-based wrestler added, "Yes, 250,000 can go a long way but I might need to stretch it a little longer. I'm just 24, so hopefully I have a lot more winning to do and a lot more money to be made."
Varner wasn't sure what he'd do with it. "Maybe learn how to make more of it," he told the site.
Scott said he would stash his $25,000 away for his daughter's education and acknowledged that winning bronze had made life easier because "I make my money coaching and now I make more of it."
Chun said she'd either invest her $25,000 or put it toward her education, possibly chiropractic school.
Burroughs considered a future as an MMA fighter for financial reasons, UFC being a major sponsor of the wrestling World Championships, but as he prepared for Rio he told Fox Sports that sponsorships and endorsements, including a deal with Hershey's, had allowed him to pursue a second straight Olympic gold medal.
"I'm doing well financially," the 28-year-old said. "I think a lot of guys get out of wrestling for financial incentive to go to the UFC, but I'm doing well. I've got a home, I've got a wife, I've got everything I need. So realistically, I don't need to join the UFC for anything other than I'm passionate about it, which I'm not. So I'll just sit back from afar and enjoying watching it but not participating."
According to Bankrate, Phelps is the only true-blue Olympian among the top eight richest athletes competing in Rio, the richest being professional tennis superstar Serena Williams, with a reported net worth of $145 million.
So Phelps is in a class, not entirely of his own, but of a unique few who are super-star, super-rich athletes based on their Olympic feats.
Cameron Spencer/Getty Images
In the club is Usain Bolt, who ranked 32nd on Forbes' 2016 list of the World's Highest-Paid Athletes, with $32.5 million in earnings—$2.5 million in prize money and $30 million in endorsements.
Phelps may be worth more overall but he didn't make Forbes' 100-strong list. The Jamaican-born Bolt is a truly global icon, with his Puma deal alone said to be worth upward of $10 million a year.
Nine other athletes going to the Olympics are on the 2016 top-earners list, all basketball and tennis stars, including No. 5 on the list, incoming Golden State Warrior Kevin Durant, who earned $20.2 million for basketball and $36 million in endorsements; and No. 6 Novak Djokovic, who made $21.8 million in prize money and $34 million in endorsements.  
A lot of international soccer players are on the Forbes list (including Nos. 1 and 2, Cristiano Ronaldo and Lionel Messi), but men's Olympic teams are only allowed to field at most three players over the age of 23 (there are no age restrictions for the women) and most of the massive football contracts belong to slightly older gents. The only list-maker playing in Rio is Brazilian soccer hero Neymar, No. 21 with $37.5 million in earnings, who will suit up at the ripe old age of 24.
And while Team USA's men's and women's soccer teams are awash in endorsement deals, the average Major League Soccer salary is $50,000 a year—and some players do seek supplemental employment. But those are just the guys. Female professional soccer players almost always need another job to get by, with most members of the National Women's Soccer League not drawing salaries from the national team.
National team players get $54,000 a season from U.S. Soccer, as well as whatever their pro team plays. NWSL salaries range from $7,200 to $39,700 per season, according to the New York Times.
So making the national team is the goal. 
Yup, the goal.
Meanwhile, the U.S. ladies won gold in London and won their opening match in Rio on Wednesday; the men did not qualify for the games.
Like soccer, Usain Bolt's bread and butter, track and field, is one of the most-watched Olympic sports and has a professional circuit—but it's only a handful of star athletes who have benefited from some of the richest endorsement deals around.
Nike, Wheaties maker General Mills, Coca-Cola and other major brands have been leading the sponsorship charge for decades, enriching the likes of Caitlyn Jenner (winner of the 1976 decathlon as Bruce Jenner, Carl Lewis, Jackie Joyner-Kersee and other Olympic heroes over the years. Team USA's Easton, sprinters Allyson Felix and Justin Gatlin, high jumper Vashti Cunningham (who just signed with Nike in March), are among the current track and field stars who are poised to spin gold into green in Rio.
In 2014, Nike extended its sponsorship of USA Track & Field for another 23 years, a deal said to be worth between $450 million and $500 million in cash and products, according to ESPN.
However, the Track and Field Athletes Association, a trade union, reported in 2012 that 50 percent of its athletes who ranked among the Top 10 in their events made less than $15,000 annually from their sport (including prize money, sponsorships and grants). About 20 percent of the athletes made more than $50,000 a year. Moreover, athletes not ranked in the USA top 10 expected to face "limited (if any) income support."
"There's a big gap between the haves and have-nots in track and field," Merhawi Keflezghi, who served as the agent forMeb Keflezghi, the 2004 Olympic silver medalist in the marathon, told USA Today in 2014.
The paper reported that Kind Butler III, a world recorder holder in the 4x400 relay at the time, made $6,000 in 2013 from track.
The marathon circuit is only lucrative for the cream of the crop, Boston doling out $830,500 in prize money overall this year, including $150,000 to the winner; while New York awards the winner $130,000; Chicago pays $100,000 and London $55,000.
Meanwhile, cases like Ryan Lochte, who famously banked about $2.3 million in 2012 thanks to endorsements form Speedo, Mutual of Omaha, Gillette, Gatorade, Proctor and Gamble, Ralph Lauren, Nissan and AT&T (plus, he was on the cover of Vogue) are rare. Even Katie Ledecky, who along with Simone Biles has been one of the most promoted U.S. athletes heading into Rio, is said to be foregoing millions in endorsements because she put off turning pro, intending to attend Stanford and swim for the Cardinal after Rio. The 19-year-old has passed hundreds of thousands more that she's won along to USA Swimming because NCAA rules prohibit their "amateur" swimmers from accepting prize money. Ledecky will, however, get to keep the money USOC awards for medals.
Olympic teammate Missy Franklin, 21, turned pro after swimming for Cal for two years, after which she signed with WME/IMG and hooked up with Speedo.
USA Swimming pays stipends to college athletes and those ranked in the top 16 get a $3,000 monthly stipend. Swimming World Magazine reported in 2011 that the best way for a swimmer to support oneself and get necessary training "is to find part-time work to pay the bills and supplement it with small deals or agreements that may only consist of products or services."
And part-time jobs, having roommates, holding fundraisers and getting government assistance (though not directly if you're in the U.S.) are still the common recommendations for athletes hoping to get by and pursue their dream at the same time.
Because training costs money. Equipment costs money. Even entering events costs money.
"When I was 14, I had been saving to buy a car for a good six years already," says 21-year-old Zachary Garrett, the No. 7 archer in the world who will shoot for the gold for Team USA in Rio. "I spent all that money on my first bow."
Watch E! News at 7 p.m. and 11 p.m. for the latest excitement from Rio!