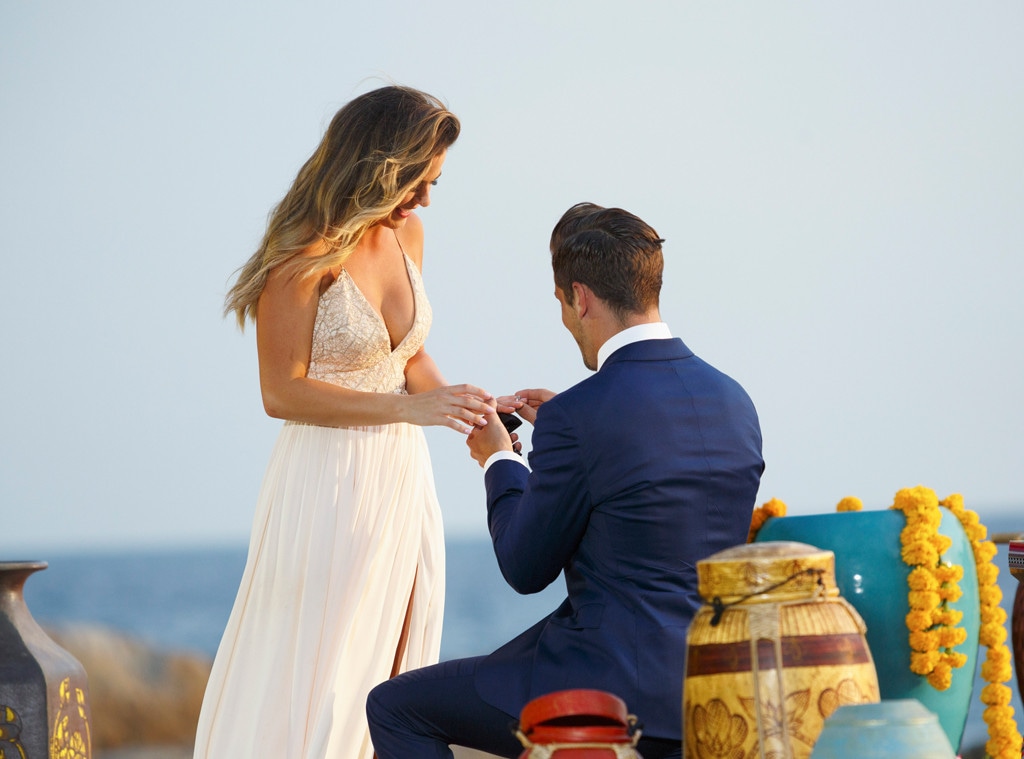 ABC
The citizens of Bachelor Nation witnessed Bachelorette JoJo Fletcher break Robby Hayes' heart and accept Jordan Rodgers' proposal last night during the hit show's season finale, and although there were many factors aside from the final rose that we couldn't help but admire—her beautiful dress, the fact that she didn't get runny mascara, that decor on the beach—there was one thing in particular that out-shined them all...
Yep, that diamond sparkler.
Part of the big excitement during the finale is seeing what rock the gents pick during their Neil Lane (also can we give some props to the jeweler for always giving off such an excited and genuine energy, as if he hasn't done this a thousand times), and when it comes to the engagement ring Rodgers ended up choosing for his bride-to-be, we got all the deets.
A source tells E! News the 3.75-carat Neil Lane ring's center stone "is an oval-shaped diamond with a pavé halo surrounding it," and is set in platinum. As for the hefty price tag on this baby, the insider tells us it's estimated at roughly $100,000. Yowza!
"It's stunning and classic," Fletcher told People for their cover story, out this week. "I love its simplicity." Rodgers added, "I knew right away which one I wanted for her."
Meanwhile, Lane told the mag, "Jordan loved the sparkle around the band. And it was clear he's madly in love with JoJo. He's smitten."
During the proposal seen around the nation, the former NFL player told JoJo, "You made me believe that love doesn't need to have a script, that there's not one way to draw it up. It's moments like this, where I'm holding your hand, I'm looking in your eyes, and I know I'm so unbelievably in love with you. You're my best friend, you're my soulmate, I'm going to keep you safe, I'm going to protect you. I'm going to wake up every morning and choose you over and over and over again until you tell me I can't."
Fletcher reciprocated the sentiment, telling him, "I just want to tell you how I feel because I don't know if I've done that fully yet. Jordan, I love you so much, and I've been waiting to tell you how I feel. I just love you so much...I didn't want you to get down on one knee until you knew that." 
And then they lived happily ever after.