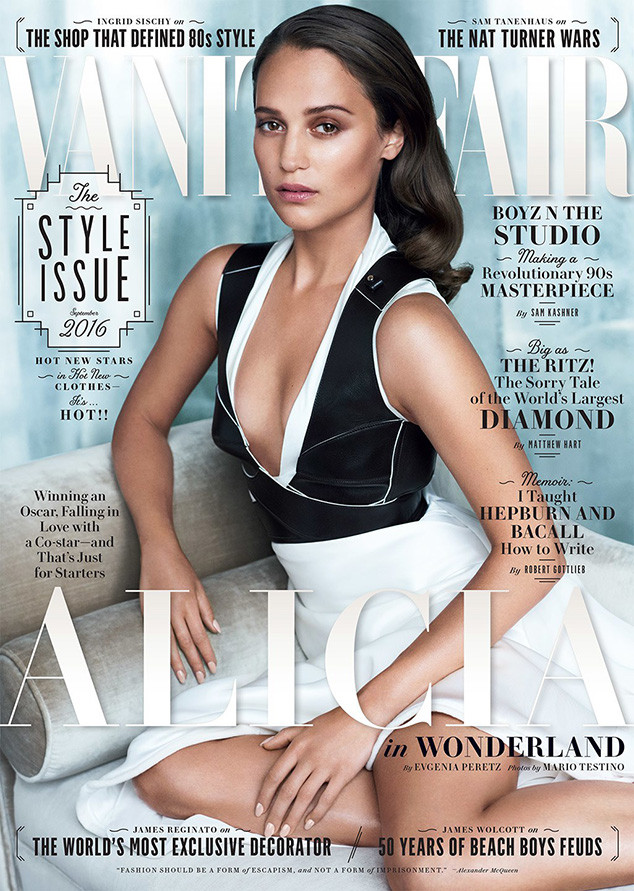 Mario Testino/Vanity Fair
Finally we're getting some answers!
Alicia Vikander stuns on the cover of Vanity Fair's September issue, and inside the magazine the Oscar-winning actress opens up about the ongoing surprise she feels about having become such a success story in so little time. It's clear from the interview that Vikander is still in disbelief about everything that has happened to her career.
"I and my mum, we'd set the alarm to 2 a.m. to watch the Oscars, and it was like a window onto another universe," she tells the magazine. "And then to have her there next to me [at the Oscars] this year. We were just cursing in Swedish...It's been pretty f--king...Wow."
Vikander has starred in Ex Machina, The Danish Girl, Jason Bourne, Testament of Youth and so many more, including The Light Between Oceans, which also stars her boyfriend Michael Fassbender. There's no doubt that this is one incredibly talented couple, as Vikander has already won an Oscar (she's 27) and Fassbender has received two nominations in two years. But like any great couple, these two have leaned on each other for support and guidance when it comes to their careers.