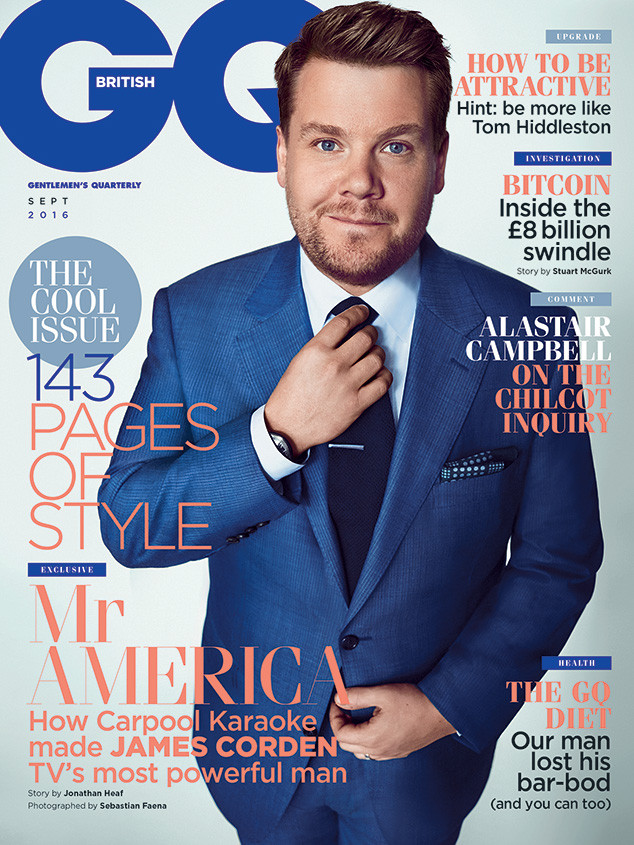 Sebastian Faena/British GQ
Kanye West has canceled his appearance on Carpool Karaoke two times, but James Corden hasn't given up on him just yet.
The funnyman covers the September issue of British GQ and opens up about his career, including forgiving celebs like 'Ye when "things come up."
He explained, "Kanye has been booked to do Carpool Karaoke now twice and both times something came up. He'll do it eventually. He wants to do it."
It hasn't been hard for Corden to forgive the rapper either. "[When he cancelled he sent] about three dozen white roses, of course. Arranged in the shape of a cube. What could be more Kanye than that?"
Other than Kanye, Corden sticks to his guns in his No.1 pick for the show. "[The dream would be] Beyoncé," he reiterated his hopes once again. "It would break the internet. She's on tour right now. We're working on it."
Sebastian Faena/British GQ
Meanwhile, Corden is easily one of the most successful names in comedy right now, especially in the U.S.—much thanks to his Carpool Karaoke—but that didn't come easy for him.
In fact, he still receives some scrutiny in Britain. Corden said that there was an "expectation of failure" in Britain when he launched his show in the U.S., noting: "If we'd made this show for ITV to air at eight o'clock on Saturday night people would have destroyed it."
He believes this is due to the "elitist" culture in the U.K.
"I've come to the conclusion that it is about class," he admitted. "Look at my career: I was in a really good play at the National Theatre, The History Boys, which then moved to Broadway and won six Tony awards. We came back. I wrote a sitcom (Gavin And Stacey) that did really, really well. I did a couple of films, got a play in New York, One Man, Two Guvnors, and subsequently won every best actor award going. I mean, that's quite a lot of good stuff!"
Theo Wargo/Getty Images for Tony Awards Productions
However, he said, "Douglas Booth has got a great career, he's a brilliant actor, but he's never going to encounter the sort of shit like I've had. Nor will Tom Hiddleston. Nor Eddie Redmayne. Nor Benedict Cumberbatch."
He continued, "I fear acting is becoming an elitist sport and I worry about where that lands us culturally. I really do."
Despite what everyone else is doing, Corden continues to work on himself, his career and even trying to be healthier!
"I do a dance class three times a week, something called PlyoJam—it's dance using plyometrics," he revealed to GQ. "I lost 70 lbs. I want to lose another 30 lbs., maybe two stone by the time I'm 40—that's two years away." 
See the full interview in the September issue of British GQ, on sale August 4.
Related:
James Corden Says "We Can Not Allow Hatred to Win"